About Tracey Lloyd, Author of Relationships and Mental Illness Blog
Welcome. I'm Tracey Lloyd. I've been diagnosed bipolar for 3 years, struggled with undiagnosed depression for 10 years and was a sensitive crybaby at birth. In the midst of emotional upheaval and medication changes, I completed college, business school and even a few 5K runs. I began thinking seriously about writing two years ago after a two-week stay at a psych hospital made me question life. I started blogging seriously after getting catcalled by guys in a passing car and being just outraged enough to share.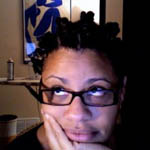 My personal blog – My Polar Opposite – is about living with bipolar disorder and putting a psychotherapeutic spin on popular culture. I dedicated the blog to my childhood best friend who also suffered from bipolar but succumbed to suicide in 2006. The topics I'm most passionate about are ending stigma, mental health disparities in minorities, and maintaining my sense of humor at all times.
In my Relationships and Mental Illness blog, I plan to cover the ways in which mental illness impacts relationships with others, and how relationships affect those living with mental illness. I've tackled romantic relationships in the "Dating While Bipolar" series on my personal blog and will cover workplace relationships, family and support circles with my trademark blend of sarcasm, sass and honesty. When I'm not blogging, you can find me across various social media venues, namely Twitter and Facebook.
Tracey Lloyd's Relationships and Mental Illness Blog Welcome Video

Find Tracey on Twitter, Facebook, and her personal blog.
APA Reference
Lloyd, T. (2011, August 2). About Tracey Lloyd, Author of Relationships and Mental Illness Blog, HealthyPlace. Retrieved on 2023, December 8 from https://www.healthyplace.com/blogs/relationshipsandmentalillness/2011/08/about-deltra-coyne-author-of-relationships-and-mental-illness-blog
Author: Tracey Lloyd
Hi Deltra!
Welcome to HP! I think it is great that you will be covering mental illnesses and relationships. I'm looking forward to your posts.
Angela E. Lackey
author of Surviving ED blog (Eating Disorders Recovery blog)
Hi Deltra - and welcome! I love your first post, and applaud your goals: "ending stigma, mental health disparities in minorities, and maintaining my sense of humor at all times" - I'm with you!
Randye, Mental Illness in the Family Blog
and Ben Behind His Voices - book author
Hi Deltra!
I landed on your blog because of the title- mental illness/relationships. Ding Ding Ding!
Relationships are hard for everyone at times but as a chick with depression and anxiety, I can say its especially hard. I just moved in with my bf over the past weekend and i am having THE hardest time adjusting. An innocent mess up on his part triggered abandonment for me and i have been crying off and on for days, questioning my decision. I'm in the hole and feel i have no safe place to retreat. Its nice to know there are others out there that are potentially like me and we can all hash it out!
-R
Thanks for sharing, Robin. It's important that you're taking time to understand your feelings in the midst of a big life event - moving in is a huge step even though it might seem like an everyday thing. Take time for yourself and hang in there!
Thanks everyone for the hearty welcome!
Yes, Merriam, I think that we all have trigger points around relationships, whether how we manage them or how they impact us. Hopefully I can help someone here, or bring to light some new information. If not, I'm hoping that we can all commiserate and share a laugh!
I like you already. :)
Angela (Life With Bob)
Deltra, I come to HealthyPlace all the time and am also on their facebook page. I'm glad they have a new relationships blogger. With depression and anxiety, I have relationships problems -- not only with friends and family, but my big problem is dating. I'm 32 and my partners come and go with my mood changes.
Anyway, I'm glad you are here and I am looking forward to your articles.
Thanks for sharing: my first depressive episode corresponded with a break-up that I initiated; only later did I realize that I broke up with him because I was depressed. Others I dated because I was manic and couldn't sit alone in my own skin. These are definitely issues that I'll cover - come back soon!
Hi Deltra,
I'm so glad that you are here with us now. I really look forward to reading your blog. Welcome to HealthyPlace.
Hello Deltra!
I am a frequent visitor of Healthyplace, so I look forward to seeing, and hearing more from you. Relationships are a huge struggle for me, so I'm very interested in your perspective.
Thanks for being here!
Thanks for being my first comment!!
Hi Deltra,
Welcome to HealthyPlace! I'm looking forward to your articles. :)
Holly Gray, author of Dissociative Living
Leave a reply