Disclosing Mental Illness at Work, or How to Get Fired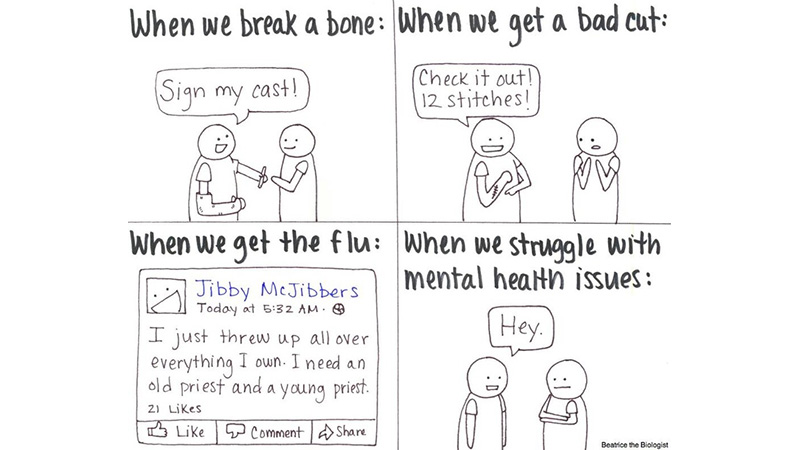 My coworker Ricky is a photographer, and I asked him to take some pictures for my personal blog. Upon hearing its name he said, "You're bipolar? Cool." Ricky is the kind of person who appreciates perceived shortcomings as character building. And he likes people with a lot of character.
Stigma Led to Disclosing My Mental Illness at Work
Some time later, Ricky and I were discussing our department intern with another coworker, Holly. When faced with a street closing in Manhattan, the intern couldn't fathom walking around the block to reach her destination. This behavior was unfathomable to Holly, who offered that the intern must be bipolar, and that lithium must have addled her brain. My response: "I'm bipolar, and I take a ton of lithium. I'm not incompetent, and I'm offended."
Unfortunately, the workplace perception of bipolar is probably closer to Holly's than Ricky's. The Americans With Disabilities Act states that employers cannot discriminate on the basis of a mental or physical disability, and that reasonable workplace accommodations should be made to allow the disabled person to work.
But the law doesn't regulate stigma, or the feelings I might have had when Holly compared my disease with incompetence. After my offhand disclosure of my disease, I wondered about future repercussions. Sure, my boss thinks I'm good at what I do, but what if he learned that I had bipolar? Would he be less friendly towards me? Would he refrain from giving me direct reports? Would he withhold a promotion?
Disclosing Mental Illness at Work Got Me Fired
At my last company, I'd started having panic attacks before work. I'd hyperventilate and cry, then I'd call in sick because I just couldn't leave the house. Finally, I admitted the problem to my boss, then went to my psychiatrist who authorized a medical leave. When I returned to work, my best assignments were gone, and my decision-making permission with them. I asked how this could be, since I'd always received stellar performance reviews. Apparently they didn't think I was stable enough to do my job.
The lack of trust, along with my unchecked anxiety, made me more agitated, more prone to anger and crying. Eventually, I worried myself into mental health inpatient treatment, and then a bipolar diagnosis. In the end, it was a good thing: I got care I needed, and I'm healthier now as a result. Still, my former boss didn't trust my work in spite of a doctor's note attesting that I was fit. That fact was very difficult for me - a chronic overachiever - to process.
What Did I Learn from My Horrible Boss?
In the next installment of Disclosing Mental Illness at Work, I'll share why, even though it might have been illegal to restrict my work, I became a really difficult employee with undiagnosed bipolar disorder (read about the effects of bipolar disorder). I can't say that I would have wanted to manage me, but I believe that I would have been a bit more compassionate, and a bit more attentive to the law, than my former employer.
See Also:
Find Tracey on Twitter, Facebook, and her personal blog.
APA Reference
Lloyd, T. (2011, August 11). Disclosing Mental Illness at Work, or How to Get Fired, HealthyPlace. Retrieved on 2019, September 18 from https://www.healthyplace.com/blogs/relationshipsandmentalillness/2011/08/disclosure-at-work-or-how-to-get-fired-part-i
Author: Tracey Lloyd