Fear, Anxiety and Healthy Relationships
I am at an impasse, with my writing and with my feelings. Of course, these issues are related.
Last month, I began writing here about mending my relationship with my ex-boyfriend Bob, and we've been getting along very well in the meantime. We've reached a point of sharing that is different than at any time in our past: I've been able to share my feelings - past and present - with Bob and he has admitted a level of honesty I never expected from him. I was very happy, until I sought to write a long piece about our relationship for my personal blog and I couldn't come up with a way to tackle the topic. That's when I knew that I had some negative reactions mixed in with my warm fuzzies.
Fear of New Behaviors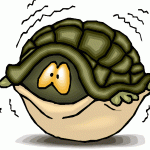 Now that I'm trying to operate from a place of emotional honesty, I've had to get rid of my old defense mechanisms: using sarcasm to mask discomfort; rationalizing my emotional dishonesty as protecting other people; compensating for my feelings of relationship inadequacy by working all of the time. But the thing about defenses is that they work, so when you strip them away it's difficult to get used to a new - albeit healthier - coping strategy. For me right now, that means acknowledging my fear of getting hurt, teasing away my knee-jerk instincts to hide it, and sharing with Bob his behaviors that hurt me in the past. This kind of honesty is hard work, but I'm working through it slowly.
Fear of Bipolar Reactions
When I say "bipolar reactions," I don't mean that we as bipolars react a certain way (even though there's probably scientific evidence somewhere about similar neural pathways among brains of bipolar people). I mean experiencing emotional highs that come with love and pleasure, and being afraid that they'll be accompanied by the lows of rejection and abandonment. When you open yourself up to real emotions the upside potential is great, but so is the downside if your feelings aren't reciprocated. My past relationship with Bob, or at least getting rejected by him, was a trigger for unhealthy behavior in the past. Because I didn't get the love that I wanted from him, I went looking for what I could get - sex - from other men. Though I'm far healthier than I was then, and I've been abstinent for 3 years, I'm fairly certain that I won't have a dramatic rebound if things don't work out with Bob. However, rejection still hurts, and processing that hurt will take more time and effort than I've devoted to such things in a while.
Where there is fear, is there love?
Perhaps there can be a certain amount of fear in all relationships among adults. Fear is our response to a perceived threat, and it's healthy to be aware of real emotional threats so we know how to handle them. Men, including Bob, have hurt me in the past, so both my emotional and rational minds acknowledge that when starting a relationship. On the other hand, love and fear are opposites, so does that mean my fear precludes having healthy love with Bob? I don't yet know how to answer that question, but I'm definitely working - and blogging - through it.

APA Reference
Lloyd, T. (2012, January 11). Fear, Anxiety and Healthy Relationships, HealthyPlace. Retrieved on 2019, September 20 from https://www.healthyplace.com/blogs/relationshipsandmentalillness/2012/01/fear-anxiety-and-healthy-relationships
Author: Tracey Lloyd
The situation is a work in progress, that is, I'm writing about it in realtime...thanks for reading!
Leave a reply