Mental Health, Addiction and Relationships: Understanding Whitney Houston and Bobby Brown
I've written a lot about myself and my relationships on this blog, but now I'm turning to the tumultuous relationship of a public figure for my inspiration. Last week, we lost an icon, the incandescent Whitney Houston. Now, in her demise, the talk turns to her drug addictions and her relationship with ex-husband Bobby Brown.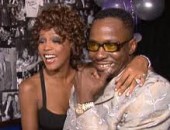 I've heard lots of people blame Brown for Houston's drug use, abuse, and it's effect on the singer's voice, life and recording career. What many people fail to realize is that romantic relationships don't always change people; they often personify our internal struggles better than other aspects of our lives.
"Crazy" on the Outside = Hurting on the Inside
Addiction and mental illness are linked, in my opinion: they both make family and friends - even casual onlookers - judge your public behavior as "crazy" and inexplicable because they don't know what's going on inside your head. Whether we're public personae or a private citizens, those of us with mental and emotional health issues struggle with our self image. The disconnect between who you feel like inside and expectations of who you're supposed to be - from family, workplace, the public at large - are difficult to manage for anyone. Some of us medicate with shopping, working and sexual behavior. Some of us medicate with illicit drugs, alcohol and too many prescriptions. The underlying issue is the inability to reconcile your self-image with the one people paint for you.
As someone struggling with bipolar, I've been driven to act out sexually and emotionally because I was afraid of not being perfect, of being the depressed, anxious person on the outside that I really felt like on the inside. I was supposed to be the good daughter, the Ivy League graduate, the know-it-all friend. So I completely relate to Kevin Costner's portrayal the pop diva's struggle with perfection and the need to be "good enough". So many people - perhaps women more than men - feel unworthy in some way, and sometimes we settle for what we think we deserve, including a relationship.
Misery Loves Company, and Love is Sometimes Miserable
Its hard to judge someone else's marriage. However, if you believe that Whitney Houston struggled with self-esteem, you can understand how she saw herself very differently than the beautiful, talented, wealthy artist she was on paper. Perhaps her feelings of self-doubt (and a private drug problem) led the singer to Bobby Brown, whose struggles with substance abuse, infidelity and the criminal justice system were far from private. From the outside, it looked like Brown was not "good enough" for a woman in the prime of her life and platinum recording career.
However, if Whitney saw herself as imperfect, broken and addicted, a man with those same issues on display could have normalized her fears and made her free to behave on the outside the way she felt on the inside. Of course, they were probably also in love and (if you psychoanalyze what you see on TV) had a complex codependency on cigarettes, alcohol, drugs, drama and each other. All this is to say, perhaps Whitney Houston never took a drug before she married a man with a drug problem. But more likely, she stayed in the relationship, had a child, and acted out on a reality TV show in support of her husband because she couldn't see herself in a different situation. Fame, money and talent aren't the antidote for self-doubt, nor are they guarantees for relationship success and lifetime happiness.
Find Tracey on Twitter, Facebook, Google+ and her personal blog.
APA Reference
Lloyd, T. (2012, February 20). Mental Health, Addiction and Relationships: Understanding Whitney Houston and Bobby Brown, HealthyPlace. Retrieved on 2019, September 18 from https://www.healthyplace.com/blogs/relationshipsandmentalillness/2012/02/mental-health-addiction-and-relationships-understanding-whitney-houston-and-bobby-brown
Author: Tracey Lloyd