How to Talk to a Supervisor About Mental Illness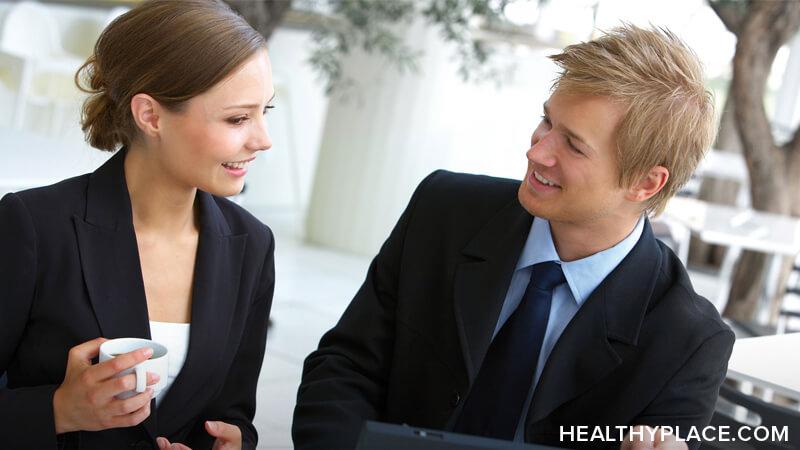 Many Americans are scared to talk to a supervisor about mental illness or disclose their mental health condition at work to anyone for fear of career damage or termination. Suffering in silence, ironically, means your work may also suffer. Poor performance leads to intensified anxiety and other symptoms as you worry about your job security and assignment quality. So what do you do? How do you talk to a supervisor about mental illness?
Talking to a Supervisor About Mental Illness
I've been lucky enough to have understanding supervisors over the years. Each organization I've worked for has cared for its employees and their work-life balance. It hasn't been easy to talk to my supervisor about mental illness, but I have done so.
Considering we spend a great deal of our lives on the job, it's important that we are supported and comfortable at work. I've worked for two organizations since graduation from college. In that time, I've learned how to approach my supervisors about mental illness successfully. I know the benefits that having a mental health conversation can bring.
Check out the below video for some tips if you decide it's time to talk to your supervisor about your mental illness.
APA Reference
Clements, B. (2017, August 14). How to Talk to a Supervisor About Mental Illness, HealthyPlace. Retrieved on 2023, December 7 from https://www.healthyplace.com/blogs/relationshipsandmentalillness/2017/08/talking-to-your-boss-about-mental-illness
Author: Brittany Clements
Love the video piece. This is so helpful! As more people feel comfortable talking to supervisors they'll (hopefully) deal with less stigma. Having open communication with a supervisor about your mental health is important. Many people spend 40 hours a week at a job -- that's a lot of time to not be able to be open or feel safe about discussing your mental illness.
Leave a reply