Goodbye, 'Relationships and Mental Illness' Blog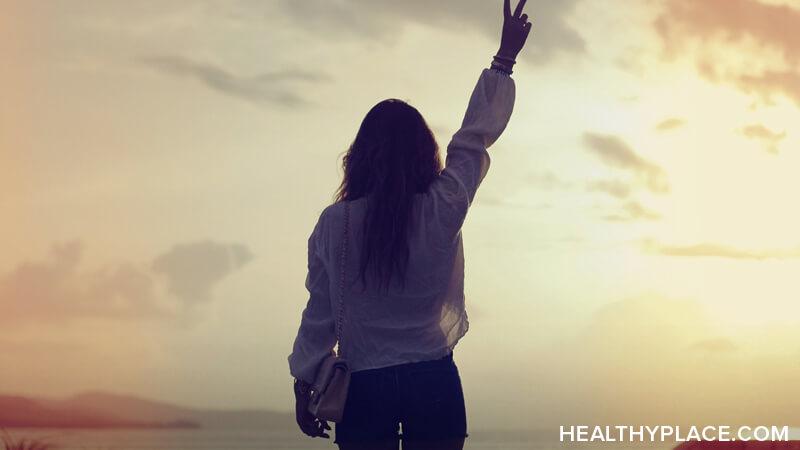 This will be my last post for the Relationships and Mental Illness blog here at HealthyPlace. I found HealthyPlace after deciding to leave my job as a mental health counselor and search for a new career path. I have always liked to write, and with my own experience with anxiety, I thought writing for HealthyPlace would be perfect for me. I have had the opportunity to explore how my anxiety has affected my relationships, as well as share some coping strategies and advice that have helped me. It was great for me when I started, but so much has changed in my life in the past year that it's time for me to move on.
Change for the Better
There have been many changes happening in my life recently, and I'm so happy to say for the first time in a very long time, my mental health is not at the forefront of my mind. I am about to get married in two weeks to my partner of eight and a half years. My relationship with my soon-to-be husband has a strong, solid foundation, and I am so excited to start our married life together.
We recently moved to a new house, and I have also started teaching preschool. I finally have a job I absolutely love that leaves me at the end of each day physically exhausted but completely fulfilled. My mental health is the best it has ever been in my life. While writing for HealthyPlace has given me a platform to share my thoughts with others, my heart just isn't in it to write about relationships and mental illness right now. I'm happy to be able to live in the moment and enjoy this new chapter of life.
Talking About Mental Health Helps Fight the Stigma 
I liked the idea of writing for HealthyPlace because I believe mental illness thrives in shame, and shame thrives in isolation. Speaking about my experiences might help others feel less alone and more understood. The more we talk about mental health, the closer we get to eradicating the stigma and the shame surrounding our diagnoses. I hope you feel inspired to talk about your own experiences after reading about mine.
Thank You for Your Support
Thank you, HealthyPlace, for giving me the opportunity to share my thoughts with your audience, and thank you to all of my readers for your support. It's been great to contribute my own experiences to this community and read the contributions of other bloggers. I'm glad I could give something to the community, and I appreciate all of you who read my articles. I hope you all find success and happiness in your relationships and peace with your mental health. Goodbye for now.
APA Reference
Sabatello, J. (2021, October 25). Goodbye, 'Relationships and Mental Illness' Blog, HealthyPlace. Retrieved on 2023, December 8 from https://www.healthyplace.com/blogs/relationshipsandmentalillness/2021/10/goodbye-relationships-and-mental-illness-blog
Author: Juliana Sabatello
Plz HELP ME TO EXPLAIN AFTER 26YRS MARRAGE TO HUSBAND, WHO IS JST DOING ALL HE CAN ECT FIGHTING CALLING WELL AWFULL I COULD GO ON ALL DAY SAYING THIS THAT NUT DEEP DOWN HES SAYS HE LOVES ME DOENT WANT TO BE WITHOUT ME SAYS I CONTROL PLAY MIND GAMES ,SAYS ITS ME ALL TIME IVE TOLD HIM I WOULD GET OUT HIS LIFE SO HES HAPPY BUT SAYS NOT WHAT HE WANTS REALY DAY AFTER OR SAME TIME HAPPENS HE CARRYS ON AS NOTHING GONE ON MY HEADS ALL OVER AM BIPOLAR OTHER MENTLE HEALTH ISSUES HE PLAYS SAYS THINGS IVER MENTAL HEALTH ISSUES AND I REALY DONT GET ALL WHY DO IT IF OPTION IVE TOLD HIM ID TAKE ALL BLAIM AND DIVORCE HIM AND HE SAYS NOT WHAT HE WANTS EXPLAIN WHY HE IS DOING THIS BUT TURNING THINGS AROUND BK ON ME ITS KILLING ME WHAT DO I DO
THANK U JACINTA
Hi Jacinta,
Thank you for your comment. I'm sorry, but I don't quite understand what you're saying. If you'd like me to respond, I would ask that you simplify and restate your concern. Thanks!
Thank you, Juliana, for your contribution here and I wish you all the best on your new ventures!
Leave a reply