Don't Let Travel Anxiety and PTSD Trap You at Home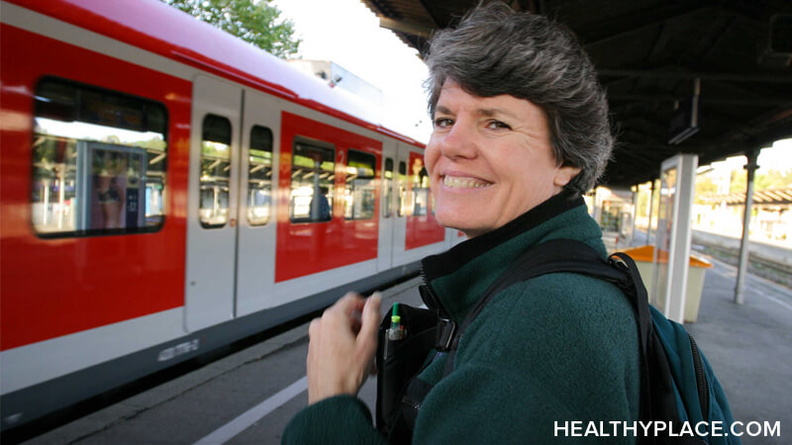 Travel anxiety and posttraumatic stress disorder (PTSD) magnify the tension of planning and leaving on a vacation. The traveling, the unknown venues, crowds, open spaces and other unpredictable scenarios can make many PTSD symptoms such as anxiety, depression, dissociation and fatigue more prominent. Of course, having PTSD doesn't mean you should stay close to home. By taking some extra time to detail your travel plans, you can handle travel anxiety and PTSD.
Know Your Stressors Before Travel Anxiety Starts
When I plan an upcoming trip, the biggest stressor in my mind is simply the persistent thought, "What if?"
I worry about every possible detail. I find navigating airports, flying, crowds, strangers, directions, traffic and hotel check-ins filled with endless possibilities for anxiety.
I've learned that I need to think a trip out step by step to identify areas where I find these stressful what-if questions popping up. Once I have them identified, I use a few strategies to reduce as much anticipatory anxiety as possible.
Ease Travel Anxiety and PTSD Symptoms with These Tips
Here are the things I do in advance to defeat travel anxiety and PTSD symptoms and make my trip go smoothly:
Arrive at the airport early. I give myself at least two hours, even though I have never needed that much time, knowing I have it. Being less rushed allows me to maintain calm.
Pre-board the plane. Most airlines are very understanding if you request pre-boarding due to anxiety. I prefer to pre-board so that I do not have to experience the stress of being so close to everyone in lines and the aisles.
Use masking sounds. When I am flying, I use headphones and listen to white noise or relaxing music to block out the engine noises. Blocking out ambient noise gives me a feeling of privacy.
Travel during off-peak times when possible. Smaller crowds are much easier for me to deal with when I am already feeling anxious.
Review driving routes in advance. One of the things I find the most unnerving is the out-of-control sense I have when driving in unfamiliar territory. The most valuable tool in my toolbox for this is the Streetview Player. The Streetview Player takes your travel route then provides a play-through of Streetview images that are available from start to finish. Users can see exactly where they will be driving.
Take a virtual hotel tour. Almost every hotel now has a section online full of photos. Rooms, lobbies, pools and the grounds are viewable before selecting a hotel.
Take the guided tour. If you enjoy sightseeing, but find the idea of navigating from place to place overwhelming, look for a guided tour or a hop-on-hop-off sightseeing bus that will take you to all the best sites.
Plan for Down Time When Traveling with Anxiety and PTSD
Even with excellent planning, self-care and downtime are still important. If you find yourself with non-stop activities scheduled, consider what that will feel like when combined with all your already identified stressors.
How do you manage known stressors during vacations? Does anyone avoid vacations because of travel anxiety? Please share your thoughts below.
APA Reference
Hollowood, T. (2017, March 6). Don't Let Travel Anxiety and PTSD Trap You at Home, HealthyPlace. Retrieved on 2023, December 2 from https://www.healthyplace.com/blogs/traumaptsdblog/2017/03/minimizing-ptsd-symptoms-while-traveling
Author: Tia Hollowood
Just found this article. The last time I travellled I felt strongly dissociated the entire trip and it took me a month to recover coming back home. Now I have travel anxiety of the possibility of going on an exciting trip only to not feel it the whole time. Do you have any tips lr ref for this? Thank you for sharing
Hi Jen. I understand this completely. I once spent an entire month in France and it was extremely stressful for me. I found that it helped keep me present and focused on the trip to carry around a small journal and write down what was going on throughout the day. By calling upon your "anxiety" brain to perform a higher level thinking task (such as writing), you are actually activating the rational "thinking" brain and forcing it to come out of hiding. Another technique I use to stay in the moment when I am dissociating is to go through a self-inventory in my head and note what the rest of my body is doing. Am I sweating? Tense? Are my shoulders hunched? Do I have my hands clenched? This is another way to force your brain into thinking and assessing. It also helps me to look at other people and focus on their reactions.
Even though traveling is getting easier for me with the tips I mentioned in the blog above, these are still my go-to strategies when, despite my best planning, things begin to fall apart and I need to regroup.
Prepare and rehearse the trip. Write down plans if you need to in order to stop them spinning around in your mind. Practice how to stay present, and go expecting to have some challenges but confident that you can work through them. I hope you get to travel again soon and experience the enjoyment of getting away. Tia
Thank you for writing this. I have yet to travel since incident and my PTSD is woohoo. However I have never been to New York ever and the plan is to go during Christmas I'm starting to prepare now. Mentally not packing yet LOL.
I love New York! Of course, I was born there, so I have a bias. I hope you enjoy your trip. Be kind to yourself and take your time planning. T
Thank you for this article. It's helpful and comforting to read PTSD causes or at least adds to travel anxiety.
I do most of the things on your list but will def have to try the Streetview Player. Thanks for that tip! Driving into unknown territory is one of my biggest stressors.
I just came back from a vacation where I flew alone and I do get very stressed out and anxious about and around all the same things you mentioned. I'm very glad I went and did have a good time but traveling is stressful for me.
Thanks for reading. I happen to be on vacation as I write this. Something I should have added to my list is to add extra time going to different places. Drive times in California are so unpredictable, I get nervous I will be late.
Leave a reply