What Does Depersonalization with PTSD Feel Like?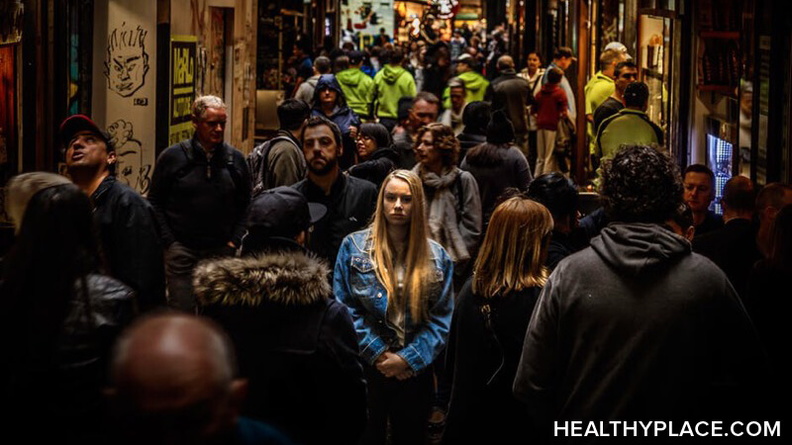 Depersonalization is one of the potential dissociative symptoms experienced by a person with posttraumatic stress disorder (PTSD). Individuals frequently describe depersonalization as repeated instances of feeling a disconnect between one's thoughts and physical self. Some also describe it as watching the world through a dreamlike state or watching events from outside one's body. It is one of the most challenging to define sensations I have ever experienced. Following are some examples of depersonalization symptoms in PTSD and how I experienced them.
PTSD Depersonalization Symptoms
As was the case for me, signs of depersonalization typically begin in the mid- to late teens or early adulthood. It is not seen in many young children, or in older adults.
The first aspect of depersonalization that I noticed was the feeling that I was viewing and interacting with my environment without sensations or emotion. I felt automatic, pre-programmed. I knew on a rational level that I was still a walking, talking human, but I moved about and interacted with people as if I was an aircraft on auto-pilot. While these robot-like moments were relatively frequent, they were most noticeable in public places.
When I was alone, a more common feeling became the sensation of being physically numb, or without the ability to feel any physical sensations. It was as if I was surrounding my body, but not actually in it. An abnormally high pain tolerance often accompanies depersonalization, which may add to this perception of numbness. Even now, while I have not felt depersonalization in decades, my pain threshold remains high.
What Depersonalization Feels Like
In the following video, I provide more examples of my experiences with depersonalization as well as how concerns for depersonalization impacted my first pregnancy. If you have encountered depersonalization or have any questions, please feel free to add your thoughts to the comments below.
Sources
Lanius, R., MD, Miller, M., Ph.D., Wolf, E., Ph.D., Ph.D.and, B., Ph.D., Frewen, P., Ph.D., Vermetten, E., Ph.D., & Spiegel, D., MD. (2016, February 23). Dissociative Subtype of PTSD. Retrieved November 14, 2017, from PTSD.VA.gov.
Lofthouse, G. (2014, December 16). Enlightenment's Evil Twin. Retrieved November 15, 2017, from TheAtlantic.com
APA Reference
Hollowood, T. (2017, November 15). What Does Depersonalization with PTSD Feel Like?, HealthyPlace. Retrieved on 2021, May 18 from https://www.healthyplace.com/blogs/traumaptsdblog/2017/11/what-its-like-to-experience-depersonalization-with-ptsd
Author: Tia Hollowood
What does it feel like?
You wake up monday morning, everything is fine but you had some really weird and even realistic dreams. You go to work and everything seems fine til you realize it isnt monday. It's Thursday. The days between Monday and Wednesday are a mixed blur of dream like situations that could be real but have such gaps and holes in the details that they dont really seem to be.
Your co-workers ask if you feel better today, but you have no idea what they are talking about. You panic trying to piece together the missing days and figure what happened, and more importantly why it happened all at the same time you are trying to look calm and collected in front of co-workers. But nothing comes to you, the world spins and you wake up again. It's Saturday, you now lost a whole week and now have no clue what is going on in your world.
That's a small sample of what it's like
Leave a reply