Runaway From Verbal Abuse
I have a young friend who is 17 and must return to her home today under Department of Social Services' direction. Amy stayed with me the past few weeks as a runaway; she left her home two months ago. I visited the social worker at her school early on and tried to find a way to keep Amy safe. We looked into a group home, but Amy needs her parent's permission to go there. There is no placement for Amy, a 17 year old runaway. There is no help for her. The school honored Amy's request to keep DSS out of it for awhile. "Awhile" ended on Thursday.
On Thursday, I spoke with the DSS social worker. I told her what I knew, although most of what I know comes directly from Amy.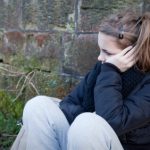 However, I have spoken to her step-dad (every time I tried to call mom, step-dad called me back even before Amy ran away). Step-dad is military and friends with my ex-husband. There is no hope for a meaningful adult "connection" there. I feel step-dad is controlling; the conversations I've had with him fit the criteria.
Abusive Parents Legally Responsible for Their Daughter
From what the social worker told me, the parents are legally responsible and must come up with "a plan" to take care of their daughter. I'm all for that plan. They need to take care of her. They need to be responsible for her. They need to provide a safe place for their daughter. Amy is not well-served staying with me; my sons are not well-served having her here.
As much as I wish I could provide a healthy place for all of them, the fact that Amy is my oldest son's girlfriend makes that impossible. I don't want my son living with his girlfriend and I don't have enough bedrooms to give Amy, Marc, and Eddie their own space. Marc sleeps on the couch, which he's always done, but when you count up the bedrooms, one important space is missing.
Also on Thursday, Amy spoke to DSS. On Friday, the parents spoke to DSS. Friday night, step-dad sent a text saying that he would be here to pick up his daughter on Sunday at noon.
Amy tried to call her social worker all weekend to no avail. Amy is willing to go back to the house, but she feels throwing herself back into the family like a bomb is a bad idea. She feels that step-dad's plan covers his butt, but leaves her hanging out to dry. She said that in conversation with step-dad Friday night, he told her, "We do better without you."
DSS Fails Abuse Victims
My question for DSS is this: Why, on a Friday when you knew you couldn't be reached, did you leave a young girl who is afraid to go home with instructions to go home? Why did you abandon her after one conversation? Why is mom and dad's version of the story trumping hers? When Amy's father came up with this plan, did you for one second question whether it would work or not? Whether it was good for Amy or not? Did you recently have a bad experience with a different teenage girl who perhaps manipulated the situation to her advantage? Are you taking a separate case and applying the results of it to Amy?
I know I am hearing only one side of this story. I understand that there is more to it that I don't know (there always is). But taking what I know out of it, how can DSS disregard Amy's complaints so carelessly?
I don't want Amy living with me and my sons. In many ways, I feel forced into a position I don't want. But, knowing what I know about emotional, mental and verbal abuse, how can I not be a safe place for Amy when there is no one else to take her in? Where are my boundaries in this situation?
APA Reference
Jo, K. (2011, May 15). Runaway From Verbal Abuse, HealthyPlace. Retrieved on 2023, March 29 from https://www.healthyplace.com/blogs/verbalabuseinrelationships/2011/05/runaway
Author: Kellie Jo Holly
As I read about your concerns and DSS involvement regarding Amy and her family, or lack there of, my heart and soul lifted prayers for you and all involved. Years ago, I too have been forced into relying on truth to be more powerful than "the Law" or "the Law" being more significant than the truth.. I learned by example of MO DFS and other "powers that be" how to manipulate words, omit words, not be able to recall, etc. There is no "win win" .... unless it is by divine intervention. Any instance that disrupts a family adversely effects them all, no matter our perceived dysfunction of that family.
Leave a reply