Destructive Effects of Adult ADHD
The effects of adult ADHD can be so destructive, especially when mixed with depression. So many times, we hear the symptoms of adult ADHD described simplistically. You know them:
Inattention
Boredom
Impulsiveness
Anger Issues
The list goes on, but what people don't understand is that these symptoms, taken in their entirety, can have a profoundly negative impact on the person with adult ADHD.
How Adult ADHD Affected Me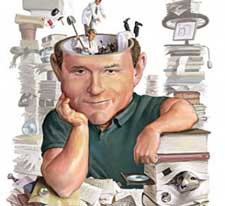 The effects of adult ADHD led to a succession of bad decisions and drove me into a depression, to the point where I turned to suicide. I burned out after a year of university at the age of thirty-three. I felt lost and gradually spiraled into an identity crisis. My brother had killed himself three years prior to my suicide attempt, but I was headed down that road anyway; running into an emotional brick wall as a result of having an ADHD racing mind. I felt like a complete failure as a man, a husband and as a son.
Taking Action to Manage Effects of Adult ADHD
I got the hell into the emergency room after taking my wife's advice and "waving the white flag!" In hindsight, that saved my life. I had no idea how I would survive the state of mind I was in, but nothing could get worse than it already was!
After getting help through counseling (Treatment for Adult ADHD), medication for acute depression and being diagnosed as having Adult ADHD by several professionals, I had my eyes opened once and for all. I, finally, had an answer as to why I was the way I was! It was a blessing and a curse. I felt "broken" in a way, but I came to find out about the positive effects of having ADHD which, for me, included being a creative thinker and being able to see the big picture of my goals.
I had a setback a year ago and was suicidal again, but this time around I have truly found myself. Family and friends' non-judgmental support has helped me through to the other side and now I'm on a personal mission to share my story with the world to help raise awareness and show others that no matter where they are at the moment, they CAN change their lives in such a satisfying, joyful way!
Learning to live in the moment, practicing mindfulness every day and following my heart while focusing on gratitude has changed my.life forever! I know that no matter what comes, I can handle it now. I have the answers.
(All Adult ADHD articles here.)
About the author:

Jeff Emmerson was diagnosed with Adult ADHD at the age of thirty-five after seeking emergency room help as the result of a suicide attempt. The diagnosis changed his life and inspired him to share his story in his up-coming memoir, "Success By Choice: A Story of ADHD, Depression and Determination." You can also find Jeff on Google+, his blog, and Twitter.
To be a guest author on the Your Mental Health Blog, go here.
APA Reference
Author, G. (2013, November 18). Destructive Effects of Adult ADHD, HealthyPlace. Retrieved on 2023, September 22 from https://www.healthyplace.com/blogs/yourmentalhealth/2013/11/destructive-effects-of-adult-adhd
Author: Guest Author
Imagine overcoming all of that and then quickly losing it all. I've been trying for two years and cannot be closer to the depression from 1.
Losing the clarity after successful treatment 2. Im not going to make it if I don't convince the health plan that I'm
The diagnosis is just part of it. The first step was allowing yourself to say, "Hey this is me!" Please keep writing. Share your story. There are many who will not come around. After all, it's a childhood issue. No, it is not. It's genetic. I has it's powerful moments though. Keep up the good work!
AMAZING!Jeff Emmerson, thank you for trying to make society aware that this is a very real deadly disease and that society should never make anyone feel crazy, shunned or insecure about something we cannot control. Good For you and Thank you Jeff! Social Awareness is key to getting help to adults and children before it gets to bad. May God bless you in all you do. THANK YOU!!
Leave a reply