Escaping Abusive Relationships: Therapists Keep This Quiet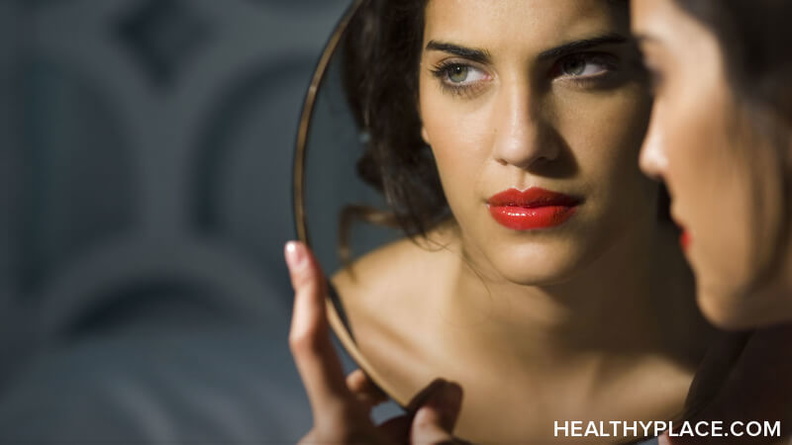 Escaping abusive relationships involves more than the escape plan, and you won't know the depth of your problems until you break free. But, as you plan your escape, it often feels as if getting out of the abuse will make everything better. And once you get out, you will have well-deserved stages of bliss - you will often feel much better! But at first, as often as you feel better, you will feel worse or confused or doubtful of your ability to create a life of your own. The aftermath of escaping abusive relationships is an emotional minefield that therapists won't warn you about. I can help you avoid some of those mines.
First of all, your therapist does not want to deter you from planning to escape or escaping abusive relationships. They know that after you leave, you will gain your mental footing and you will become emotionally and mentally healthy. Secondly, therapists aren't psychics. There's no guarantee that you will experience even one scary emotion after leaving abuse. You could be the exception, blossom immediately and maintain that bloom for the rest of your life!
But reality says you'll experience emotions similar to many other survivors of domestic abuse, so I want to give you a heads up on some confusing emotions you may encounter after escaping. If you know your strange emotions are normal, then you're more likely to sail through them without returning to your abuser.
Escaping Abusive Relationships: The Other 3 Things Your Therapist Won't Tell You
For numbers 1 and 2, see Part I, Escaping Abuse: 5 Things Your Therapist Won't Tell You
3.) You could feel an overwhelming desire to speak well of your partner to your friends, no matter what he or she did to you.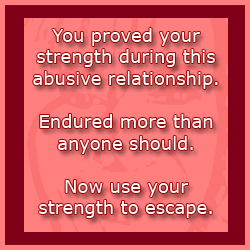 How did you make up for the things your abuser said you did wrong during the relationship? You somehow soothed your ex-partner's ego, got them to calm down, apologized, or perhaps purposefully let them overhear you speak well of them to others. Old habits die hard. You know your partner feels angry with you for leaving them. You know they want to react in their typical way. Calming his or her ego was priority number one during the cycle of violence, so don't be surprised to hear yourself say things that remind you of your ex's better qualities (real or imagined).
Additionally, you could feel compelled to say good things about your ex out of guilt.
4.) You could feel incredibly guilty for leaving your abuser for any number of reasons.
Your logical mind knows that you have no reason to feel guilty. The abuse wasn't your fault, you didn't cause it and you couldn't stop it. But holy cow! Your heart bleeds for the person you left! He never had a good example of how a man should act. She fell victim to a sexual predator during her formative years. You feel sorry for them.
I challenge you to re-channel any guilty feelings about leaving to how you feel about your partner's behavior toward you. One of the side-effects of abuse is forgetting to pay attention to your feelings. You feel guilty because you're imagining what your ex might feel, not because you did something wrong. When you start feeling guilty or hear yourself giving your ex a glowing review, get in tune with your emotions and leave what your ex could be feeling alone.
5.) You could find yourself mourning the death of the abusive relationship.
I know you don't want to feel like a victim anymore. You're a survivor and you escaped abuse. But you must allow yourself to mourn the death of the relationship, and more than likely, you will feel intense loss and sadness. For me, I discovered that I didn't so much need to mourn the marriage I had as the marriage I wished I had. The dream of growing old with the man who finally learned to love completely was very difficult to let go.
When the sadness overwhelmed me, I let myself cry and be angry; but I reminded myself that I mourned for something I would never have and that escaping my abusive relationship was the best thing I could have done. And it was.
As you prepare for escaping your abusive relationship (or imagine what leaving would feel like), I hope you look at your possible future emotions as a rite of passage. No matter how horrible you may feel during recovery, escaping abusive relationships is the only way to guarantee your mental and emotional health will improve. Expect the unexpected, including the urge to return to the abuser, and talk your way through it with your friends and a therapist.
Although your therapist didn't give you a heads up about how hard it would be to stay gone after escaping your abusive relationship, he or she will definitely be by your side as your story unfolds. A therapist's job is not to guess what you might feel, but to help you deal with what you do feel. And you won't know what you will feel for sure until you leave.
Other Helpful Posts:
APA Reference
Jo, K. (2015, April 9). Escaping Abusive Relationships: Therapists Keep This Quiet, HealthyPlace. Retrieved on 2023, December 6 from https://www.healthyplace.com/blogs/verbalabuseinrelationships/2015/04/escaping-abusive-relationships-therapists-part2
Author: Kellie Jo Holly
I am very confused. I've been told what I have and am experiencing is verbal abuse..... But all of my life this has been the norm - one way or another. Aren't I just supposed to suck it up?
imagine dating a malignant narcissist sadist.i am and don't know how to leave him or want to sometimes. sometimes im strong enough to leave and other times im too weak .I go between disliking him and feeling sorry for him. does anyone have answer for that..
Nicky, I hear you. I feel your pain. It has been pure hell since leaving my abuser. It has been lonely and rough financially. I lost a lot of "friends" and a damn good job. I even "lost" custody of my kids. I lost a home and most of belongings. It's been a few years for me since leaving. And I'm still "recovering". It is NOT easy, and definitely not like you see in the movies when a someone leaves an abusive partner.
But you know what I didn't lose? ME. If I had stayed, I'm pretty certain that the world, my children and anyone else who needed me would have lost me , for good. I was suicidal and I'm certain that of I had stayed with him, I would have ended my life before he could.
I chose to live. I found me. I found strength and a new support system. I found a part of me that had long been lost. And my relationship to my children is much stronger and I'm a better parent now. Sure, it's hard. Damn hard. But I truly believe if you can make the break to freedom from abuse, you CAN survive and overcome.
Don't give up hope, Nicky. You've got you. :)
leaving my ex was the worst thing i EVER did.. i should never have bought into all the nonsense.. at least i knew what i was in for, i had money, a nice home and stability for my kids... now i have nothing.. they dont tell you that YOU are the one who ends up with nothing. I wish i could go back but hes got someone new now and im on my own
Leave a reply