Taking an Active Role in My Psychiatric Medication Changes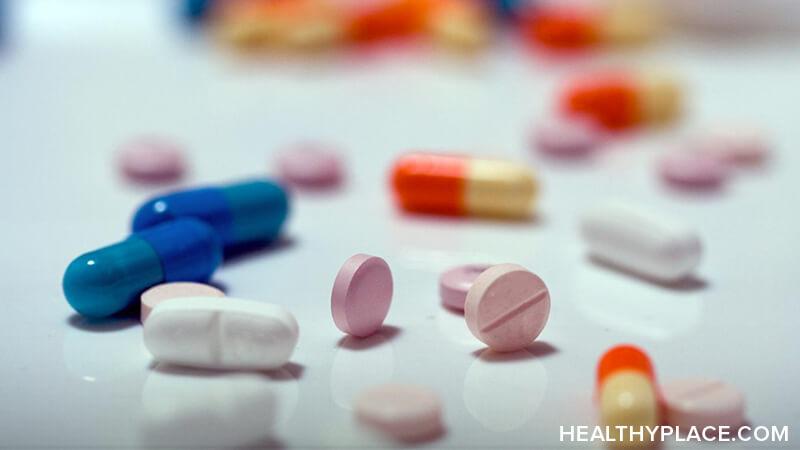 Since I was diagnosed with schizophrenia almost 20 years ago and then with schizoaffective disorder 15 years ago, I've gone through scores of psychiatric medication changes. They're never fun but remain necessary as I work with my doctor to keep the dosage as low as possible and schizophrenia symptoms under control. I'm going through a psychiatric medication change right now after a peak of anxiety. You can probably relate to the way it's affecting my schizophrenic and schizoaffective symptoms.
Why I Want Psychiatric Medication Changes
As many of you know, I am trying to lose weight while staying on an atypical antipsychotic that causes weight gain. I decided to remain on the same dosage because it's working. But when I told my psychopharmacologist that I needed my psychiatric medications tweaked as I plunged into acute anxiety, she suggested I raise my antipsychotic medication because it is very sedating. I balked at the idea. I just can't gain any more weight (Disagree With Your Doctor? Respectfully Explain Why).
There were other reasons I didn't want to increase my antipsychotic medication. I'd been thinking for a long time about decreasing my antidepressant. I felt that particular psychiatric medication might be making me "revved up," causing increased anxiety.
If increasing my atypical antipsychotic turns out to be the only thing that decreases my anxiety, I might go for it, but since I'm trying to lose weight, I wanted to try decreasing my antidepressant first. My doctor agreed to give this psychiatric medication change a try.
Psychiatric Medication Changes Are Affecting My Schizoaffective Symptoms
I've noticed right off the bat that decreasing my antidepressant is making me more sedated, which gives me hope that this strategy will, indeed, decrease my anxiety. However, my schizoaffective brain, in all of its anxiety, is doing somersaults with the fact that brain chemistry is being changed.
As of this writing, I've been on the decreased dosage of my antidepressant for five days. That's not a lot of time, especially when you consider that I'd been on the old dosage for years. Also, my brain is freaking out about other things. I have a week-long family vacation coming up. I've been looking forward to it for months, yet, while I'm excited about it, I'm also anxious. In addition, it's that time of summer when it's been too hot for too long and my brain just needs to cool down (Heat Can Affect Psychiatric Patients).
So will this psychiatric medication change work? I'll have to wait and see. I do feel bad that I didn't want to go with my psychopharmacologist's first suggestion because of fear of weight gain. But doesn't it make sense to go for the more physically healthy alternative first? Anyway, I have a good feeling that once I'm out the door leaving for my vacation, I'll be happy and ready to actually enjoy a bit of summer fun.
Psychiatric Medication Changes Are Hard on My Schizoaffective Brain
APA Reference
Caudy, E. (2017, August 24). Taking an Active Role in My Psychiatric Medication Changes, HealthyPlace. Retrieved on 2023, December 8 from https://www.healthyplace.com/blogs/creativeschizophrenia/2017/08/medication-changes-for-schizophrenia
Author: Elizabeth Caudy
You did not say what schizophrenic meds you are on.....my son is now 45 and was diagnosed 20 years ago also....now they have him on 3 anti-psychotics which I think is making him worse than ever....I am so worried....Geodone, Rispidal and Saphris....the Saphris was started about 2 years ago and he is getting more and more psychotic...what do you think?
Hi Rita--
You should talk to your son's doctor(s) if you feel the medication he's on is making him worse.
Changing my meds always makes me anxious. Luckily I've found the right concoction to help all my symptoms.
Leave a reply