Introduction to Martyna Halas, Author of 'Speaking Out About Self-Injury'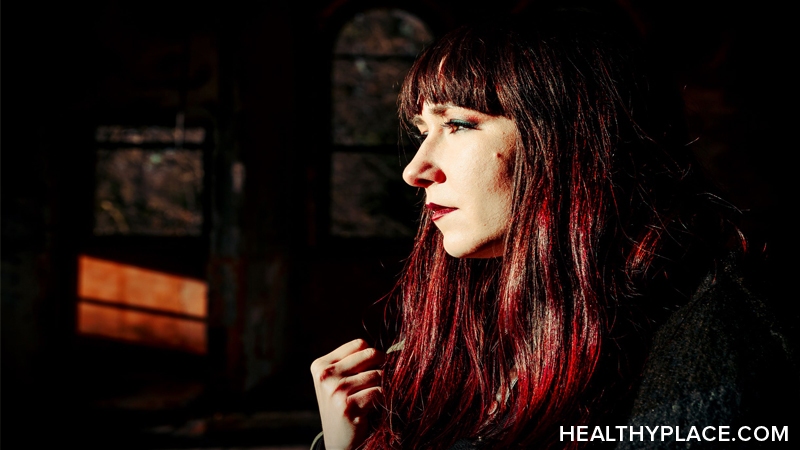 My name is Martyna Halas, and I'm very excited to join HealthyPlace as the new author of Speaking Out About Self-Injury.
Martyna Halas' History with Self-Harm
I'm a sexual assault survivor. I have self-harmed, intermittently, since I was 17 years old. I've never openly admitted it up until now, even though I often speak about my struggles with depression and bipolar disorder. I feel there is a lot of shame attached to self-mutilation in particular, so I've been silent about it for years. Like many others who self-injure, I would always go to great lengths to hide my marks, and the thought of being "outed" would fuel me with crippling anxiety. If you're nodding your head right now because my story sounds a lot like yours, please know that you no longer have to feel scared and alone.
I'm a recently-transformed, freelance writer who has lived and worked all across Europe. I've always been a creative spirit, so I've been writing and making music for as long as I can remember. Currently, I front an extreme metal band called Ascend The Hollow, and last year we released a critically acclaimed album called Echoes Of Existence. In my work as a lyricist, I mainly focus on mental health, so I feel grateful to be given a platform here to spread my message further. My mission, through my music and writing, is to break the stigma and empower others to share their stories.
Martyna Halas' Goals for 'Speaking Out About Self-Injury'
Learn more about my view on self-harm here:
I believe a large part of the stigma surrounding self-harm, or mental disorders in general, is that the societal expectation is to disconnect from our suffering. As if to be vulnerable was to be weak. I feel this behavior is silencing us, rather than helping us recover. Our vulnerability is what makes us human, after all. Through my work here at HealthyPlace, I hope to inspire openness and conversation and eliminate the shame surrounding self-harm. I believe that, together, we can create a safe community where we can all grow in strength, heal our wounds, and leave our demons behind -- whatever they may be.
APA Reference
Halas, M. (2020, May 13). Introduction to Martyna Halas, Author of 'Speaking Out About Self-Injury', HealthyPlace. Retrieved on 2023, September 24 from https://www.healthyplace.com/blogs/speakingoutaboutselfinjury/2020/5/introduction-martyna-halas-author-speaking-out-about-self-injury
Author: Martyna Halas
Hi Martyna,
I hope that you might be interested in my life-long journey that began in childhood trauma and culminated in repetive self-injury before gradually subsiding in a gradual recovery after 5 years of extensive counselling from my very patient psychologist.
I had travelled someway in my journey of recovery but became stuck in an cycle of recovery, self-recrimination before relapsing into past behaviour.
It was only then that I really started to turn the corner of my recovery because I was finally able to open my eyes, open my heart, open my mind on the prospect of full recovery from a lifetime of anguish.
To assist me in the final steps of my recovery, for me to be able to draw a line in the sand on my past behaviour I asked my psychologist to draft my Case Study.
You may be interested in my story and I would like to share it, the case study and other information, if it would help just one person avoid the dysfunction that I have experienced over my lifetime - it is my story.
All of this over +60 years before I finally sought the help 5 years ago that I actually needed all those years ago.
Kind Regards
Stu
Hi Stu,
Martyna is no longer an active author on the blog, so I'll be replying in her stead. I hope that's all right. :)
Thanks so much for your comment and for your offer; it's wonderful that you want to use your story to help others. Being a HealthyPlace blog author is all about sharing our own stories and experiences, so I don't think it would be right for me to share yours for you, if that's what you were thinking. However, if you're interested in writing for the blog yourself, check out this post:
https://www.healthyplace.com/about-healthyplace/about-us/blogging-for-healthyplace
Alternatively, you could of course always start your own blog or share your story elsewhere (even here in the comments) if you like.
Whatever you decide, I'm so glad that you were able to get the help you needed and seem to be doing well. Thanks again for reaching out!
Sincerely,
Kim
Hi Matyna how are you? Good I hope. Sorry I misspelled your name I'm contacting you in the Dark!
I have been SelfHarming for 5 years now, I know It's wrong but my Demons just keep Coming. I just saw a brief reason on your story and please accept my heartfelt sadness on your behalf.
Christmas Time is a particularly horrid time, for all us Self Harmers I think, but for me I think it's the faux goodwill that angers me most. I did get thru it but not without @#£&
It has been lovely chatting today but I'm tired(not that kind of tired), but I really should do some of my room this afternoon, wish me luck!
It has been lovely (Talking )with you today and I really look forward to becoming your new friend/pretend Sister. Be Fab, Much Love, RogerOXO.
Hi Roger! It's very nice to meet you. I am so glad that you've found your way to our blog. I am sure you will find a lot of useful information here to help you with your self-harm recovery journey. Make sure to check out these resources, too: https://www.healthyplace.com/abuse/self-injury/self-injury-homepage
I hope you will find my posts relatable and helpful. We're all in this together :)
Have a wonderful day, and I do wish you a lot of strength and positivity in the New Year.
Martyna
Leave a reply