3 Things Therapists Do, 3 Things Therapists Do Not Do
Here's what's happening on the HealthyPlace site this week:
---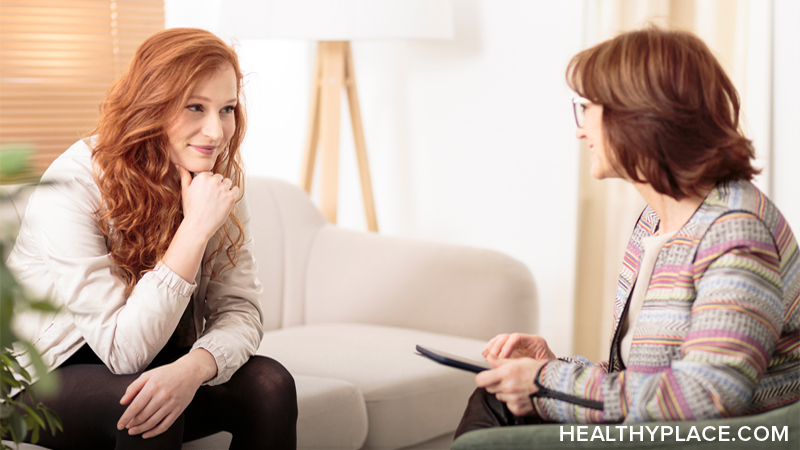 3 Things Therapists Do, 3 Things Therapists Do Not Do
Choosing to go to therapy for your mental health is a big decision, especially if you've never been to therapy before. And while there are some great benefits to mental health therapy, it's common to have anxiety about starting therapy. This information about what therapists do and do not do might help alleviate some concern.
3 Things Therapists Do
Listen. During a session, you have a therapist's undivided attention.
Look for patterns. Therapists help you sort the puzzle pieces and see the big picture you need to click those pieces into place.
Guide you in finding new, effective ways to deal with mental illness or other challenges.
3 Things Therapists Don't Do
Judge you. People become therapists because they believe in people and their ability to overcome difficulties.
Share your information with others without your permission. Therapy is confidential with one important exception: When a therapist has reason to believe their client could harm themselves or others, the therapist must let pertinent people know.
Magically solve all your problems. Therapy is a process that takes time and effort to work. Therapists guide you as you discover ways to move forward.
For many people, working with a therapist can be empowering. If you decide to try it, this resource can help you find potential therapists: Types of Mental Health Counselors: Finding a Good One
Related Articles Dealing with Mental Health Therapy
Your Thoughts
Today's Question: If you've had experience with mental health therapy, what was the general experience like for you? HealthyPlace Facebook page.
From the HealthyPlace Mental Health Blogs
On all our blogs, your comments and observations are welcomed.
Feel free to share your thoughts and comments at the bottom of any blog post. And visit the mental health blogs homepage for the latest posts.
------------------------------------------------------------------
From HealthyPlace YouTube Channel
I'm Hannah. I Have Bipolar 2
Bipolar Disorder and How To Improve Your Self-Esteem
Self-esteem is confidence in one's own worth or abilities. In this video, I share my experience with low self-esteem and how I improved it as someone living with bipolar 2 disorder. (Watch Hannah and subscribe to the HealthyPlace YouTube channel for more great mental health videos.)
------------------------------------------------------------------
Most Popular HealthyPlace Articles Shared by Facebook Fans
Here are the top 3 mental health articles HealthyPlace Facebook fans are recommending you read:
If you're not already, I hope you'll join us/like us on Facebook too. There are a lot of wonderful, supportive people there.
------------------------------------------------------------------
Mental Health Quote
"Emotions are temporary states of mind. Don't let them permanently destroy you."
Read more borderline quotes.
------------------------------------------------------------------
That's it for now. If you know of anyone who can benefit from this newsletter or the HealthyPlace.com site, I hope you'll pass this onto them. You can also share the newsletter on any social network (like facebook or stumbleupon) you belong to by clicking the links below. For updates throughout the week, follow HealthyPlace on Twitter or become a fan of HealthyPlace on Facebook. Also, check out HealthyPlace on Instagram, YouTube and Pinterest, where you can share your mental health pins on our Share Your Mental Health Experiences board.
APA Reference
Peterson, T. (2019, April 15). 3 Things Therapists Do, 3 Things Therapists Do Not Do, HealthyPlace. Retrieved on 2023, December 11 from https://www.healthyplace.com/other-info/mental-health-newsletter/3-things-therapists-do-3-things-therapists-do-not-do-0
Last Updated: April 15, 2019