Are You Afraid of Your Doctor or Therapist?
HealthyPlace Mental Health Newsletter
Here's what's happening on the HealthyPlace site this week:
Are You Afraid of Your Doctor or Therapist?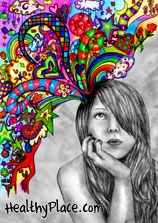 It seems many people are afraid of their doctors. Afterall, the doctor is an authoritarian figure. A recent study published in the May 2012 issue of Health Affairs reveals people don't want to appear as "difficult patients." Appearing stupid in front of the doctor is also another concern. Patients are also afraid that if they challenge the doctor, the doctor will enact some form of retribution. (See the discussion on being afraid of your doctor on our Google+ page.)
None of this is good because in dealing with a mental illness, you need to be educated and able to ask questions of your doctor or therapist. You also have the right to not only discuss the doctor's treatment recommendations, but you should feel free to say "this is not right for me. Here's what I'm thinking."
Talking to Your Doctor or Therapist
So how do you get to that point where you feel comfortable dealing with your doctor? Dr. Patricia Salber, author of "The Doctor Weighs In" blog, suggests
you research your illness prior to your doctor visit via the internet, talking to other patients, even getting second opinions.
then write down a list of questions or concerns, so you're prepared. Remember, the doctor's time is limited.
if you feel the meeting is important, bring a friend or loved one who can advocate for you and/or take notes as needed.
I'm going to pass on a fourth suggestion offered up by our social media manager, Amanda Collins:
"I think the important thing is to change the way you look at your doctor. If you see your doctor as a god, then where does that put you? On the other hand, if you view him/her as a respected member of your treatment team and a person you pay for advice, then you have all the rights that go along with that."
Related Stories
---
continue story below
---
Share our Stories
At the top and bottom of all our stories, you'll find social share buttons for Facebook, Google+, Twitter and other social sites. If you find a particular story, video, psychological test or other HealthyPlace feature helpful, there's a good chance others in need will too. Please share.
We also get many inquiries about our linking policy. If you have a website or blog, you can link to any page on the HealthyPlace website without asking us beforehand.
------------------------------------------------------------------
Most Popular HealthyPlace Articles Shared by Facebook Fans
Here are the top 3 mental health articles HealthyPlace Facebook fans are recommending you read:
If you're not already, I hope you'll join us/like us on Facebook too. There are a lot of wonderful, supportive people there.
------------------------------------------------------------------
Mental Health Experiences
Share your thoughts/experiences with any mental health subject, or respond to other people's audio posts, by calling our toll-free number (1-888-883-8045).
You can listen to what other people are saying by clicking on the gray title bars inside the widgets located on the "Sharing Your Mental Health Experiences" homepage, the HealthyPlace homepage, and the HealthyPlace Support Network homepage.
If you have any questions, write us at: info AT healthyplace.com
------------------------------------------------------------------
From the HealthyPlace Mental Health Blogs
Your comments and observations are welcomed.
Feel free to share your thoughts and comments at the bottom of any blog post. And visit the mental health blogs homepage for the latest posts.
Healing from Childhood Traumas in Midlife on HealthyPlace TV
This is one of our most popular tv show interviews. Growing up with an alcoholic father wasn't easy for Dan Hayes. The repercussions left him struggling in adulthood. What Dan didn't realize is that, for many years, he had been suffering from PTSD.
On this edition of the HealthyPlace Mental Health TV Show, Dan discusses what caused his trauma and the tough battle he underwent to recover his life.
That's it for now. If you know of anyone who can benefit from this newsletter or the HealthyPlace.com site, I hope you'll pass this onto them. You can also share the newsletter on any social network (like facebook, stumbleupon, or digg) you belong to by clicking the links below. For updates throughout the week:
APA Reference
Staff, H. (2012, June 11). Are You Afraid of Your Doctor or Therapist?, HealthyPlace. Retrieved on 2023, December 9 from https://www.healthyplace.com/other-info/mental-health-newsletter/are-you-afraid-of-your-doctor-or-therapist
Last Updated: September 4, 2014