Can Supplements, CAM Improve Mental Health?
Here's what's happening on the HealthyPlace site this week:
---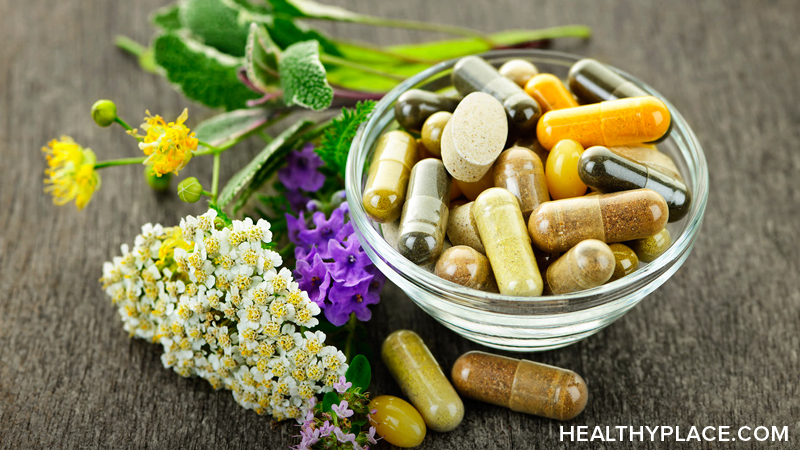 Can Supplements, CAM Improve Mental Health?
Many people choose complementary and alternative (CAM) medicine as a way of treating mental illness and helping their mental health. Complementary treatments are those that are used in addition to—to complement—traditional forms of treatment, usually medication. Alternative medicines replace those traditional treatments.  Either way, do supplements and other alternative or natural treatments work for conditions like depression and anxiety?
The answer to that question isn't straightforward. There are so many types of CAMs that they can't be lumped into the same category of effectiveness. Some of the common CAMs include:
Dietary supplements
Herbal remedies, including some herbal teas
Exercise
Yoga
Accupuncture
Accupressure
Reiki
Reflexology
CAMs differ in their effectiveness and safety. Dietary supplements and herbal remedies are perhaps the most controversial. Some have unpleasant or dangerous side-effects. Some exacerbate existing health conditions such as autoimmune disorders. Also, not all are regulated, and ingredients can be contaminated.
Yet CAM treatments can sometimes improve mental health conditions. These are both effective and safe. Further, CAMs are often more economical than prescription medication.
You can do things to make an informed decision. Arm yourself with knowledge. Read books and consult reputable websites. Work with your doctor, who knows you, your mental and physical health, and medication needs. Together, you can find treatment that is helpful and safe.
Related Articles Dealing with Sleep
Your Thoughts
Today's Question: If you have tried any complementary or natural or alternative treatments for your mental health, what was your experience? We invite you to participate by sharing your thoughts, experiences, and knowledge on the HealthyPlace Facebook page.
From the HealthyPlace Mental Health Blogs
On all our blogs, your comments and observations are welcomed.
Feel free to share your thoughts and comments at the bottom of any blog post. And visit the mental health blogs homepage for the latest posts.
------------------------------------------------------------------
Most Popular HealthyPlace Articles Shared by Facebook Fans
Here are the top 3 mental health articles HealthyPlace Facebook fans are recommending you read:
If you're not already, I hope you'll join us/like us on Facebook too. There are a lot of wonderful, supportive people there.
------------------------------------------------------------------
Mental Health Quote
"I don't think people understand how stressful it is to explain what's going on in your head when you don't even understand it yourself."
Read more anxiety quotes.
------------------------------------------------------------------
That's it for now. If you know of anyone who can benefit from this newsletter or the HealthyPlace.com site, I hope you'll pass this onto them. You can also share the newsletter on any social network (like facebook or stumbleupon) you belong to by clicking the links below. For updates throughout the week, follow HealthyPlace on Twitter or become a fan of HealthyPlace on Facebook. Also, check out HealthyPlace on Instagram, YouTube and Pinterest, where you can share your mental health pins on our Share Your Mental Health Experiences board.
APA Reference
Peterson, T. (2019, April 30). Can Supplements, CAM Improve Mental Health?, HealthyPlace. Retrieved on 2023, December 3 from https://www.healthyplace.com/other-info/mental-health-newsletter/can-supplements-cam-improve-mental-health
Last Updated: May 1, 2019