Describing Confusing Emotions Can Improve Mental Health
HealthyPlace Mental Health Newsletter
Here's what's happening on the HealthyPlace site this week: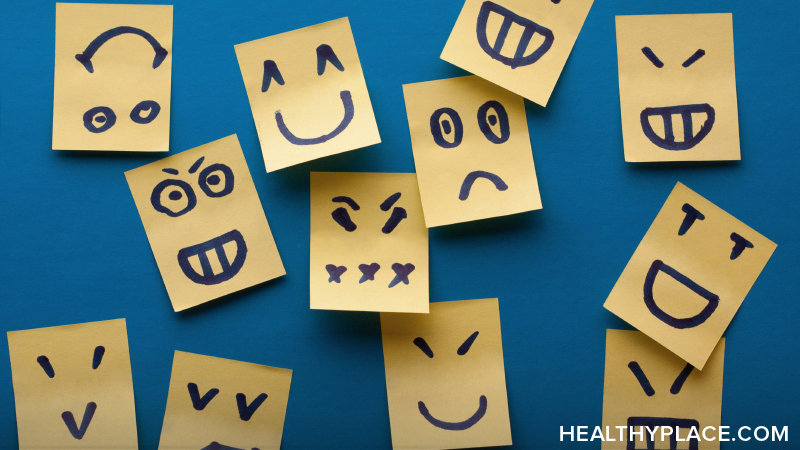 Describing Confusing Emotions Can Improve Mental Health
Emotions can be a jumbled mess, and describing confusing emotions (Eating Disorder Recovery: Dealing with the Emotions) can seem impossible. When emotions make us feel terrible and decrease our mental health, we often don't want to linger over them long enough to try to describe them. However, doing just that can actually improve mental health.
In her article Odd Emotions (Psychology Today, February, 2016), Rebecca Webber explains that putting emotions into words is a powerful thing to do because it helps us deal with them. (Learn How to Control Your Emotions and Feel Confident) When we can untangle the mess and pinpoint what we're feeling, when we can listen to what they're telling us and sort out those confusing emotions, we can begin to know what to do about them.
Describing messy emotions takes time. Sure, we can say we're "depressed," or "anxious," but that doesn't quite describe what's going on. That's because these, and other states of being, are so much more than emotions. So go beyond the term. What's going on in your external and internal worlds? Can you describe it in words or drawings or photos or music? What insights and understanding come to you? What do you want to do? The process of describing confusing emotions can indeed improve your mental health.
Related Articles Dealing with Decision-Making and Mental Illness
Your Thoughts
Today's Question: When you have jumbled, troubling emotions, what do you do about them to help your mental health? We invite you to participate by commenting and sharing your feelings, experiences and knowledge on the HealthyPlace Facebook page and on the HealthyPlace Google+ page.
---
---
Share our Stories
At the top and bottom of all our stories, you'll find social share buttons for Facebook, Google+, Twitter, Pinterest and other social sites. If you find a particular story, video, psychological test or other HealthyPlace feature helpful, there's a good chance others in need will too. Please share.
We also get many inquiries about our linking policy. If you have a website or blog, you can link to any page on the HealthyPlace website without asking us beforehand.
Most Popular HealthyPlace Articles Shared by Facebook Fans
Here are the top 3 mental health articles HealthyPlace Facebook fans are recommending you read:
If you're not already, I hope you'll join us/like us on Facebook too. There are a lot of wonderful, supportive people there.
------------------------------------------------------------------
From the HealthyPlace Mental Health Blogs
On all our blogs, your comments and observations are welcomed.
Feel free to share your thoughts and comments at the bottom of any blog post. And visit the mental health blogs homepage for the latest posts.
------------------------------------------------------------------
Stand Up for Mental Health
Thousands Have Joined the Stand Up for Mental Health Campaign
But we still need you. Let others know there's no shame in having depression, anxiety, bipolar disorder, trichotillomania, OCD, ADHD, schizophrenia or any other mental illness.
Join the Stand Up for Mental Health campaign. Put a button on your website or blog (buttons for family members, parents, mental health professionals and organizations too). We also have covers for Facebook, Twitter and Google+.
------------------------------------------------------------------
Latest Mental Health News
These stories and more are featured on our mental health news page:
CBT And Antidepressants Are Similarly Effective Treatments For Adults With Depression
Research Discovers Neuroprotective Protein In Blood Is Biomarker Of Alzheimer's Disease
Stress Of Social Disadvantage Increases Risk Of Osteoporosis
New Study Reveals That Prelinguistic Infants Can Categorize Colors
Patients With COPD Demonstrate Decrease In Areas Of The Brain That Process Breathlessness, Fear, And Sensitivity To Pain
Blocking A Stress Protein May Treat Chronic Pain
A Sedentary Lifestyle Might Shrink Your Brain
That's it for now. If you know of anyone who can benefit from this newsletter or the HealthyPlace.com site, I hope you'll pass this onto them. You can also share the newsletter on any social network (like facebook, stumbleupon, or digg) you belong to by clicking the links below. For updates throughout the week:
APA Reference
Peterson, T. (2016, June 3). Describing Confusing Emotions Can Improve Mental Health, HealthyPlace. Retrieved on 2023, December 3 from https://www.healthyplace.com/other-info/mental-health-newsletter/describing-confusing-emotions-can-improve-mental-health
Last Updated: June 3, 2016