Halloween and Mental Illness
HealthyPlace Mental Health Newsletter
Here's what's happening on the HealthyPlace site this week:
Halloween Can Be Frightening For People with Mental Illness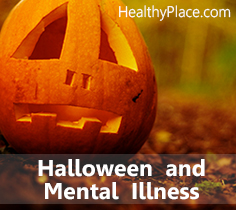 Halloween can be a fun, but it can also be a difficult time for people who have been abused (esp. satanic ritual abuse) or have PTSD, anxiety or other mental health conditions. Recovering From Mental Illness blog author, Paulissa Kipp, discusses the issue in Halloween, More Trick Than Treat for Those With Mental Illness.
Especially, if you or your child have a mental illness, here are some things to keep in mind:
Halloween is tied into death and the devil. Some dress up in bizarre scary costumes and in their attempt to instill fear, the characters may make strange eye contact. In addition, they may invade your personal space, making frightening noises and use bizarre body movements and gestures.
Children who participate in such Halloween celebrations may experience high levels of fear, anxiety and panic.
Be prepared to be assaulted by all sorts of examples of mental health stigma. For instance, people dressed in costumes, like a straight jacket, pretending to be "crazy" or haunted asylums, whose residents are portrayed as violent monsters.
If you feel uncomfortable celebrating or dealing with Halloween, do something else tonight. You don't have to submit yourself or your child to anything that harms your mental health.
Your Thoughts
Today's Question: How do you feel about Halloween? And if it's a difficult time, why? And how do you handle it? We invite you to participate by commenting and sharing your feelings, experiences and knowledge on the HealthyPlace Facebook page.
Help Spread Awareness of Mental Illness
Get Our Mental Health Blog Widget
Over 370 sites and blogs are helping spread awareness of mental illness. How about putting our mental health blogs widget on your website, blog or social page? The latest HealthyPlace blog headlines appear as soon as the articles are posted on our site. Just click "Get Widget" at the bottom of the widget, grab the embed code and paste it into your page. You'll also see embed links for Wordpress, Blogger, Linkedin and other social sites there.
As a bonus, put the blogs widget on your site or blog, email us (info AT healthyplace.com) with a page link where it appears, and we'll give a shoutout to your site, blog, or social site on our Facebook and Twitter pages.
------------------------------------------------------------------
Share our Stories
At the top and bottom of all our stories, you'll find social share buttons for Facebook, Google+, Twitter, Pinterest and other social sites. If you find a particular story, video, psychological test or other HealthyPlace feature helpful, there's a good chance others in need will too. Please share.
We also get many inquiries about our linking policy. If you have a website or blog, you can link to any page on the HealthyPlace website without asking us beforehand.
---
continue story below
---
Most Popular HealthyPlace Articles Shared by Facebook Fans
Here are the top 3 mental health articles HealthyPlace Facebook fans are recommending you read:
If you're not already, I hope you'll join us/like us on Facebook too. There are a lot of wonderful, supportive people there.
------------------------------------------------------------------
Mental Health Experiences
Share your thoughts/experiences with any mental health subject, or respond to other people's audio posts, by calling our toll-free number (1-888-883-8045).
You can listen to what other people are saying by clicking on the gray title bars inside the widgets located on the "Sharing Your Mental Health Experiences" homepage, the HealthyPlace homepage, and the HealthyPlace Support Network homepage.
If you have any questions, write us at: info AT healthyplace.com
------------------------------------------------------------------
From the HealthyPlace Mental Health Blogs
On all our blogs, your comments and observations are welcomed.
On all our blogs, your comments and observations are welcomed.
Feel free to share your thoughts and comments at the bottom of any blog post. And visit the mental health blogs homepage for the latest posts.
------------------------------------------------------------------
Stand Up for Mental Health
Thousands Have Joined the Stand Up for Mental Health Campaign
But we still need you. Let others know there's no shame in having depression, anxiety, bipolar disorder, trichotillomania, OCD, ADHD, schizophrenia or any other mental illness.
Join the Stand Up for Mental Health campaign. Put a button on your website or blog (buttons for family members, parents, mental health professionals and organizations too). We also have covers for Facebook, Twitter and Google+.
------------------------------------------------------------------
Coaching Unity To Parents Who Oppose One Another
Some parents can't agree on anything which results in poor parenting skills and causes problems for the kids. The Parent Coach, Dr. Steven Richfield, has some helpful ideas to help you and your partner mend your parenting partition.
Latest Mental Health News
These stories and more are featured on our mental health news page:
Why We Make Bad Decisions
Is Empathy Overrated?
Body Image Satisfaction in Middle-Aged Women
New Study Reveals Huge Lack of Awareness and Understanding of OCD Across the UK
Suicide Rates and Suicidal Talk on Twitter
Gender Differences in Involuntary Schizophrenia Inpatients
Prompt Intervention Helps Young Bipolar Patients at Discharge
Obesity May Aggravate Bipolar Neuropathology
Schizophrenic Hippocampal Abnormalities Blamed on Glutamate
Cardiometabolic Risk High for Schizophrenia Patients
Exercise Interventions May Be Needed in Bipolar Patients
That's it for now. If you know of anyone who can benefit from this newsletter or the HealthyPlace.com site, I hope you'll pass this onto them. You can also share the newsletter on any social network (like facebook, stumbleupon, or digg) you belong to by clicking the links below. For updates throughout the week:
APA Reference
Staff, H. (2013, October 31). Halloween and Mental Illness, HealthyPlace. Retrieved on 2023, December 10 from https://www.healthyplace.com/other-info/mental-health-newsletter/halloween-and-mental-illness
Last Updated: September 3, 2014