Healthy Decision-Making, Life Choices, and Mental Health
HealthyPlace Mental Health Newsletter
Here's what's happening on the HealthyPlace site this week: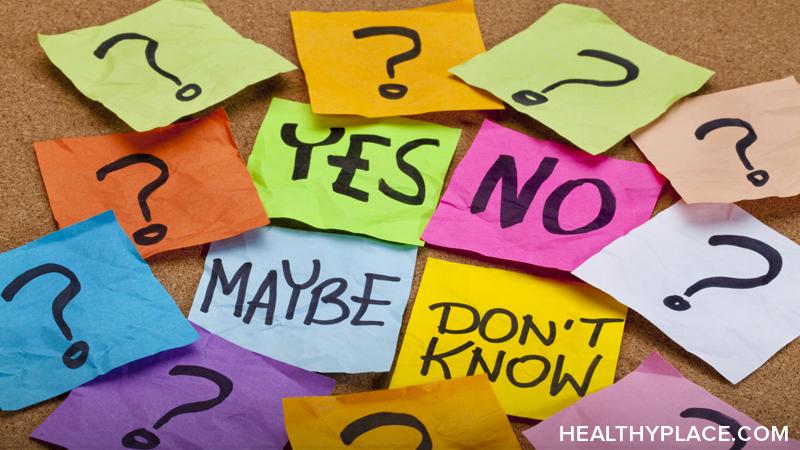 Healthy Decision-Making, Life Choices, and Mental Health
Healthy decision-making can be difficult when you're living with any type of mental health challenge (Depression and Indecision). Mental illness impacts our thoughts, feelings, and behaviors; each one of these plays a role in decision-making. To make healthy decisions, we rely on our rational, organized thought processes, balanced emotions, and actions that support our decisions. However, mental illness can interfere and make facing a big life choice overwhelming (Making the Big Decisions When You Have Bipolar).
How To Make Healthy Decisions
That said, mental health challenges don't render people unable to make decisions. These tips for healthy decision-making are strategies that many people have found to be useful:
Break a big decision into small pieces, and examine them one by one. How do you feel about a particular option? What consequences, positive and negative, can you foresee? What actions are needed?
Whatever life decision you're facing, reflect on it. Where do you want it to take you? What are you truly looking for?
Consider yourself and your life. Whatever choice you're facing, does it fit well with other important aspects of your life such as who you want to be with, how you want to spend your time, and where you want to live?
For healthy decision-making, breathe deeply and look at the little pieces in the big picture.
Related Articles Dealing with Decision-Making and Mental Illness
Your Thoughts
Today's Question: Today's Question: What healthy decision-making strategies do you use when you're facing a life choice? We invite you to participate by commenting and sharing your feelings, experiences and knowledge on the HealthyPlace Facebook page and on the HealthyPlace Google+ page.
---
---
Share our Stories
At the top and bottom of all our stories, you'll find social share buttons for Facebook, Google+, Twitter, Pinterest and other social sites. If you find a particular story, video, psychological test or other HealthyPlace feature helpful, there's a good chance others in need will too. Please share.
We also get many inquiries about our linking policy. If you have a website or blog, you can link to any page on the HealthyPlace website without asking us beforehand.
Most Popular HealthyPlace Articles Shared by Facebook Fans
Here are the top 3 mental health articles HealthyPlace Facebook fans are recommending you read:
If you're not already, I hope you'll join us/like us on Facebook too. There are a lot of wonderful, supportive people there.
------------------------------------------------------------------
From the HealthyPlace Mental Health Blogs
On all our blogs, your comments and observations are welcomed.
On all our blogs, your comments and observations are welcomed.
Feel free to share your thoughts and comments at the bottom of any blog post. And visit the mental health blogs homepage for the latest posts.
------------------------------------------------------------------
Stand Up for Mental Health
Thousands Have Joined the Stand Up for Mental Health Campaign
But we still need you. Let others know there's no shame in having depression, anxiety, bipolar disorder, trichotillomania, OCD, ADHD, schizophrenia or any other mental illness.
Join the Stand Up for Mental Health campaign. Put a button on your website or blog (buttons for family members, parents, mental health professionals and organizations too). We also have covers for Facebook, Twitter and Google+.
------------------------------------------------------------------
Latest Mental Health News
These stories and more are featured on our mental health news page:
Premature Birth Appears To Weaken Brain Connections
The Smell Of Death Can Trigger Fight Or Flight In Humans
Stressed Dads Affect Offspring Brain Development Through Sperm
High-Fat Diet May Cause Changes In The Brain That Lead To Anxiety And Depression
Bariatric Surgery Can Increase Likelihood Of Self-Harm, Suicide
Lack Of Face-To-Face Contact Almost Doubles Depression Risk For Older Adults
CAMH Survey Shows Over Half Of Workers With Depression Do Not Recognize Need For Treatment
That's it for now. If you know of anyone who can benefit from this newsletter or the HealthyPlace.com site, I hope you'll pass this onto them. You can also share the newsletter on any social network (like facebook, stumbleupon, or digg) you belong to by clicking the links below. For updates throughout the week:
APA Reference
(2015, October 14). Healthy Decision-Making, Life Choices, and Mental Health , HealthyPlace. Retrieved on 2022, October 7 from https://www.healthyplace.com/other-info/mental-health-newsletter/healthy-decision-making-life-choices-and-mental-health
Last Updated: October 21, 2015