Is Mental Illness A Lonely Disease?
HealthyPlace Mental Health Newsletter
Here's what's happening on the HealthyPlace site this week:
Mental Illness and Feeling Alone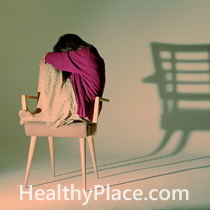 Mental illness is a lonely and isolating disease, wrote Natalie Jeanne Champagne, former author of the Recovering From Mental Illness blog. Those words came back to me because the holiday season is right around the corner and, for many, the holidays can bring intense feelings of loneliness.
One thing I've noticed in reading some of the articles we have on loneliness is a common thread of feeling "different" and fear of rejection. So where might you start when trying to break the pattern of isolating yourself from others so you don't feel alone. Face-to-face support groups offer that opportunity. There you will find people who share common experiences and who can truly understand what you may be going through. We have a list of NAMI support groups and Mental Health America support groups that meet in cities across America on our mental health hotlines and support resources page. There is usually no charge to attend, although they are happy to accept a small donation to help fund local operations.
Get in touch, attend a few meetings, give things a chance ... before the holidays get underway.
Your Thoughts
Today's Question: Is mental illness a lonely disease? We invite you to participate by commenting and sharing your feelings, experiences and knowledge on the HealthyPlace Facebook page.
More Articles on Loneliness
Help Spread Awareness of Mental Illness
Get Our Mental Health Blog Widget
Over 370 sites and blogs are helping spread awareness of mental illness. How about putting our mental health blogs widget on your website, blog or social page? The latest HealthyPlace blog headlines appear as soon as the articles are posted on our site. Just click "Get Widget" at the bottom of the widget, grab the embed code and paste it into your page. You'll also see embed links for Wordpress, Blogger, Linkedin and other social sites there.
As a bonus, put the blogs widget on your site or blog, email us (info AT healthyplace.com) with a page link where it appears, and we'll give a shoutout to your site, blog, or social site on our Facebook and Twitter pages.
------------------------------------------------------------------
Share our Stories
At the top and bottom of all our stories, you'll find social share buttons for Facebook, Google+, Twitter, Pinterest and other social sites. If you find a particular story, video, psychological test or other HealthyPlace feature helpful, there's a good chance others in need will too. Please share.
We also get many inquiries about our linking policy. If you have a website or blog, you can link to any page on the HealthyPlace website without asking us beforehand.
---
continue story below
---
Most Popular HealthyPlace Articles Shared by Facebook Fans
Here are the top 3 mental health articles HealthyPlace Facebook fans are recommending you read:
If you're not already, I hope you'll join us/like us on Facebook too. There are a lot of wonderful, supportive people there.
------------------------------------------------------------------
Mental Health Experiences
Share your thoughts/experiences with any mental health subject, or respond to other people's audio posts, by calling our toll-free number (1-888-883-8045).
You can listen to what other people are saying by clicking on the gray title bars inside the widgets located on the "Sharing Your Mental Health Experiences" homepage, the HealthyPlace homepage, and the HealthyPlace Support Network homepage.
If you have any questions, write us at: info AT healthyplace.com
------------------------------------------------------------------
From the HealthyPlace Mental Health Blogs
On all our blogs, your comments and observations are welcomed.
Feel free to share your thoughts and comments at the bottom of any blog post. And visit the mental health blogs homepage for the latest posts.
------------------------------------------------------------------
Stand Up for Mental Health
Thousands Have Joined the Stand Up for Mental Health Campaign
But we still need you. Let others know there's no shame in having depression, anxiety, bipolar disorder, trichotillomania, OCD, ADHD, schizophrenia or any other mental illness.
Join the Stand Up for Mental Health campaign. Put a button on your website or blog (buttons for family members, parents, mental health professionals and organizations too). We also have covers for Facebook, Twitter and Google+.
------------------------------------------------------------------
When Frightening News Leads To Young Children's Sleepless Nights
Terrorist attacks, thunder and lightning or events around the house - these are just some of the things that can lead to your child having trouble falling asleep. So what can parents do to help their child overcome sleep problems? The Parent Coach, Dr. Steven Richfield, has some helpful ideas.
Latest Mental Health News
These stories and more are featured on our mental health news page:
The 45-Minute Therapy 'Hour': A Sign of the Times?
Raising Daughters. On Bringing Up Girls Into Confident Young Women
The Social Brain. Are We Wired to Connect?
New Study Reveals Huge Lack of Awareness and Understanding of OCD Across the UK
Suicide Rates and Suicidal Talk on Twitter
People With Mental Health Problems Are Up to Ten Times More Likely to Become Victims of Crime Than The General Population
Bipolar Risk Markers Identified in Depressed ADHD Children
DSM-IV Insufficient for Bipolar Disorder Diagnosis
Pregnant Smoking May Have Mood Consequences for Offspring
Loving Touch May be Key to Healthy Sense of Self
Exercise Interventions May Be Needed in Bipolar Patients
That's it for now. If you know of anyone who can benefit from this newsletter or the HealthyPlace.com site, I hope you'll pass this onto them. You can also share the newsletter on any social network (like facebook, stumbleupon, or digg) you belong to by clicking the links below. For updates throughout the week:
APA Reference
Staff, H. (2013, October 16). Is Mental Illness A Lonely Disease?, HealthyPlace. Retrieved on 2023, December 3 from https://www.healthyplace.com/other-info/mental-health-newsletter/is-mental-illness-a-lonely-disease
Last Updated: September 4, 2014