Mental Health Challenges Make Thanksgiving Hard to Like
HealthyPlace Mental Health Newsletter
Here's what's happening on the HealthyPlace site this week: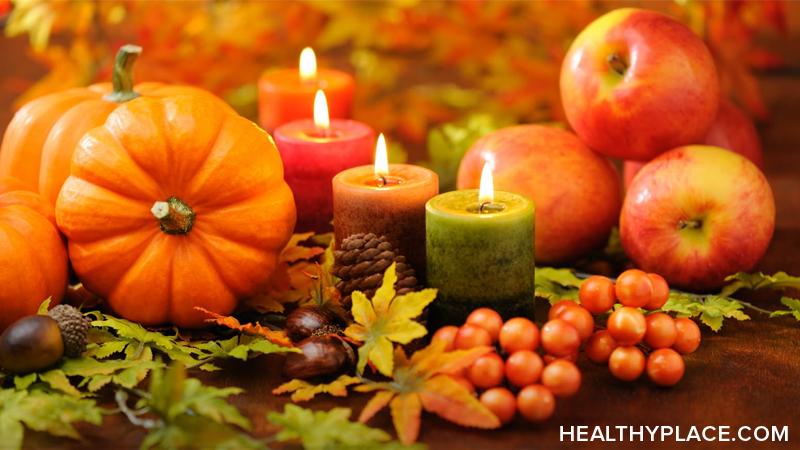 Mental Health Challenges Make Thanksgiving Hard to Like
Thanksgiving often worsens mental health struggles. The gatherings aren't always the warm, cozy get-togethers portrayed in greeting card commercials. Instead, the holiday can contribute to increased depression and anxiety. It can create distress for people struggling with eating disorders (Surviving and Thriving During the Holidays with an Eating Disorder) or substance use. The holiday stress can exacerbate symptoms of almost every mental illness or personality disorder. When living with mental health challenges, Thanksgiving can be a reason to hide rather than a reason to gather.
Although tempting, hiding isn't always the best way to care for yourself and enhance mental health. As you prepare for Thanksgiving, consider ways to care for your mental health:
Get in the spirit of the day; expressing gratitude for who you are and aspects of your life is a proven way to put things in perspective.
Establish boundaries; what can you tolerate and what can't you put up with? Define this clearly, and don't be afraid to draw the line.
Remember strategies you already use to enhance mental health, and use them throughout the day. Stepping away from the fray to breathe, walk, read, or anything else that enhances calm will make the day more bearable. (Tips on Coping with Anxiety and Bipolar Disorder)
Thanksgiving might be stressful, but you don't have to let it aggravate your mental health symptoms.
Related Articles Dealing with Mental Health and Thanksgiving
Your Thoughts
Today's Question: How do you make sure the Thanksgiving holiday doesn't harm your mental health? We invite you to participate by commenting and sharing your feelings, experiences and knowledge on the HealthyPlace Facebook page and on the HealthyPlace Google+ page.
---
---
Share our Stories
At the top and bottom of all our stories, you'll find social share buttons for Facebook, Google+, Twitter, Pinterest and other social sites. If you find a particular story, video, psychological test or other HealthyPlace feature helpful, there's a good chance others in need will too. Please share.
We also get many inquiries about our linking policy. If you have a website or blog, you can link to any page on the HealthyPlace website without asking us beforehand.
Most Popular HealthyPlace Articles Shared by Facebook Fans
Here are the top 3 mental health articles HealthyPlace Facebook fans are recommending you read:
If you're not already, I hope you'll join us/like us on Facebook too. There are a lot of wonderful, supportive people there.
------------------------------------------------------------------
From the HealthyPlace Mental Health Blogs
On all our blogs, your comments and observations are welcomed.
Feel free to share your thoughts and comments at the bottom of any blog post. And visit the mental health blogs homepage for the latest posts.
------------------------------------------------------------------
Stand Up for Mental Health
Thousands Have Joined the Stand Up for Mental Health Campaign
But we still need you. Let others know there's no shame in having depression, anxiety, bipolar disorder, trichotillomania, OCD, ADHD, schizophrenia or any other mental illness.
Join the Stand Up for Mental Health campaign. Put a button on your website or blog (buttons for family members, parents, mental health professionals and organizations too). We also have covers for Facebook, Twitter and Google+.
------------------------------------------------------------------
Latest Mental Health News
These stories and more are featured on our mental health news page:
Inflammation Linked To Weakened Reward Circuits In Depression
Study Shows Digital Intervention Improved Attention And Memory In Children With ADHD
Weight-Loss Surgery Reduces Brain's Sugar Addiction
Improving Fitness May Counteract Brain Atrophy In Older Adults, UMD Study Shows
Study Finds: Those Who Bullied Others Were Twice As Likely To Display Symptoms Of Bulimia
Decreasing Mental Health Services Increases Mental Health Emergencies
Yoga May Benefit Men With Prostate Cancer, Study Finds
That's it for now. If you know of anyone who can benefit from this newsletter or the HealthyPlace.com site, I hope you'll pass this onto them. You can also share the newsletter on any social network (like facebook, stumbleupon, or digg) you belong to by clicking the links below. For updates throughout the week:
APA Reference
(2015, November 23). Mental Health Challenges Make Thanksgiving Hard to Like, HealthyPlace. Retrieved on 2022, October 2 from https://www.healthyplace.com/other-info/mental-health-newsletter/mental-health-challenges-make-thanksgiving-hard-to-like
Last Updated: December 7, 2015