Can You Diagnose Yourself with a Mental Illness?
Here's what's happening on the HealthyPlace site this week:
---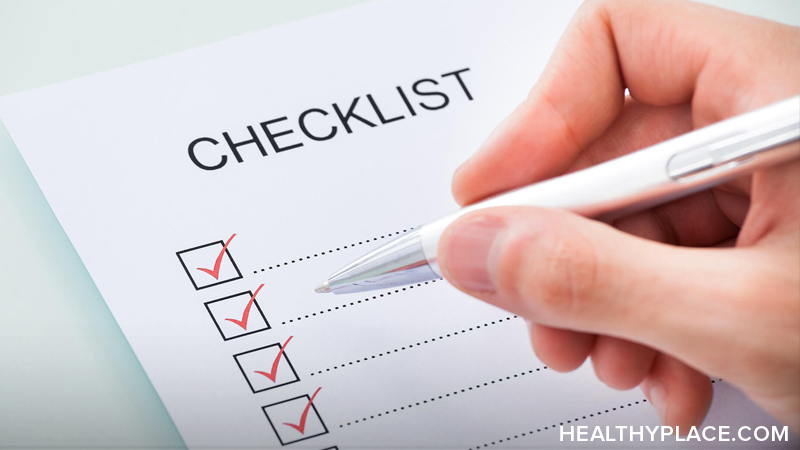 Can You Diagnose Yourself with a Mental Illness?
Is it wise to try to diagnose yourself with a mental illness?
When you know that something isn't right with how you're experiencing life, you just might do what so many others do: identify your mental illness symptoms and try to pinpoint what's causing them. Searching for information about what you're experiencing is very empowering and can equip you with tools you need to start healing, but without an official mental illness diagnosis, you might not receive the treatment you need.
The ability to know your symptoms and learn more about them is a strength that will help you overcome your mental health challenges. However, mental illness is difficult to diagnose, so for safety and accuracy, it's wise to take all of the information you're gathering about the illness and yourself and share it with a mental health professional or medical doctor.
It's okay to strike a balance between going at your diagnosis alone and putting your fate entirely in someone's hands. Go ahead and read information and personal accounts, take online psychological tests and self-assessments, and use all of this information to communicate with your doctor or mental health professional. Being well-informed will help you arrive at an accurate diagnosis so you can treat it the right way.
Related Information about Mental Illness Diagnosis
Your Thoughts
Today's Question: Did you ever use online information to diagnose yourself with a mental illness? How helpful and accurate did it turn out to be? We invite you to participate by sharing your thoughts, knowledge, and experiences on the HealthyPlace Facebook page and on the HealthyPlace Google+ page.
---
---
From the HealthyPlace Mental Health Blogs
On all our blogs, your comments and observations are welcomed.
Feel free to share your thoughts and comments at the bottom of any blog post. And visit the mental health blogs homepage for the latest posts.
------------------------------------------------------------------
From HealthyPlace YouTube Channel
Bipolar and Hypersexuality: Sex and My Emotions
Today I'm talking about hypersexuality and bipolar disorder and how I'm affected by hypersexuality. Many of the uninitiated view hypersexuality as wanting to just have a lot of sex with anyone. One of the biggest indicators that my mental health was declining before my bipolar breakdown in college relates to my hypersexual behavior. It has little to do with the number of sexual partners and more to do with my emotions regarding sex. There was a coldness about me, and I treated sex more as an object rather than an action with meaning behind it. In this video, I share my personal experience with hypersexual behavior before treatment for bipolar 2 disorder.
------------------------------------------------------------------
Most Popular HealthyPlace Articles Shared by Facebook Fans
Here are the top 3 mental health articles HealthyPlace Facebook fans are recommending you read:
If you're not already, I hope you'll join us/like us on Facebook too. There are a lot of wonderful, supportive people there.
------------------------------------------------------------------
Mental Health Quote
"Living with anxiety is like being followed by a voice. It knows all your insecurities and uses them against you. It gets to the point when it's the loudest voice in the room. The only one you can hear. ."
Read more anxiety quotes.
------------------------------------------------------------------
That's it for now. If you know of anyone who can benefit from this newsletter or the HealthyPlace.com site, I hope you'll pass this onto them. You can also share the newsletter on any social network (like facebook, stumbleupon, or google+) you belong to by clicking the links below. For updates throughout the week, circle HealthyPlace on Google+, follow HealthyPlace on Twitter or become a fan of HealthyPlace on Facebook. Also, check out HealthyPlace on Pinterest and share your mental health pins on our Share Your Mental Health Experiences board.
APA Reference
Peterson, T. (2017, July 17). Can You Diagnose Yourself with a Mental Illness?, HealthyPlace. Retrieved on 2023, December 11 from https://www.healthyplace.com/other-info/mental-health-newsletter/can-you-diagnose-yourself-with-a-mental-illness
Last Updated: July 19, 2017