Why Can Mental Illness Be So Hard to Diagnose?
HealthyPlace Mental Health Newsletter
Here's what's happening on the HealthyPlace site this week: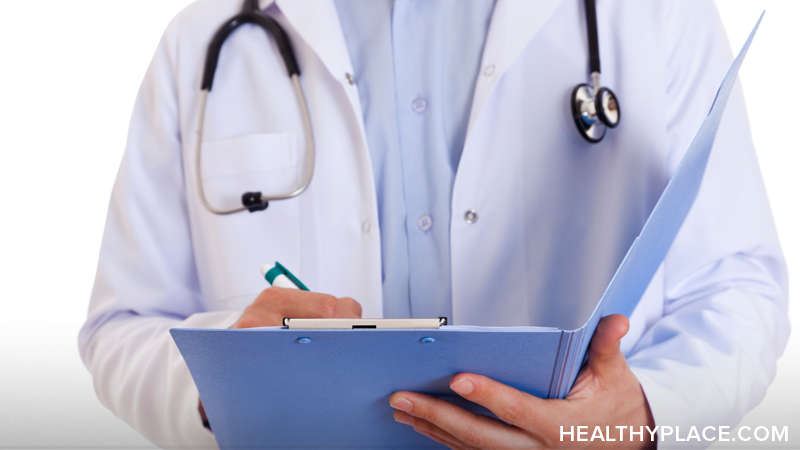 Why Can Mental Illness Be So Hard to Diagnose?
The process of diagnosing mental illness can be frustrating. Frequently, someone experiencing a mental health crisis is well aware that something is wrong. Naturally, he or she wants answers. However, mental illness can be hard to diagnose.
It can take months, and sometimes years, for doctors to accurately diagnose a mental illness. Some reasons:
Symptoms of mental illnesses often overlap. Psychotic features, for example, are a part of schizophrenia and other psychotic disorders as well as mood disorders, dissociative disorders, and personality disorders.
There are individual differences. While there are distinct criteria for and symptoms of every mental disorder (The DSM-5: The Encyclopedia of Mental Disorders), each person is unique. What depression is like for one person is a bit different for another.
With few exceptions, medical tests don't yet exist. While brain imaging can show how mental illness affects the brain, it's not used for diagnosis. Further, there are no blood or other lab tests to show a mental illness.
Receiving a diagnosis of mental illness can feel like nothing more than trial and error. While there is a degree of trial-and-error involved, it's educated, methodical trial-and-error. Diagnosis can be a difficult and frustrating process, but the process does involve progress on the road to recovery.
Related Articles Dealing with Diagnosing Mental Illness
Your Thoughts
Today's Question: When you went through the mental illness diagnosis process, what were some frustrations and triumphs you experienced? We invite you to participate by commenting and sharing your feelings, experiences and knowledge on the HealthyPlace Facebook page and on the HealthyPlace Google+ page.
---
---
Share our Stories
At the top and bottom of all our stories, you'll find social share buttons for Facebook, Google+, Twitter, Pinterest and other social sites. If you find a particular story, video, psychological test or other HealthyPlace feature helpful, there's a good chance others in need will too. Please share.
We also get many inquiries about our linking policy. If you have a website or blog, you can link to any page on the HealthyPlace website without asking us beforehand.
Most Popular HealthyPlace Articles Shared by Facebook Fans
Here are the top 3 mental health articles HealthyPlace Facebook fans are recommending you read:
If you're not already, I hope you'll join us/like us on Facebook too. There are a lot of wonderful, supportive people there.
------------------------------------------------------------------
From the HealthyPlace Mental Health Blogs
On all our blogs, your comments and observations are welcomed.
Feel free to share your thoughts and comments at the bottom of any blog post. And visit the mental health blogs homepage for the latest posts.
------------------------------------------------------------------
Stand Up for Mental Health
Thousands Have Joined the Stand Up for Mental Health Campaign
But we still need you. Let others know there's no shame in having depression, anxiety, bipolar disorder, trichotillomania, OCD, ADHD, schizophrenia or any other mental illness.
Join the Stand Up for Mental Health campaign. Put a button on your website or blog (buttons for family members, parents, mental health professionals and organizations too). We also have covers for Facebook, Twitter and Google+.
------------------------------------------------------------------
Latest Mental Health News
These stories and more are featured on our mental health news page:
Study: Exercise Can Help Adults Better Cope With ADHD Symptoms
Stress Reduced With Art-Making, Regardless Of Skill Level
Obesity Linked To Abnormal Reward Response To Sugary Foods
Specific Gut Bacteria Reverse Autism-Like Behavior In Mice
Exercising 4 Hours After Learning Boosts Memory
Community-Based Programme Improves Depression In Chronic Pain Patients
Sleepiness And Fatigue Linked To Brain Atrophy In Cognitively Normal Elderly
Depression, Adverse Childhood Events And Sleep Disturbances Linked To Changes In The Immune System
That's it for now. If you know of anyone who can benefit from this newsletter or the HealthyPlace.com site, I hope you'll pass this onto them. You can also share the newsletter on any social network (like facebook, stumbleupon, or digg) you belong to by clicking the links below. For updates throughout the week:
back to: HealthyPlace.com Mental-Health Newsletter Index
APA Reference
Peterson, T. (2016, August 17). Why Can Mental Illness Be So Hard to Diagnose?, HealthyPlace. Retrieved on 2023, December 3 from https://www.healthyplace.com/other-info/mental-health-newsletter/why-can-mental-illness-be-so-hard-to-diagnose
Last Updated: August 17, 2016