Doctors, Therapists Who Hide Your Mental Health Diagnosis
HealthyPlace Mental Health Newsletter
Here's what's happening on the HealthyPlace site this week:
Doctors, Therapists Who Hide Your Mental Health Diagnosis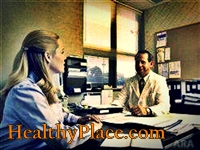 Having worked at HealthyPlace for almost a decade, when it comes to mental illness, I thought I had heard and seen it all. Apparently not. In today's environment, I had never heard of a doctor or therapist purposefully hiding the mental health diagnosis from a patient. Our award-winning bipolar blogger, Natasha Tracy, details this egregious offense in Dealing with Doctors Who Won't Tell You Your Diagnosis. This is a must-read for everyone; mental health patients, those who think they may have a mental illness, parents and loved ones. It should be shared with everyone you know.
I'm not going to re-state Natasha's article. What I'm hoping is that this type of professional behavior isn't widespread. Seeing your family doctor or a mental health professional for an initial evaluation of your concerns has been touted as the gold standard of treatment for decades. How can anyone begin to help themselves if they aren't armed with a mental health diagnosis they can count on?
Share your thoughts and experiences with this by commenting on the HealthyPlace Facebook page. The article is pinned to the top for the next two days. Also, we invite mental health professionals to share their opinions on this matter. Do you think there's a circumstance where it's best not to inform the patient of his/her mental health diagnosis?
Related Mental Health Diagnosis Information
------------------------------------------------------------------
Share our Stories
At the top and bottom of all our stories, you'll find social share buttons for Facebook, Google+, Twitter, Pinterest and other social sites. If you find a particular story, video, psychological test or other HealthyPlace feature helpful, there's a good chance others in need will too. Please share.
We also get many inquiries about our linking policy. If you have a website or blog, you can link to any page on the HealthyPlace website without asking us beforehand.
---
continue story below
---
Most Popular HealthyPlace Articles Shared by Facebook Fans
Here are the top 3 mental health articles HealthyPlace Facebook fans are recommending you read:
If you're not already, I hope you'll join us/like us on Facebook too. There are a lot of wonderful, supportive people there.
------------------------------------------------------------------
Mental Health Experiences
Share your thoughts/experiences with any mental health subject, or respond to other people's audio posts, by calling our toll-free number (1-888-883-8045).
You can listen to what other people are saying by clicking on the gray title bars inside the widgets located on the "Sharing Your Mental Health Experiences" homepage, the HealthyPlace homepage, and the HealthyPlace Support Network homepage.
If you have any questions, write us at: info AT healthyplace.com
------------------------------------------------------------------
From the HealthyPlace Mental Health Blogs
Your comments and observations are welcomed.
Feel free to share your thoughts and comments at the bottom of any blog post. And visit the mental health blogs homepage for the latest posts.
Survivors of Child Abuse on HealthyPlace TV
"I was so brutally traumatized that I was covered from the top of my head to the bottom of my feet with hives and the pupils in my eyes were usually dilated." Diane Champe shares her horrifying story of abuse - 21 years being isolated by her parents and mentally, physically, emotionally and sexually abused - and the impact it had on her adult life.
Helping Children With Autism Find Social Acceptance
Parents of children with autism often confront the daunting task of determining how much to expose their child to the everyday behaviors and activities of non-autistic peers. Part of the problem entails wondering how peers will respond and whether the outcome will be beneficial or harmful to their child's growth. The Parent Coach, Dr. Steven Richfield, shares insights and suggestions for helping your child with austism find social acceptance.
Latest Mental Health News
You can get mental health news stories and feature articles here and go here for GME Journal Watch, a monthly newsletter summarizing the latest published research in psychiatry.
That's it for now. If you know of anyone who can benefit from this newsletter or the HealthyPlace.com site, I hope you'll pass this onto them. You can also share the newsletter on any social network (like facebook, stumbleupon, or digg) you belong to by clicking the links below. For updates throughout the week:
APA Reference
Staff, H. (2012, October 1). Doctors, Therapists Who Hide Your Mental Health Diagnosis, HealthyPlace. Retrieved on 2023, October 4 from https://www.healthyplace.com/other-info/mental-health-newsletter/doctors-therapists-who-hide-your-mental-health-diagnosis
Last Updated: September 4, 2014