Teaching Kids about Mental Health, Self-Awareness in Classrooms
Here's what's happening on the HealthyPlace site this week:
---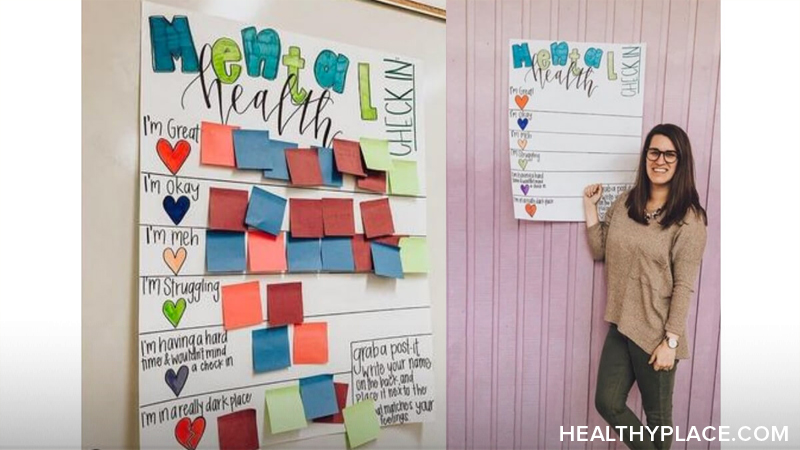 Teaching Kids about Mental Health, Self-Awareness in Classrooms
Can teaching kids self-awareness and giving them the tools to open up about mental health be simple, cheap, and easy to fit into a packed school day? Erin Castillo, a special education teacher in San Francisco, does just that. She devised the mental health check-in chart, and it's working wonders.
The mental health check-in is simple and powerful. She hangs a large, attractively decorated length of paper on a prominent wall. It reads "Mental Health Check-In", and it sports the following rows:
I'm great
I'm okay
I'm meh
I'm struggling
I'm having a really hard time & wouldn't mind a check-in
I'm in a really dark place
Students are encouraged to, at any time, slap a sticky note on the chart to show how they're feeling. They can write their name on the back if they choose, and they can ask for a check-in.
This brilliant strategy, which has now been implemented by teachers nationwide, keeps mental health visible and prominent, lets students see that they're not the only one experiencing any type of emotion, see that emotions aren't permanent, and safely ask for help if they choose.
Getting rid of mental health stigma in schools and making it a priority is as simple, inexpensive, and non-time-consuming as paper, pencils, and a non-threatening invitation.
Related Articles Dealing with Mental Health in Schools
Your Thoughts
Today's Question: In what ways has mental illness stigma at school affected your child? We invite you to participate by sharing your thoughts, experiences, and knowledge on the HealthyPlace Facebook page or the HealthyPlace Facebook page.
From the HealthyPlace Mental Health Blogs
On all our blogs, your comments and observations are welcomed.
Feel free to share your thoughts and comments at the bottom of any blog post. And visit the mental health blogs homepage for the latest posts.
------------------------------------------------------------------
Most Popular HealthyPlace Articles Shared by Facebook Fans
Here are the top 3 mental health articles HealthyPlace Facebook fans are recommending you read:
If you're not already, I hope you'll join us/like us on Facebook too. There are a lot of wonderful, supportive people there.
------------------------------------------------------------------
Mental Health Quote
"If I can survive the war that I battle with myself. I can survive anything."
Read more mental health quotes.
------------------------------------------------------------------
That's it for now. If you know of anyone who can benefit from this newsletter or the HealthyPlace.com site, I hope you'll pass this onto them. You can also share the newsletter on any social network (like facebook or stumbleupon) you belong to by clicking the links below. For updates throughout the week, follow HealthyPlace on Twitter or become a fan of HealthyPlace on Facebook. Also, check out HealthyPlace on Instagram, YouTube and Pinterest, where you can share your mental health pins on our Share Your Mental Health Experiences board.
APA Reference
Peterson, T. (2020, March 17). Teaching Kids about Mental Health, Self-Awareness in Classrooms, HealthyPlace. Retrieved on 2023, September 22 from https://www.healthyplace.com/other-info/mental-health-newsletter/teaching-kids-about-mental-health-self-awareness-in-classrooms
Last Updated: March 17, 2020