Nurture Your Mental Health at the End of Winter
HealthyPlace Mental Health Newsletter
Here's what's happening on the HealthyPlace site this week: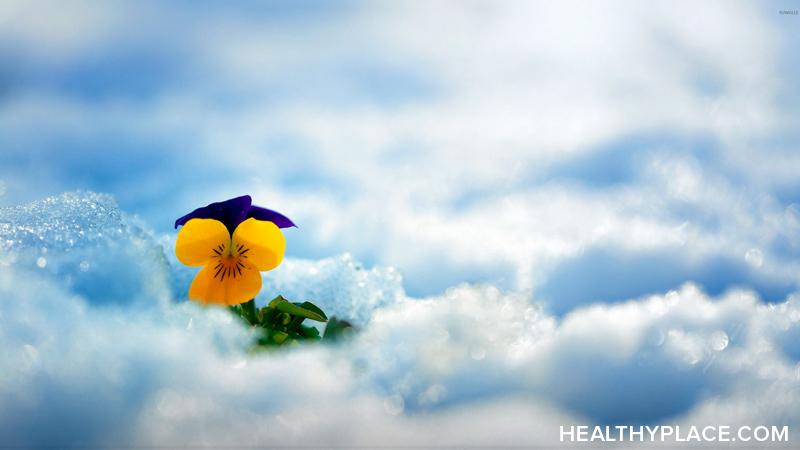 Nurture Your Mental Health at the End of Winter
Late winter is challenging. Many are still struggling with seasonal depression. Even without seasonal affective disorder, people can feel sluggish and down. Despite this, we're not powerless. We can take charge of our mental health by taking action to do things that are forward-thinking and bring hope. (Visualize and See the Life You Want)
Perhaps one of these ideas for improving mental health at the end of winter will inspire you.
Start a garden. Decorate a small pot with inspirational sayings or designs. In it, plant something that makes you happy. Nurture it indoors until you can transfer it outdoors.
Use your plant to nurture yourself. Put it in a light spot, sit by it for at least 10 minutes every day, and mediate, practice deep breathing, be mindful of the present moment, write in a journal, etc.
Plan. What are you looking forward to once spring is here? Use a special calendar or journal to create plans to make it happen. Be specific.
Countdown to the starting point of your plans. Realize, though, that your starting point is now. Don't wait for joy. What small things can you do to put your plans into action right away?

Don't stop here. What other activities can you create to kindle your hope that spring will come, and mental health and wellbeing are yours?
Related Links and Articles
Your Thoughts
Today's Question: When you are fed up with winter but it's not quite time for spring, what do you do to enhance your mental health and wellbeing? We invite you to participate by sharing your thoughts, experiences, and knowledge on the HealthyPlace Facebook page.
---
---
From the HealthyPlace Mental Health Blogs
On all our blogs, your comments and observations are welcomed.
Feel free to share your thoughts and comments at the bottom of any blog post. And visit the mental health blogs homepage for the latest posts.
------------------------------------------------------------------
From HealthyPlace YouTube Channel
Having Bipolar Disorder Doesn't Mean We're All the Same
I hate mental illness stereotypes and generalizations about people with bipolar disorder. The stereotypes about those of us with bipolar disorder (or any mental health condition) follow us the minute we walk out the door. It is nerve-racking to think that the majority of people we are surrounded by have a negative view of people with a mental health condition. So I've put together some things that I want people to know about my life with bipolar 2 disorder. Take a look. Then, in the comments, share what you want people to know about your life as someone with bipolar disorder or another mental health condition?.
------------------------------------------------------------------
Most Popular HealthyPlace Articles Shared by Facebook Fans
Here are the top 3 mental health articles HealthyPlace Facebook fans are recommending you read:
If you're not already, I hope you'll join us/like us on Facebook too. There are a lot of wonderful, supportive people there.
------------------------------------------------------------------
Mental Health Quote
"You are so brave and quiet, I forget you are suffering".
Read more mental health stigma.
------------------------------------------------------------------
That's it for now. If you know of anyone who can benefit from this newsletter or the HealthyPlace.com site, I hope you'll pass this onto them. You can also share the newsletter on any social network (like facebook, stumbleupon, or google+) you belong to by clicking the links below. For updates throughout the week, circle HealthyPlace on Google+, follow HealthyPlace on Twitter or become a fan of HealthyPlace on Facebook. Also, check out HealthyPlace on Pinterest and share your mental health pins on our Share Your Mental Health Experiences board.
APA Reference
Peterson, T. (2017, February 22). Nurture Your Mental Health at the End of Winter, HealthyPlace. Retrieved on 2023, December 1 from https://www.healthyplace.com/other-info/mental-health-newsletter/nurture-your-mental-health-at-the-end-of-winter
Last Updated: May 8, 2017