Tips for Achieving Your Mental Health Goals
HealthyPlace Mental Health Newsletter
Here's what's happening on the HealthyPlace site this week:
----------
Advertisement
The MINDSET Study for Mild-to-Moderate Alzheimer's is Open
There is an opportunity to get involved in a global research study enrolling participants with mild-to-moderate Alzheimer's disease, and who are currently taking donepezil (sometimes known as Aricept®). The study involves an investigational medication called RVT-101. Interested patients and caregivers are invited to visit AlzheimersGlobalStudy.com to see if they may pre-qualify.
----------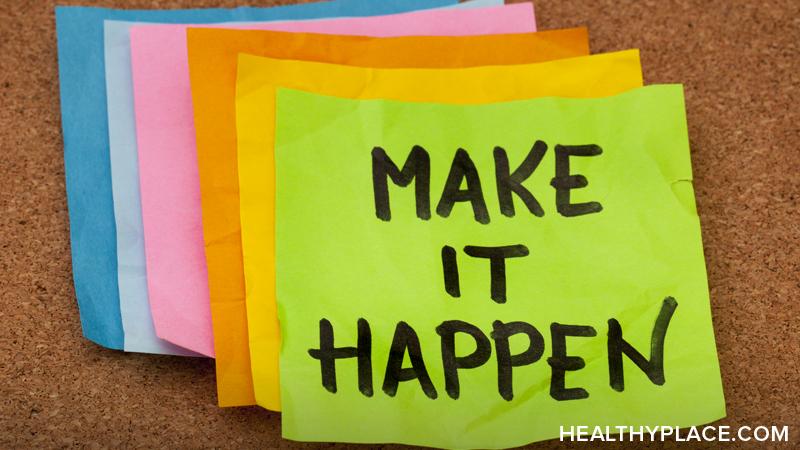 Tips for Achieving Your Mental Health Goals
Creating mental health goals is a great way to take charge of your wellbeing. Reaching those goals, though, can be frustrating (Let Your New Year's Goals Lead You to Happiness). Here are some tips for achieving the mental health goals you set for yourself.
A commonly used formula for working toward goals is the acronym SMART. This system provides a guideline for creating goals (Reasonable Expectations, Healthy Goals and Mental Illness). According to the SMART system, make your mental health goals
Specific
Measurable
Achievable
Realistic
Timely
Creating SMART mental health goals helps ensure success. Sometimes, though, that acronym alone is a bit sterile. When you create deeply meaningful goals, achieving them is absolutely in your power. Some things to keep in mind:
Be intentional; what outcome do you want for yourself and your life, and why? How will things be different when you reach it?
Create a plan that includes taking small steps toward your mental health goal every day.
Keep your wording positive—what you do want rather than what you don't want. Stating, "I will enjoy 15 minutes outdoors every day," is much more empowering than "I won't sit inside all day."
By setting mental health goals and following these tips for achieving them, you take charge of your wellbeing.
Related Articles Dealing with Achieving Mental Health Goals
Your Thoughts
Today's Question: Today's Question: When you're setting and working toward mental health goals, what works for you? We invite you to participate by commenting and sharing your feelings, experiences and knowledge on the HealthyPlace Facebook page and on the HealthyPlace Google+ page.
---
---
Share our Stories
At the top and bottom of all our stories, you'll find social share buttons for Facebook, Google+, Twitter, Pinterest and other social sites. If you find a particular story, video, psychological test or other HealthyPlace feature helpful, there's a good chance others in need will too. Please share.
We also get many inquiries about our linking policy. If you have a website or blog, you can link to any page on the HealthyPlace website without asking us beforehand.
Most Popular HealthyPlace Articles Shared by Facebook Fans
Here are the top 3 mental health articles HealthyPlace Facebook fans are recommending you read:
If you're not already, I hope you'll join us/like us on Facebook too. There are a lot of wonderful, supportive people there.
------------------------------------------------------------------
From the HealthyPlace Mental Health Blogs
On all our blogs, your comments and observations are welcomed.
Feel free to share your thoughts and comments at the bottom of any blog post. And visit the mental health blogs homepage for the latest posts.
------------------------------------------------------------------
Stand Up for Mental Health
Thousands Have Joined the Stand Up for Mental Health Campaign
But we still need you. Let others know there's no shame in having depression, anxiety, bipolar disorder, trichotillomania, OCD, ADHD, schizophrenia or any other mental illness.
Join the Stand Up for Mental Health campaign. Put a button on your website or blog (buttons for family members, parents, mental health professionals and organizations too). We also have covers for Facebook, Twitter and Google+.
------------------------------------------------------------------
Latest Mental Health News
These stories and more are featured on our mental health news page:
Transcendental Meditation May Reduce PTSD Symptoms
Studies Have Proved Very Close Links Existing Between Diabetes And Alzheimer´S Disease
Exercise Associated With Prevention Of Low Back Pain
Single Mothers At Greatest Risk For Sleep Problems
Consuming A Unique Carbohydrate Complex During Early Life Could Provide Benefits For Brain Health
Bipolar Disorder Linked To Inherited Differences In Sleep Patterns
Loss Of Cells In Brain's Memory Center Linked To Schizophrenia
That's it for now. If you know of anyone who can benefit from this newsletter or the HealthyPlace.com site, I hope you'll pass this onto them. You can also share the newsletter on any social network (like facebook, stumbleupon, or digg) you belong to by clicking the links below. For updates throughout the week:
APA Reference
Peterson, T. (2016, January 20). Tips for Achieving Your Mental Health Goals, HealthyPlace. Retrieved on 2022, August 18 from https://www.healthyplace.com/other-info/mental-health-newsletter/tips-for-achieving-your-mental-health-goals
Last Updated: January 20, 2016