For Some Women, Viagra Is A Turnoff
Millions of men have been able to enjoy sex again thanks to the famous little blue pill, . For years it was assumed that a man's rejuvenated sex life would be happily shared by his partner. But in a series of recent studies, researchers are noticing that the passionate romance with anti-impotence drugs does not always cut both ways.
Dr. Annie Potts, a psychologist at the University of Canterbury in New Zealand, began interviewing couples to determine if there are any downsides to treating erectile problems. She has heard from women who say that Viagra provides a renewed sex life, but at an unexpected cost. Many complain of unwanted advances driven by a partner's need to "get his money's worth on the $10 pill," with little input on their feelings. Some even feel that the men in their lives are more attracted to Viagra than to them.
"The thought of that little blue pill seems to get them very excited," explained one 60-year-old woman to Potts. "It's almost like they've fallen in love with Viagra."
"We won't have sex unless he's had the pill," said another woman who thinks her husband is addicted to the drug. The woman said that erectile dysfunction had certainly caused problems for her marriage before, but after treating it with Viagra, the problems became much worse.
---
---
More Fans Than Critics
The recent findings are but a minor blemish to some of the top selling drugs of all time. Critics concede that Viagra, as well as two related drugs, and Cialis (tadalafil), have helped rekindle old romances and are a major reason why once taboo sexual problems are so openly discussed. But the research highlights what some say is a long neglected issue in treating erectile problems: how do women regard their sex lives now that Viagra is a major part of it?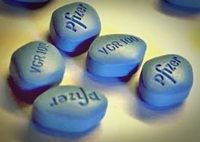 Compared to the large number of studies that have documented the sexual benefits to the Viagra user, only a handful looked at the attitudes of partners. Overall, research suggests that women generally enjoy the sexual attention.
A survey done in Japan showed that two-thirds of women rated their sex as satisfying after their partners took Viagra, compared to 20 percent who said they were disappointed. Another study, led by Dr. Markus Muller in Germany, found more tenderness and less quarreling between couples when men were successfully treated for erectile problems.
"There are obviously some women who are relieved when a man is no longer interested in sex," says Dr. Stanley Althof, who directs the Center for Marital and Sexual Health of South Florida. "But the majority of women are eager to renew their sexual intimacy."
Many of the problems, such as wives feeling that husbands like anti-impotence drugs more than them, are probably the result of tensions already present in a relationship, he says. "That's their insecurities speaking."
Yet Potts contends that Viagra has some potentially negative effects as well, even in women who are supportive of their husbands or boyfriends taking anti-impotence drugs. Potts says that men should not assume that their desires are automatically shared by their partners.
"Viagra is not simply and only men's business," she says.
Potts interviewed 27 women and 33 men in New Zealand as part of her research, which was published in Sociology of Health & Illness and more recently, Social Science & Medicine. She presented her findings at a female sexual dysfunction conference in Montreal, Canada in mid-July. A recurring complaint, Potts found, is that some women said that men felt entitled to have sex after taking Viagra.
One 48-year-old woman summed up her husband's discussion of sex. "He would be, 'I've taken the pill, OK, let's go." The man also expected to have intercourse for as long the drug would last, but with little time for foreplay or romantic spontaneity. "You like to think it's an act of love, rather than just lust," the woman said.
Making Viagra a Couple's Business
Dr. Leonore Tiefer, an expert on female sexuality who teaches at New York University School of Medicine, says that she has heard similar concerns. "It's called the 'I spent the money, let's have sex' talk." She says that such one-way discussions do not make for healthy relationships.
Indeed, researchers have found that as much as Viagra can make for a happy love life, it can also cause some men to take their new found sex drive too far. One man admitted to Potts that Viagra played a crucial part in going from a monogamous relationship with his wife to 18 different affairs, including some with men, in the space of one year.
"You could be completely unemotionally involved and yet still [be physically ready]," he said. Viagra also helped him, as he characterized it, "endure" sex with his wife.
Although sex is something that men are thought to want most, more than 75 percent of women in one large survey said this was moderately to extremely important to them as well. So far, however, there is no female equivalent of Viagra.
A recent study in the Archives of Internal Medicine found that a testosterone patch could improve sexual interest and activity in women who had low desire after having their ovaries removed. But the dangers of taking steroids has led many to question the safety of the approach, prompting the Food and Drug Administration to turn down a request to make the testosterone treatment available for women.
Regardless of what is used in the bedroom, experts say that the key to good sex begins with discussion.
"If Viagra or anything else is going to be put in a relationship, it has to be collaborative," Tiefer says.
APA Reference
Staff, H. (2009, January 8). For Some Women, Viagra Is A Turnoff, HealthyPlace. Retrieved on 2023, December 6 from https://www.healthyplace.com/sex/male-sexual-dysfunction/for-some-women-viagra-is-a-turnoff
Last Updated: April 7, 2016