3 Web Health Awards for HealthyPlace
After announcing the HealthyPlace win of three Web Health Awards this week, HealthyPlace received many congratulatory emails and phone calls from people who come to the site as well as from business associates. In case you missed it, HealthyPlace won:
a Merit Award for Best Health Website
a Merit Award for Best Web Resource or Tool for the HealthyPlace Mood Tracker
a Bronze Award for Best Blog, Breaking Bipolar blog (read what author, Natasha Tracy, had to say about the award)
Many who got in touch with us wanted to know two things - what was the judging criteria and which other sites were you competing against.
About the Web Health Awards
Now in its 12th year, the goal of the Web Health Awards is to recognize high-quality electronic health information. The awards program is organized by the Health Information Resource Center[sm] (HIRC), a national clearinghouse for professionals who work in consumer health fields.
Judging Criteria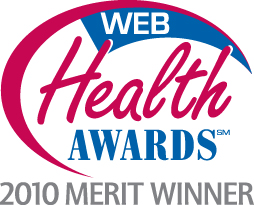 The Web Health Awards are judged based on the following criteria:
Is the health information presented credible/informative? Are appropriate sources cited for information presented?
Is the health information presented complete? Is anything of significance missing?
Is the content publisher clearly identified?
Is the information appropriate for the intended audience?
Is the site structure easy to navigate?
Is it easy to send comments/questions/feedback to the online source?
Do the online visuals/graphics/videos support the content? Are the graphics relevant to the target audience?
Is the reading level appropriate for the target audience?
Does the online resource indicate the last time the content was updated?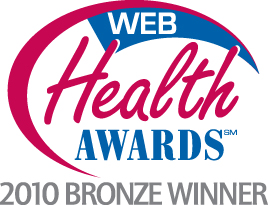 Overall Assessment
Quality, accuracy and timeliness of online content presented.
Relevance of online information for the target audience.
Overall assessment of site layout and ease of use.
Would this online resource be something that the targeted audience would bookmark for frequent review?
Does the online resource offer enough interactivity for the targeted audience?
The Web Health Awards judges included doctors, professors, company presidents and executives - all with extensive knowledge and experience in different aspects of the health care world.
Other Best Health Site Web Award Winners
"What really makes us feel good," says HealthyPlace President, Gary Koplin, "is that we are in the company of the best health websites around. To know that HealthyPlace is being judged on that level is a real honor." Those sites include:
WebMD
EatingWell Media Group
Real Health
CenterWatch
Substance Abuse and Mental Health Services Administration
American Psychological Association
BabyCenter
Thank You
Receiving the awards is, of course, an honor. And for everyone who works here, it's nice to be recognized for doing great work. At the same time, we thank all the people who come to HealthyPlace every day (over 1 million a month) looking for comprehensive, trusted mental health information and support. You are the people we work for every day.
For additional information, go to: http://www.HealthyPlace.com.
HealthyPlace Media Relations
David Roberts
media AT healthyplace.com
(210) 225-4388
APA Reference
Tracy, N. (2010, November 9). 3 Web Health Awards for HealthyPlace, HealthyPlace. Retrieved on 2023, November 28 from https://www.healthyplace.com/about-healthyplace/awards/3-web-health-awards-for-healthyplace
Last Updated: January 14, 2014