HealthyPlace Mental Health Bloggers Win 3 Web Health Awards
Bipolar, Addiction and Mental Illness Blogs Recognized As Best
Mental Health bloggers at HealthyPlace.com, the largest consumer mental health website, were selected as winners in the 13th annual Web Health Awards™ program. This competition — held twice each year: Winter/Spring and Summer/Fall — recognizes the nation's best digital health resources.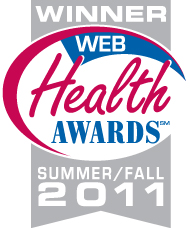 The HealthyPlace mental health blogs receiving recognition are:
This is the third year in a row that HealthyPlace mental health blogs received major awards at the competition. "I'm extremely proud of this year's blog winners and our entire mental health blogging team," exclaimed Gary Koplin, President of HealthyPlace.com. "Not only is the quality of their writing top-notch, but by sharing their knowledge and insights, they genuinely help the more than one million people who come to HealthyPlace.com every month looking for mental health information and support.
The Web Health Awards™ program is organized by the Health Information Resource Center (HIRC), a national clearinghouse for professionals who work in consumer health fields. The Web Health Awards is an extension of the HIRC's 18-year old National Health Information Awards[sm], the largest program of its kind in the United States.
The Purpose of Writing a Mental Health Blog

The bloggers were chosen from nearly 400 entries judged by a panel of distinguished experts in digital health media. Randye Kaye, author of the Mental Illness in the Family blog noted "mental illness affects the whole family. In this blog, I give voice to the issues, emotions, struggles and triumphs as family members go through the process from confusion to acceptance. To get there, families need many things, including support, education, and a place to find hope.
Stigma is another major issue facing those people living with depression, anxiety, schizophrenia, bipolar disorder and other mental health conditions. "I hope by sharing my story, as well as current research and news, to help de-stigmatize the struggles of addictions. There is no shame in struggling, seeking treatment, and wanting to share hope and inspiration to those in recovery and sobriety," says Kendra Sebelius, author of the Debunking Addiction blog. "I hope to debunk the idea that there is a 'type' of addict. We come in all ages, races, experiences. I also hope to debunk the myths that float around about addictions being a will power issue, since this only fuels the stigma and shame for those who struggle. By sharing research, I hope to debunk the idea that addictions are a choice, and shed light on how they are complex biopsychosocial struggles."
This is the third straight year that Natasha Tracy has been recognized for her outstanding work in writing the Breaking Bipolar blog. "Breaking Bipolar is important because it's able to educate and inform a wide cross-section of people. It gives those with mental illness a voice that they often cannot find on their own," remarks Tracy. "It puts words to a struggle that thousands of people are experiencing every day. Breaking Bipolar moves beyond typical psychological offerings and drives conversation on important topics that rarely get discussed."
About HealthyPlace.com
With one out of every four Americans suffering from some sort of mental or stress-related illness, HealthyPlace.com is a one-stop source for mental health information from experts and from people who are living with psychological disorders and their effects on a daily basis. HealthyPlace.com is the largest consumer mental health site on the net with more than a million unique monthly visitors. The award-winning site provides comprehensive up-to-the-minute information on psychological disorders and psychiatric medications from both a consumer and expert point of view.
For additional information, go to: http://www.HealthyPlace.com.
HealthyPlace Media Relations
David Roberts
media AT healthyplace.com
(210) 225-4388
APA Reference
Gluck, S. (2011, November 28). HealthyPlace Mental Health Bloggers Win 3 Web Health Awards, HealthyPlace. Retrieved on 2023, October 4 from https://www.healthyplace.com/about-healthyplace/media-center/healthyplace-mental-health-bloggers-win-3-web-health-awards
Last Updated: January 14, 2014