HealthyPlace.com Launches National Stand Up For Mental Health Campaign
Award winning consumer mental health website, HealthyPlace.com, launches its national Stand Up For Mental Health campaign today. Gary Koplin, President of HealthyPlace.com, came up with the campaign to encourage all people with a mental health disorder to stand up for themselves and help stop the stigma and self-stigma associated with mental illness.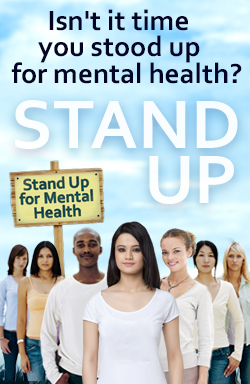 With one in four Americans suffering from some type of mental disorder, Koplin and his HealthyPlace.com team decided to use the considerable authority of their site to spearhead a grassroots movement that they hope will help eliminate the stigma associated with mental health issues. "Why is mental health stigma so prevalent even though over 46 million Americans suffer from some sort of mental illness? Sadly, we live in a shameful culture that has developed a habit of intolerance toward some of its fellow human beings," says Koplin. However, he adds, "that doesn't mean people have to tolerate it. We are urging people who are already public or about to be public with their mental health condition to stand up and lead the way for others who are still in hiding."
People can easily join the campaign by displaying one of the Stand Up for Mental Health campaign buttons on their websites, blogs, or social media profiles. Campaign buttons are available at the HealthyPlace.com website. From celebrities to business icons to the typical citizen, HealthyPlace.com wants to encourage people to stop hiding and stand up for mental health by joining this simple, but powerful, campaign.
HealthyPlace.com is the largest consumer mental health website in the United States. With over one million unique visitors per month, the HealthyPlace team takes mental health seriously by providing a steady flow of unique, accurate, and up-to-date content on a wide variety of mental health disorders and associated issues.
About HealthyPlace.com: America's Mental Health Channel
With one out of every four Americans suffering from some sort of mental or stress-related illness, HealthyPlace.com is a one-stop source for mental health information from experts and from people who are living with psychological disorders and their effects on a daily basis. The award-winning site provides up-to-the-minute information on psychological disorders and psychiatric medications from both a consumer and expert point of view.
For additional information, go to: http://www.HealthyPlace.com.
HealthyPlace Media Relations
David Roberts
media AT healthyplace.com
(210) 225-4388
APA Reference
Tracy, N. (2013, January 21). HealthyPlace.com Launches National Stand Up For Mental Health Campaign, HealthyPlace. Retrieved on 2023, December 11 from https://www.healthyplace.com/about-healthyplace/media-center/healthyplace-launches-national-stand-up-for-mental-health-campaign
Last Updated: January 14, 2014