Beta-Blockers for Treatment of Anxiety and Panic Attacks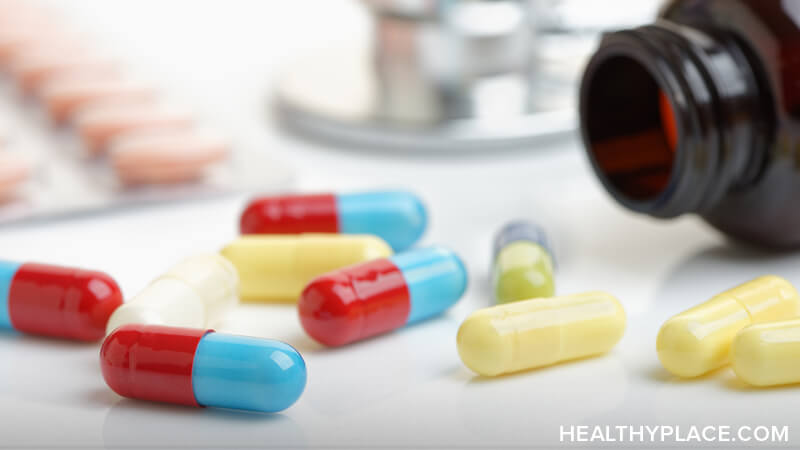 Learn about the benefits, side-effects and disadvantages of beta-blockers (Inderal, Tenormin) for treatment of anxiety and panic attacks.
F. Beta-Blockers
Beta blockers can be helpful in the treatment of the physical symptoms of anxiety, especially social anxiety. Physicians prescribe them to control rapid heartbeat, shaking, trembling, and blushing in anxious situations for several hours.
Possible Benefits. Very safe for most patients. Few side effects. Not habit-forming.
Possible Disadvantages. Often social anxiety symptoms are so strong that beta blockers, while helpful, cannot reduce enough of the symptoms to provide relief. Because they can lower blood pressure and slow heart rate, people diagnosed with low blood pressure or heart conditions may not be able to take them. Not recommended for patients with asthma or any other respiratory illness that causes wheezing, or for patients with diabetes.
Possible Benefits. Used for short-term relief of social phobia. May reduce some peripheral symptoms of anxiety, such as tachycardia and sweating, and general tension, can help control symptoms of stage fright and public-speaking fears, has few side effects.
Possible Disadvantages. See disadvantages-Beta-Blockers, above. Consult your physician before taking while pregnant or while breast-feeding. If taking daily, do not stop this drug abruptly.
Restrictions On Use. Do not take propranolol if you suffer from chronic lung disease, asthma, diabetes, and certain heart diseases, or if you are severely depressed.
Possible Side Effects. Taken occasionally, propranolol has almost no side effects. Some people may feel a little light-headed, sleepy, short-term memory loss, unusually slow pulse, lethargy, insomnia, diarrhea, cold hands and feet, numbness and/or tingling of fingers and toes.
Dosages Recommended By Investigators. You can take a 20 to 40 mg dose of propranolol as needed about one hour before a stressful situation. If necessary, you can also combine it with imipramine or alprazolam without adverse effects.
Possible Benefits. Used for social phobia. Atenolol is longer acting than propranolol and generally has fewer side effects. It has less of a tendency to produce wheezing than other beta blockers. Once-a-day dosing is convenient.
Possible Disadvantages. If taken daily, abrupt withdrawal can cause very high blood pressure. Use alcohol with caution, since alcohol can increase the sedative effect and exaggerate this drug's ability to lower blood pressure.
Possible Side Effects. Cold extremities, dizziness and tiredness. Less frequent is a decrease in heart rate below fifty beats per minute, depression, and nightmares.
Dosages Recommended by Investigators. One 50 mg tablet a day for the first week. If there is no response, increase to two 50 mg tablets, taken together or divided. After two weeks of 100 mg the patient should notice a marked decrease in the racing heart, trembling, blushing, and/or sweating in social situations.
next: Dr. Reid Wilson Resume
~ back to Anxieties Site homepage
~ anxiety-panic library articles
~ all anxiety disorders articles
APA Reference
Staff, H. (2009, January 12). Beta-Blockers for Treatment of Anxiety and Panic Attacks, HealthyPlace. Retrieved on 2023, December 8 from https://www.healthyplace.com/anxiety-panic/articles/beta-blockers-for-treatment-of-anxiety-and-panic-attacks
Last Updated: May 30, 2017