Legal Stuff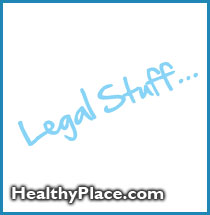 To the best of my knowledge everyone, including myself, making submissions to this site have no expert standing. The information has been made available by people "in the trenches" who are passing on ideas and suggestions which they have found worked for them.
Please do not take the information on this site as professional or medical advice. It isn't. For that, I suggest you contact your doctor or a licensed therapist.
The links to other sites and services are provided for your information only and come with no endorsement from us.
All pages on this site are copywrited and all rights are reserved. This includes, but is not limited to, the displaying of the material on this site within a frame from which revenue is derived.
We, of course, have no objection to you printing a single copy for your personal use. In fact, we encourage you to. It is here to help people.
next: Nine, Ten , Do it Again.'
~ all anxiety disorders caregiver articles
~ anxiety-panic library articles
~ all anxiety disorders articles
APA Reference
Staff, H. (2007, February 23). Legal Stuff, HealthyPlace. Retrieved on 2023, November 28 from https://www.healthyplace.com/anxiety-panic/articles/legal-stuff
Last Updated: July 1, 2016