Are Your Anxious Thoughts Trustworthy?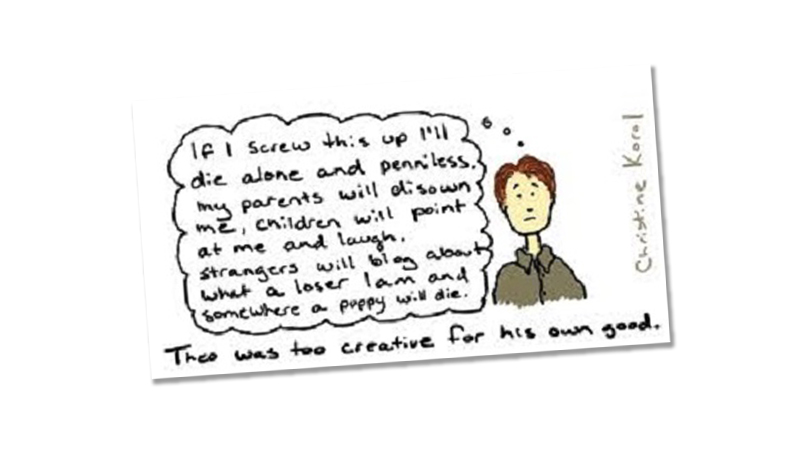 Fear. Terror. Worry. Obsessive thoughts. Anxiety and all of its manifestations can be crippling. The mind races with worst-case scenarios, and the anxious thoughts can be unrelenting. As if the thoughts themselves aren't bad enough, it's common for another worry to bubble to the surface of the mind plagued by anxiety: are these thoughts real, and can I trust them?

Can You Ever Trust Anxious Thoughts?
When we're gripped by any type of anxiety disorder, it can be maddening to experience self-doubt on top of the anxious thoughts. On too many occasions, I've made some mistake or another and then fretted and agonized over it until I was fully entrapped in web of anxiety symptoms, both physically and emotionally. I knew, without a doubt, that I had completely ruined important aspects of my life: relationships, career potential, reputation, love, and financial security. I was certain that these were out the window because my thoughts told me so, and thoughts don't lie. Perhaps you've had similar experiences.
When anxiety is running rampant through our minds, it's often difficult to know if our thoughts are accurate or faulty. It doesn't help when the (usually) well-meaning people around us dismiss these thoughts, saying, "Don't worry!" or "It's not that bad. You're imagining problems."
Are Anxious Thoughts Real? Yes. Trustworthy? No.
Anxiety is real. It's part of the brain's physiology. Further, the thoughts are real. They are authentic. While they are real, you can't always trust them. Because they're not trustworthy, they don't have to control or dictate your reality. Since you can't trust them, why let them stick around?
Decreasing anxious thoughts is a process, and there are many effective approaches to ridding yourself of thoughts you can't trust. One component of the process is a researched-proven therapeutic approach known as cognitive-behavioral therapy (CBT). Cognitive-behavioral therapy is multi-faceted. It includes, among other things, identifying your anxious thoughts or negative thinking patterns and challenging them.
How to Transform Anxious Thoughts Into Trustworthy Ones
When you're anxious, pay attention to the thoughts clamouring around in your mind. What, exactly, are you thinking?
Don't argue or struggle with the thoughts. Like a stubborn toddler, that will just make them stand their ground.
Simply notice your thoughts. Wonder about the possibility that you can't trust this thought.
Come up with a plausible alternative and acknowledge that this could be the trustworthy thought.
That's it. Of course there are subsequent steps, but going through too much of the process at once can be overwhelming and usually anxiety-provoking in and of itself. An important goal in reducing anxiety is to slowly, but surely, develop a large toolbox filled with strategies that work for you.
Simply noticing your thoughts and gently challenging them by wondering if there could be alternate thoughts that are more trustworthy, has great potential to make anxiety dwindle.
Connect with Tanya on Facebook, Twitter, Google +, LinkedIn, and her website.
APA Reference
NCC, T. (2014, March 19). Are Your Anxious Thoughts Trustworthy?, HealthyPlace. Retrieved on 2019, October 20 from https://www.healthyplace.com/blogs/anxiety-schmanxiety/2014/03/with-anxiety-are-your-thoughts-trustworthy
Author: Tanya J. Peterson, MS, NCC