Recreate Yourself Without Anxiety And Depression
To recreate yourself without anxiety and depression is a wonderful, liberating thing to do. Anxiety and depression are heavy burdens that can seem to completely overtake our lives. Anxiety keeps us trapped in things such as worry and fear, and depression weights us down and zaps joy and energy. The symptoms of anxiety and the symptoms of depression sometimes feel like our identity, like who we have become. A powerful way to break free from the all-consuming trap of anxiety and depression is to recreate yourself without anxiety and depression.
Recreating Yourself Without Anxiety and Depression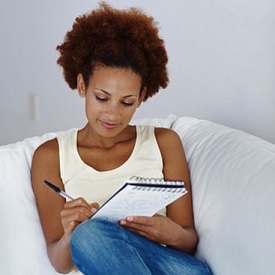 Anxiety and/or depression have had their chance with you. When you reclaim your identity by creating the "you" that you want to be, the life that you want to live, you begin to live your life fully, first in spite of anxiety and depression, and then without anxiety and depression.
Solution-focused therapy is an approach to mental health and wellbeing that helps people take charge of their situation and their goals. Questions based on concepts from solution-focused therapy can be very helpful in creating yourself without anxiety and depression:
When anxiety and depression are gone, what will you be like? Who will you be? What will your life be like?
What little things can you do every day to get there?
These questions can help you recreate yourself and really determine how you want to be without anxiety and depression in the way. Think of them as adventure and a marvelous opportunity for self-determination.
How to Recreate Yourself Without Anxiety and Depression
While there really is no wrong way of going about the process of recreating yourself without anxiety and depression, there are certain things that are quite effective. Recreating yourself and your life is easiest when it's tangible and it is something you are actively doing.
Thinking about it, feeling it, desiring it, are all great, but they're passive. Creation is an active process, and you're the one in charge of doing it. In the below video, I share some ideas for how to do just this. You can recreate yourself without anxiety and depression.
Let's connect. I blog here. Find me on Facebook, Twitter, LinkedIn, and Pinterest. My mental health novels, including one about severe anxiety, are here.
APA Reference
Peterson, T. (2016, January 28). Recreate Yourself Without Anxiety And Depression, HealthyPlace. Retrieved on 2023, December 4 from https://www.healthyplace.com/blogs/anxiety-schmanxiety/2016/01/create-yourself-without-anxiety-and-depression
Author: Tanya J. Peterson, MS, NCC, DAIS
Anxiety is paralysis of the mind. I have deceived myself and thought I was living the life that I wanted only to realize that I was still not living the full life I wanted, because the decisions I made were still based on anxiety. I lost out on a lot of things! I made decisions that were based on fear, but I was in denial. Now I look back only life and wasted so any opportunities. I just 58 and since I can't do it over I just pray about it every nightm
Hi Kathy,
Anxiety can indeed be paralyzing. As you have seen, it can take charge of our decisions, too. It's empowering that you've seen it and you know that you can't go back (ruminating and regretting the past causes increased anxiety, stress, and even depression). With this knowledge, you can move forward into the rest of your years. You can decide what you do want -- what is your ideal life without anxiety -- and make active plans to achieve it.
I this is a very plausible idea for someone in the early stages of anxiety and depression. I have suffered from anxiety and depression for almost 30 years. (I have been under a doctor's care for all of these years). I have no idea how to imagine myself without anxiety/depression. I think about how many different goals and dreams "well" people have over the course of thirty years. Many times they evolve into a completely different person than their younger selves. I can barely remember myself as I was before I started carrying this albatross around my neck, let alone imagine myself any other way. I think it is very important to remind people to get treatment early in the stage of their illness. I also think it is very important to remind those who try and try again and again with no success that they are not alone, and they have learned some valuable things about themselves during their attempts to get well, but sometimes those who suffer from anxiety and depression don't get past it, but rather find a way to make a life with it. That is a real truth that is never spoken and needs to be.
Hello Judy,
Thank you so much for sharing your insights. Early treatment for anxiety and depression is very important. The earlier something is uncovered and treated, the better the prognosis -- that applies to all physical and mental health issues. And your words are encouraging for people who live with long-term anxiety and/or depression. Having chronic anxiety/depression isn't uncommon, so you're right -- no one is alone. And the chronic nature is not due to a personal flaw, weakness, or failure. I like how you worded something: people find a way to make a life with it. Sometimes things don't go away, but it's very empowering to realize that people can and do make a life in spite of things like anxiety and depression. People can change their thoughts about anxiety and depression, learn coping skills to deal with them, and find new joys, new ways to be and things to do that co-exist with the frustrating anxiety and depression. Again, thank you for your insight.
I like the idea of creating goals to reach that are achievable and writing them down to they are close at hand. I never thought of creating a private Pinterest page to use as a journal. Great suggestion. We do have to keep in mind, though, that these changes are difficult and we should try not to get discouraged if we slip backwards. Keep working on those baby steps and one day that glorious anxiety-free you will be a reality.
Hi Peg,
You have a very wise point. Change is a process rather than a single event, and slipping backwards is a natural part of that process. It the vision and the little baby steps that get us to where we want to go. It's a process that isn't necessarily fast, but it's very possible. Thank you for sharing your thoughts about this!
Leave a reply