Avoidance and Agoraphobia Come from Fear, Not Failure
Avoidance and agoraphobia come from fear, and they involve someone removing him/herself from a problematic situation. Neither avoidance nor agoraphobia is a sign of failure or weakness. They're coping mechanisms. Why do people avoid anxiety-provoking or otherwise uncomfortable situations, and more, why do they develop agoraphobia? Some myths and stereotypes say that people living with agoraphobia are weak or lazy, failures at various things (Fear and Anxiety; The Meaning of Fear). Here's why that's wrong.
What Are Avoidance and Agoraphobia?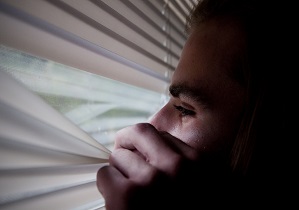 Avoidance is the act of staying away from people, places, and events that trigger anxiety, posttraumatic stress disorder, feelings of depression, or any other very unpleasant and potentially dangerous situation. Avoiding things and people is a deeply-ingrained part of human behavior; indeed, it's a coping mechanism that has protected people from feared situations for millenia. Avoidance is a coping mechanism, something someone does. It isn't a mental illness.
Agoraphobia is an extreme form of avoidance. Agoraphobia is one of the anxiety disorders listed and explained in the Diagnostic and Statistical Manual of Mental Disorders, Fifth Edition (DSM-5), and as such it shares some of the basic symptoms of anxiety disorders.
According to the DSM-5, someone with agoraphobia has intense fear or anxiety about being outside the home alone, standing in line or being in a crowd, being in enclosed places like movie theatres, restaurants, etc., being in open spaces like parking lots, and/or using public transportation. If someone experiences two or more of these fears, a diagnosis of agoraphobia may be in order.
The DSM-5 further emphasizes that agoraphobia involves avoidance because of fear and anxiety. Sometimes, panic attacks and panic disorder occur with agoraphobia, and when that happens, people are diagnosed with both panic disorder and agoraphobia (Note: this is a change that began with the publication of the DSM-5 in 2013. Prior to that, agoraphobia was a subtype of panic disorder.)
Avoidance and Agoraphobia Come From Fear; They're Not Failure
When the human brain perceives a threat, it shifts into fight-or-flight mode. The "flight" response is programmed into all of us, and it is very self-protective; it is concerned with getting us to safety and keeping us there.
When the flight mode stays on, we get a constant message telling us to remain fearful of danger. We stay alert, anxious, and afraid. When so many people, places, and situations feel threatening, we avoid them more and more. When the avoidance becomes persistent, lasting six months or more, and pervasive, affecting all aspects of life and self—relationships, work, school, thoughts, feelings, and behaviors, a diagnosis of agoraphobia is possible.
Avoidance and agoraphobia are exaggerated fear responses. Someone with agoraphobia isn't weak or lazy. He/she has an anxiety disorder; agoraphobia is an extreme form of self-protection.
Agoraphobia isn't a character flaw. Agoraphobia isn't failure. Agoraphobia is a behavior rather than a character trait. Avoidance and agoraphobia are actions taken to decrease a sense of fear and anxiety. Because this anxiety disorder is a behavior, it is very possible to learn effective new behaviors and overcome agoraphobia.
Let's connect. I blog here. Find me on Facebook, Twitter, LinkedIn, and Pinterest. My mental health novels, including one about severe anxiety, are here.
APA Reference
NCC, T. (2016, January 21). Avoidance and Agoraphobia Come from Fear, Not Failure, HealthyPlace. Retrieved on 2019, October 19 from https://www.healthyplace.com/blogs/anxiety-schmanxiety/2016/01/avoidance-and-agoraphobia-come-from-fear-not-failure
Author: Tanya J. Peterson, MS, NCC