Starting New Antidepressant Can Make Depression Worse Before It Gets Better
I'm an impatient patient.
When I was first diagnosed with depression seven or so years ago, my doctor prescribed me an antidepressant medication, warning me that it might take 2 to 4 weeks before it made any difference.
Boy was that an understatement. I vividly remember getting worse before getting better, even dealing with physical pain caused by my depression.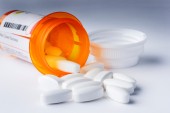 The first depression drug he prescribed proved ineffective, even after a month, so we tried another. The same cycle repeated itself. I didn't start feeling better until my third antidepressant prescription—a few months after being diagnosed.
I know that is not very encouraging to those who have recently been diagnosed with depression. Hearing that it may get worse before it gets better is frustrating. But it's true.
Be Patient with Depression Meds
It takes patience to get the payoff from antidepressants. Two to four weeks is generally the minimum to see any improvement, and it may take up to six months to get the full benefit of a new depression drug. At least, that's what my psychiatrist tells me.
Changing antidepressant medications can be just as frustrating as taking an antidepressant for the first time. The last couple of weeks have been extremely difficult for me. I began to slide back into a deep bout of depression, and my doctor wanted to be aggressive in trying to stop it. It got so bad that my stomach ached and I could barely get out of bed for a day or two, so we had no choice but to try something different.
And we did. We changed my antidepressant. While I'm generally a compliant patient, I didn't follow the doctor's orders exactly on how to switch antidepressants safely and make the transition. Big mistake.
Instead of slowly weaning off my old drug, which I was supposed to do over a three-day period, I suddenly stopped the antidepressant cold turkey and started taking the new drug. This led to what's called antidepressant discontinuation symptoms. Several days of pure hell followed. I had suicidal thoughts. My anxiety increased exponentially, and I was feeling utterly hopeless and severely depressed.
I didn't intentionally ignore the doctor's orders. He told me to get off the old drug by cutting my dosage in half for three days before dropping it entirely. When I got home that night, I was frustrated to discover that the pill I had been taking was the type that can't be cut in half. So I just quit taking it instead of asking for the smaller dosage.
Let's just say I won't ever do that again.
So if you are suffering from depression and have just been put on an antidepressant, my advice is to be patient. If you have been on an antidepressant and a decision is made to discontinue it, follow the doctor's orders. I learned that lesson the hard way.
APA Reference
Smith, J. (2012, February 17). Starting New Antidepressant Can Make Depression Worse Before It Gets Better, HealthyPlace. Retrieved on 2019, September 21 from https://www.healthyplace.com/blogs/copingwithdepression/2012/02/new-meds-can-make-depression-worse-before-it-gets-better
Author: Jack Smith
I have also been switched and experiencing the same things... I have been on new med for 2 weeks now though so feeling a slight bit better off and on. It will get better.
I'm so glad you're starting to feel better. And, yes, I agree with you. It will get better!
--Michelle Sedas, coauthor of "Coping With Depression" blog
Hi Sharon. Thanks for taking the time to comment. I'm SO sorry that you are having such a hard time... both with the meds switch and with reaching your doctor. THAT is NOT good. Did these rotten symptoms start earlier last week and she still didn't respond to you even on her day in the office on Thursday? Is going to the emerg an option for you? My doctor switched me from Celexa to Cipralex overnight but I was told they were so similar that I wouldn't feel any side affects. Thankfully, I didn't.

As for your son, take my word for it that a) he's too young right now to really remember anything and b) he's going to remember all the good stuff about you being a terrific mom!

Keep me posted. I hope you feel better soon.
Leave a reply