The Physical Symptoms Of Depression and Extra Stress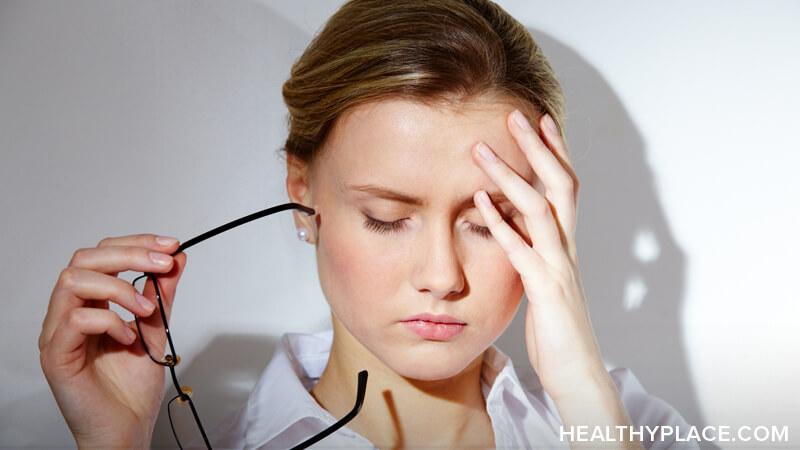 Many people may not realize that depression has physical symptoms. When extra stress is added to our lives, we may be more likely to see manifestations of the physical symptoms of our depression. What are some of the physical symptoms we may experience due to depression? What, if anything, can we do about stress and its effect on the physical symptoms of depression?
How Stress Affects My Physical Symptoms of Depression
Stress has exacerbated my depression and caused me to experience several uncomfortable -- and even painful -- physical symptoms lately. I've been practicing self-care regularly; however, my stress level and physical issues have remained unchanged. I have an appointment with my doctor next week to discuss these issues.
Some Physical Symptoms of Depression 
Stomach upset and nausea
Headaches
Body aches
Sleeping too much or not enough
Fatigue
Irritability
Loss of or increased appetite
Ideas for Less Stress to Decrease Physical Symptoms of Depression
If you can take some of the stress out of your life, then that could help ease some of the physical symptoms depression can cause. 
Lessen the load. If you are able, cut back on some of your responsibilities. Ask friends and co-workers for help.
Delegate at home. Enlist the help of your family with housework, chores, and meal prep.
Cut out or limit social media. This is especially important in light of recent tragedies and debates over what causes them.
Take care of yourself. I know that's a broad term. I also know how hard it is to do, especially as a person with depression myself. I haven't been doing such a good job in some ways over the past couple of weeks. I've been eating junk food. I've been taking on too many responsibilities. I've stopped exercising. I'm burning out and I am exhausted. The negative thoughts have been coming. It's like a snowball effect: stress, unhealthy coping skills, physical and mental symptoms of depression. The positive thing is that I don't have to stay there. I know how to lessen my stress load. I know doing so will ease the physical symptoms of my depression. Then, I can get back on track again.
Watch this video to learn more about how I'm coping with the physical symptoms of depression.
APA Reference
Smith, J. (2019, August 8). The Physical Symptoms Of Depression and Extra Stress, HealthyPlace. Retrieved on 2023, September 25 from https://www.healthyplace.com/blogs/copingwithdepression/2019/8/the-physical-symptoms-of-depression-and-extra-stress
Author: Jennifer Smith