The Importance Of Gun Control For People With Schizophrenia
I have Schizophrenia and because of this I understand that my illness can be a liability for myself and those around me. Though I am a productive citizen of society when medicated, my illness also puts me at risk for relapse in the future. For this reason, I would never allow myself access to firearms for both my personal safety and those around me. This is not because I am an evil person, but because Schizophrenia can result in erratic behavior if uncontrolled. People with Schizophrenia are at high risk for suicide, as nearly 10% will end our lives from our illness. There have also been incidences of homicides as a result of psychotic episodes.
Severe Mental Illness and Guns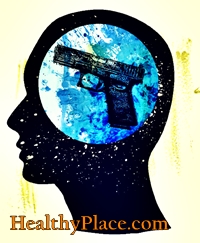 If you suffer from paranoid Schizophrenia and have access to guns, you are greatly increasing the likelihood of suicidal or homicidal behavior. If you are considering purchasing a weapon for either purpose, you should contact emergency professionals immediately for safety reasons. I am telling you this not as an authority figure, but rather as a friend who understands the pain this illness can bring.
I am not writing this column to sugar coat my illness and deny the fact that I have had suicidal and homicidal thoughts in the past. One of the reasons that I have never acted on these thoughts is because I have sought help when needed and kept myself away from firearms. Having a thought disorder means that I can have inappropriate ideas. Despite these ideas I understand that it is what you do that matters and not what you think.
I consider Schizophrenia to be an illness that is attached to myself, rather than something that I am. Every day, it is trying to invade my mind and every day I must fight it with medication and good choices. Though currently I am winning, I understand that in the future it could infest my mind again. Why would I allow myself to have access to a gun knowing that this could happen?
I have experienced the pain and suffering this condition causes. In my darkest days, during the darkest hours of my illness, all sorts of ideas have ruminated inside my head. What matters most, however, is that I never hurt myself or others from these beliefs, not that I had them in the first place. We are responsible for our behavior and treatment, despite having Schizophrenia.
APA Reference
Hoeweler, D. (2012, December 19). The Importance Of Gun Control For People With Schizophrenia, HealthyPlace. Retrieved on 2019, October 18 from https://www.healthyplace.com/blogs/creativeschizophrenia/2012/12/the-importance-of-gun-control-for-people-with-schizophrenia
Author: Dan Hoeweler
Never go by what one Doctor may diagnose you as having. They may know your in desperate financial trouble and have no income to survive. I know this because 3 thingsxI was diagnosed with were all made up. I do have Severe anxiety and panic disorder and agoraphobia but that's it. I suffer from constant chronic pain so I'm legitimately disabled and unable to work. I laughed when I went to SSI and they labeled me as having this. Then I thought this is bull and a lie against me. I know what Paranoid Schizophrenia is and I don't have it.
Yes, treatment is a big part of the equation, though gun control will also help control the problem I think. I don't think Adam had Schizophrenia, but a series of other issues, including personality disorders. I hope someday we can come to way to curb such atrocities in the future. There have been too many such incidences lately.
Leave a reply