Applying Addiction Lessons When We Need a Hiatus
Sometimes, it is important to know when you need a break, a hiatus, and have to say no to certain things in your life. I have taken a few weeks off writing because I knew I was spread too thin with work, travel, life and health issues and asked to take a break. In recovery and sobriety from an addiction or mental health struggle, we can often take on too much. We think we can do it all and become yes people. When we feel we need a break or are feeling overwhelmed, we start to question if something is wrong with us. We start listening to the "should monster," saying we should be able to do it all. Then we beat ourselves up if we cannot handle it.

The lessons we learn in addiction recovery can be applied to life, and I think it is important to remember that. We are more mindful of our triggers, emotional state, and when we need to ask for support. It is important to apply these principals to life as well as addiction recovery.
When Overwhelmed, Stop Everything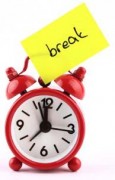 Literally, stop everything you are doing when you feel stressed and overwhelmed. Write down a list of everything you do on a daily basis. Sometimes we have no idea how much we are actually doing until we make that list. Give yourself credit for the accomplishments you make on a daily basis. Take time to ask yourself what you need. Just seeing the list can give us a better understanding about why we feel overwhelmed.
Give Yourself Permission to Take a Break
We all have a list of things we need to do and I promise you that list will be there tomorrow. There is no harm in asking for a break and setting boundaries in our personal and professional lives. I had to weigh the priorities in my life and understand what tasks were required, what was optional, and what could be put off for a period of time. It is not only okay, but necessary to take breaks; whether for a few minutes, a day, week, or month. We need to know ourselves and our needs. We also need to value our worth and give ourselves that permission to care for ourselves in the way we need.
Ask for Support
Even if we have been in recovery for years, we all struggle from time to time, not just with triggers but with life in general. I like to have a posse of people I can go to for different struggles I face. When I need to be grounded during an anxiety or panic attack, I know who to go to. When I need to vent about my work, I know who to go to. When I need to get out of my head, I know who to go to. I understand that no one person can be everything we need. It is important to create a tribe of people who can support us and those can be from the communities we meet in addiction recovery or those we meet through other journeys in our lives.
Taking Care of Our Body and Emotional Selves
When we need rest emotionally from being overwhelmed, we often just think we need to slow down or stop doing everything we are doing. We think task-specific versus considering the level of self-care our bodies and emotional well-being need. Our bodies also need the time to rest and recuperate. I got a concussion in a roller derby game and it made me realize the priority in not only slowing down, but focusing on getting enough sleep, eating well and taking a break from strenuous physical activity.
In Addiction Recovery Learning to Ask is Key
In recovery, finding our true voice is a beginning step in the healing process. As we progress in recovery healing, we need to learn not only to recognize our true voice, but to use it and ask for what we need.
Never be afraid to ask for what you need. The worst case scenario ends with you in the situation you are currently in, so why not give it a chance? People actually are extremely empathetic, kind and understanding, if we only learn to communicate our needs. We are all human and I have found the more I ask, the more I am humbled by people's responses. I never gave people the chance in the past and now I am grateful for all of those who surround me and help me through whatever I need to get through.
APA Reference
Sebelius, K. (2012, April 16). Applying Addiction Lessons When We Need a Hiatus, HealthyPlace. Retrieved on 2023, December 7 from https://www.healthyplace.com/blogs/debunkingaddiction/2012/04/applying-addiction-lessons-when-we-need-a-hiatus
Author: Kendra Sebelius
I think this post is so relevant for anyone struggling not only with addiction, but with life in general. When I read this, I think about how many times we forget to be selfish. Selfish is usually associated with such a negative connotation but I think that before we reach out and do things for others, we must take care of ourselves. In addition, ego can get in the way of us reaching out for the help and support we may need. We may feel that we do not want to be a bother to others or may be worried that others may see us as weak. I truly believe that when we can recognize what we need to live a healthy life we will make our lives richer as well as the lives of our loved ones. I think being able to identify our needs and reach out allows us to feel more connected with others and feel supported as well. It takes a level of bravery to really understand our own limitations and to take the time to take care of ourselves in whatever capacity we need.
Thank you Rachana!!! I absolutely agree!!! I think people think of self care as a selfish thing, versus a self care as a must do. We absolutely need to recognize our needs and reach out to connect and feel supportive. Love your comment!
Leave a reply