Developing Trust in Addiction Recovery
I have a good friend who has an expression that describes someone who you can truly trust. He says that if we were to jump out of an airplane would we trust that person to "pull the rip cord." This is an interesting thought to ponder.
The Lack of Trust in Addiction
When I was actively using drugs and alcohol my relationships were tenuous at best. They were all based on what I could get from the other person and in what ways I could further my abuse of chemicals. As a result, any semblance of trust I may have had was eroded to the point that I couldn't trust anyone around me and vice-versa. I stole, lied and burned many a bridge.
This was a particularly sensitive area when it came to my family. I had abused the trust of my parents to the point where I risked losing that relationship. It got so bad that my mother would take her purse from room-to-room with her to prevent me from pilfering money to buy drugs.
Creating Trust
This began to change when I entered recovery. The first tangible evidence of this was when my boss at the time gave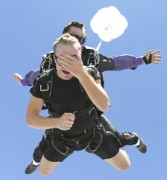 me the keys to his business and trusted me with ensuring that it was properly opened and closed. This may not seem like much but for me it was huge. Someone actually trusted me.
This sense of trust continued. Over time, my relationship with my family healed and I even began to trust myself. In addition, I began to develop a trusting relationship with a Higher Power; one that I had never experienced before.
Trust in my life has also helped me develop a greater sense of integrity. I like to think that if I say I am going to do something I will ensure that it gets done. I would never have this ability if it wasn't for having a foundation in recovery.
Trust is an integral part of recovery. Being able to trust ourselves and those around us gives us a certain peace of mind. One that helps us to know that if we need help it will be there for us. It may take time but it is certainly worth it. I have people in my life today whom I trust and whom I know will pull my rip cord.
Who's going to pull yours?
APA Reference
Shallowhorn, K. (2012, October 22). Developing Trust in Addiction Recovery, HealthyPlace. Retrieved on 2023, December 7 from https://www.healthyplace.com/blogs/debunkingaddiction/2012/10/developing-trust-in-addiction-recovery
Author: Karl Shallowhorn, MS, CASAC
Honest with myself and others. There's no other way.
As a young boy, I was caught lying by my father. When he asked me why I lied, I responded "because I made a mistake and did not want to disappoint you". My father explained that mistakes happen and we can grow from them, but lying breaks trust and with out trust there can be NO relationship. I remembered what he told me and hold true to it today.
Leave a reply