The Culture of Binge Drinking on Campus
When I arrived as a freshman on the campus of an Ivy League university, I was shocked by the amount of binge drinking and casual sexual encounters I saw on campus. Within the first week, I witnessed one of my dorm mates lying on the floor, muttering incoherently and slowly vomiting brown ooze.
Students and Administrators Expect Excessive Alcohol Consumption
[caption id="attachment_2761" align="alignright" width="290"]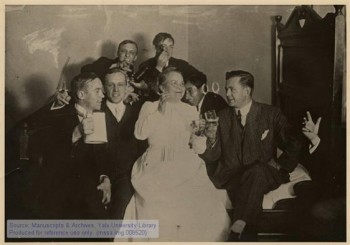 Yale University Manuscripts and Archives[/caption]
That student ended up at health services and was back in classes the next day. For many of my fellow students, this type of situation was not uncommon -- they were used to binge drinking at high school parties. But I didn't drink at all in high school. I found it depressing to think that people needed to alter their reality in order to have fun. When I did start drinking at the end of my freshmen year in college, I certainly did not plan to become a heavy drinker. However, I began binge drinking alcohol (four or more drinks on one occasion) nearly every weekend. I believe due to my particular brain chemistry and genetics, I was predisposed to react catastrophically to alcohol. Within a year I was drinking during the day, before class and in a manner that was socially unacceptable -- even in a binge drinking culture. I took an indefinite leave of absence and never returned to that school.
I need to be clear -- that university did not cause me to become an alcoholic. I drank to cope with obsessive compulsive disorder, anxiety and misophonia (literally, a hatred of sound) and I believe I would have descended into alcoholism whenever and wherever I started drinking. However, the normalization of binge drinking may have exacerbated my problems. In addition, many students who do not go on to become alcoholics still suffer physically, psychologically, financially and academically as a result of binge drinking culture.
The Chronicle of Higher Education recently published a series on college binge drinking. According to the series, over 40 percent of college students engage in binge drinking. Incoming students identify the college experience with hard partying and view frequent bouts of severe intoxication as a right and a rite of passage.
Binge Drinking in College is Not New
The photo is iconic: John Belushi, sporting a sweatshirt that reads "COLLEGE" and swigging a bottle of whiskey. This image from 1978's Animal House, and the popularity of the movie, in general, suggest Americans accepted as plausible (and humorous) the drunken escapades of a 1962 fraternity house. Perhaps life on campus in 1962 was not as wholesome as life depicted in television programs of the time, such as The Andy Griffith Show and Leave It to Beaver.
The Chronicle of Higher Education did some digging and found many instances of excessive alcohol consumption on college campuses stretching all the way back to 1840. In that year, a drunken Princeton student fired a gun at the university's president, narrowly missing him.
Dr. Bob Smith, cofounder of Alcoholics Anonymous, described wild parties and excessive, binge drinking during his days as a student at Dartmouth and Rush Medical School in the opening decade of the twentieth-century.
Why We Must Change the Binge Drinking Culture
Although historical evidence suggests bingeing on campus is not a new problem, statistics show it may be getting worse. In addition, more students attend college than in decades or centuries past, therefore, the habits of college students may have a greater impact on societal norms. Here are just a few reasons we need to stop normalizing extreme drinking as part of college life:
It decreases scholastic success. College graduates should possess an intellectual education, not an education in how to scrape by while recovering from too many parties.
Excessive drinking can lead to depression and suicidality.
Excessive alcohol consumption is linked with increased sexual assault and other forms of assault.
The idea that drinking to severe intoxication and blackout is normal may pave the way for adult binge drinking.
It can cause death. Every year, 1,825 college students die from alcohol-related injuries.
Many folks disagree on the best way to curb the binge drinking culture on college campuses. I do not know what the most effective method of reducing excessive drinking is, and I will explore some ideas in future posts. However, I know allowing extreme behavior to persist as the norm -- or as the perceived norm -- is too dangerous.
APA Reference
Lesley, K. (2015, January 5). The Culture of Binge Drinking on Campus, HealthyPlace. Retrieved on 2023, December 11 from https://www.healthyplace.com/blogs/debunkingaddiction/2015/01/the-culture-of-binge-drinking-on-campus
Author: Kira Lesley