Adult ADHD and Vacations
I am about to take a vacation. In t-minus 1 hour-ish, I will be leaving for the great state (I assume) of North Carolina. Does having Adult ADHD impact how we have vacations? I think so - and I definitely think it impacts how we are able to get on the road. Planning, organizing and waiting are all things that can be tough.
Planning Vacations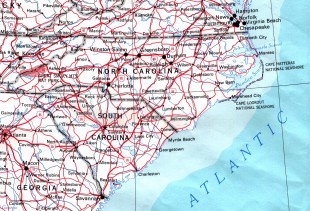 I know I have a bit of an advantage over some of you, perhaps, because my wife is amazing at supporting my less-than-optimal traits. Wifey knows that I do not like to plan vacations. I hate to look at photos of where we're going because it just stresses me out. It's planning and I don't like it. I like to do things and knowing that I have to wait to go on the vacation is [annoyingly] something that can make me impatient. So, wifey plans.
Our division of labor tends to be her doing everything (and I mean everything) leading up to the day the trip starts. Then, ADHD-me kicks in and gets going. My planning skills are good in the short-term. They're great, even. I fill our music player with NPR shows and a new Nicholas Sparks audiobook - we are politically progressive and emotionally cheeseball-y monsters. I make sure I have plenty of books to read and I go to the library the morning-of trips to ensure Sarah has at least 5 or so options of what she can read. Typically, though not this morning, I get the dishes done. I pack a lunch in a cooler, so we won't have to search out any vegan food on the vegan-desert-highways.
I plan for our return as well. I make the bed, often with new sheets, so we'll come back to nice, crisp, fresh bedding. I vacuum and clean the bathroom. I do all the little things that I'm sure our two cats will appreciate while we're away and I know we will enjoy when we return.
Communicating about Adult ADHD and Vacations
The trick for us has been to talk about everything just about all the time. We've been taking mini-breaks since early on in our relationship (which just passed the 5 year mark this month!) and we've had to work on what makes a trip successful for us. I think wifey had a hard time early on because it seemed like I was disinterested in taking trips when I didn't want to have a hand in planning them. I became frustrated when it felt like she was lollygagging when we were meant to leave for the trip and I was working ferociously. Relationships, including those where one person has adult ADHD, require communication and it sure can make things easier!
APA Reference
Prager, E. (2014, February 24). Adult ADHD and Vacations, HealthyPlace. Retrieved on 2023, September 25 from https://www.healthyplace.com/blogs/livingwithadultadhd/2014/02/adult-adhd-and-vacations
Author: Elizabeth Prager
How can I get my adult son with adhd to commit to a family trip? He says he wants to come but "forgets" to ask for time off, get a dog sitter or make reservations.
Leave a reply