Veganism, Vegetarianism, and Other Food Choices in Eating Disorder Recovery
A 2008 Harris Interactive study found that about 0.5 percent of Americans are vegan and 3.2 percent of Americans are vegetarians. That equals 1 million and 7.3 million respectively.
That's a pretty low number. Why then does it seem that I know so many people with eating disorders who either are vegan, vegetarian, or practice some other type of eating different from the normal population?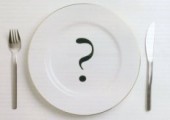 I first encountered vegetarianism anorexia-style when I was hospitalized in August 2008. It was my first hospitalization for anorexia, and unfortunately it did not turn out to be my last. But I digress.
Those of hospitalized for eating disorders sat at the same table for each meal, so we got to know each other habits and quirks quite well. Sometime too well.
Each patient was allowed three dislikes, meaning that she would not be feed those foods. I quickly searched my brain for the most fattening foods I could think of and I chose beef, pizza, and chocolate.
Chocolate??? Anyone who knew me would have laughed hysterically at that. I had been known as a chocolate connoisseur before developing anorexia. But from that moment on, I insisted I did not like chocolate and it would be years before I would again taste it. I chose beef because I equated red meat with being fattening. Pizza was my only true dislike on my list.
Oh, I thought I was being so clever. I didn't want to gain weight while I was in the hospital. But there were many things that I could still eat, and almost every one of the foods both scared me and made me feel liberated from the shackles of anorexia. The food was there and I either had to eat it, or find it in my spot during the next meal and eat not only that meal, but what was left from the last meal (a lovely practice called "tray sitting.")
One young woman was a vegetarian. Now I wouldn't presume to expunge on her motives for being a vegetarian, but I never did learn why she would not eat meat products.
That left her with vegetables, fruit, and dairy. Veganism — in which no animal products, even those obtain as by-products and not through slaughter are not eaten — was not allowed during treatment.
Oh, the things that can be done with cheese!
This young lady would blot her vegetarian grilled cheese sandwich with about five million napkins to absorb the butter used to cook it. This was not allowed, but of course she did it when the nurses and aides were busy elsewhere. It got to the point that I wanted to scream at her that the bread was dry, and to just eat her sandwich before I lost it completely.
Which I did when I found a surprise cookie on my plate one day. Apparently I hadn't ordered enough calories and the dietician had the kitchen add the cookie to my tray. But, I argued, I didn't like cookies or pies or cakes. I wanted to order fruit or Jell-O or something safe like that. Too bad, I was told, this meal includes a cookie.
What is my point? I know an inordinate amount of people with eating disorders who continue to practice some type of restrictive eating even after they are in recovery. I am not saying that some of them don't truly believe that vegetarianism/veganism is good for the planet/animals/their soul.
But I have seen it get in the way of recovery. A friend will be moving along good in recovery, whipping up some tofu stir fry and green smoothies and then she will get sick and isn't able to eat her regular diet. Most people, meaning those without an eating disorder, will eat a bland diet of bananas, rice, applesauce, and tea (Known as the B.R.A.T. diet. Another variation is B.R.A.T.T.Y.; the second "t' being toast and the "y" being yogurt.)
It's a little trickier for those of us with eating disorders. We have learned to restrict and even if we are restricting for healthy reasons —for example, there are some good arguments for not eating meat — we have to be careful. For those of us recovering from anorexia, not eating our regular diet can easily turn into not eating at all. For those of us recovering from bulimia, being sick and throwing up could trigger into eating and throwing up when you are no longer are sick.
Food choices are great, food choices are wonderful, whether you make them for health and moral reasons, or simply for taste. I have my own diet, in which I eat very little red meat and avoid a lot of sugar. I tell myself this is healthy, but I sometimes wonder if it is a vestige of ED whispering in my ear that some foods are good and some foods are bad. I think each one of us should be aware that it often takes years to completely recover from an eating disorder, and be sure we are making our own choices and not still listening to the eating disorder voice.
APA Reference
Gambrel, A. (2011, July 1). Veganism, Vegetarianism, and Other Food Choices in Eating Disorder Recovery, HealthyPlace. Retrieved on 2019, September 21 from https://www.healthyplace.com/blogs/survivinged/2011/07/veganism-vegetarianism-and-other-food-choices-in-ed-recovery
Author: Angela E. Gambrel
Mckenna -
I was wondering how your views on vegetarianism would come out on the other side of CFC because it is nearly impossible to be vegetarian in the early stages there. I'm glad you've reached the point in your recovery where you refuse to cut out meat as an option altogether. I think those who have the most luck in recovery are those who are able to maintain some flexibility around food, even food preferences. Like you said - you don't care for red meat, but will eat it if that comes up. I think that is such a balanced and recovery-oriented mindset!
Oh, and I'm totally in love with Morningstar patties, too. No shame there. Those things are good, even if you are a huge carnivore!
MLM,
The vegan/vegetarian controversy is a huge one in eating disorder recovery. I certainly know that from my personal experience my veganism and vegetarianism was a convenient way to explain my lack of eating. I do eat meat occasionally now, even though I genuinely prefer to eat vegan or vegetarian. However, I had to wait to make that decision until further along in my recovery, so as to be sure this wasn't a "fear food" issue, but a legitimate food preference. I know a friend who is fully recovered now who is vegetarian to this day, but worked very consciously in her recovery about facing other fears such as fats, nuts, etc. to make up for the lack of meat protein in her diet. (She also eats fish, to be fair.) And she also went out to eat a burger at one point in her recovery to again, be sure it was not an eating disordered decision.
Thanks for the comment! I'm glad that eating meat was a helpful decision in your recovery!
Jess
Leave a reply