Looking For Light When All Feels Dark During ED Recovery
Many days I don't want to get out to bed.
I am dealing with some difficult life issues right now, and of course the first thing I turn to is restricting my food intake in order to numb the pain and anxiety I am feeling.
There are some days that I feel as if this will go on forever. I contemplate my future and I can't see the light at the end of the eating disorder tunnel.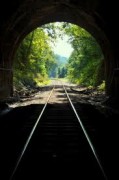 My life feels like a shambles right now. Part of me knows that I feel this way because I am overwhelmed by life's events. My marriage is over, and its destruction began when I developed anorexia nervosa. I feel mocked by past writings that were filled with hope and happiness about my husband and I growing closer together and working towards reconciliation. I am angry that I diminished myself, trying to become something I was not in order to salvage something that he never wanted to save in the first place.
It is too easy for me to stop eating. Even before I developed anorexia, I always lost my appetite and stopped eating when I became anxious and depressed. I ate well when I was at my happiest, and that's when I maintain a healthy weight.
Now I watch the numbers on the scale slowly decrease, and I wonder if I am returning to anorexia or is this a normal reaction to the grief I feel about ending a 15-year marriage.
I previously wrote about steps I could take to prevent a full-blown relapse, and I am using those tools. I am honest with my eating disorder psychiatrist, and we are monitoring my food intake. I call and meet with my friends, avoiding the isolation that is so common when you are in the midst of an eating disorder. I try to eat as normally as possible, and there have been a couple of days that I have become angry and impatient with myself and make myself eat more.
I ask myself: Am I going to allow the loss of one person — my husband — dictate my life? Am I going to give up everything; graduate school, family and friends, a fulfilling and joyful life? Am I going to use this as an excuse to return to anorexia, to return to an illness that inexplicably still draws me in?
Am I going to allow anorexia to win?
My friends and family tell me I have too much going for me, and that I can handle the grief and pain I feel without restricting and starving myself. They tell me I am strong, and their support makes me feel stronger.
And so I go back and forth. Choose life and prove that I can recover from anorexia. Or continue to engage in my eating disorder behaviors, knowing that the end could mean anything from health problems to death.
Each day, my mind fights back and forth with these two choices.
In the end, the choice is mine.
APA Reference
Gambrel, A. (2011, September 24). Looking For Light When All Feels Dark During ED Recovery, HealthyPlace. Retrieved on 2023, December 6 from https://www.healthyplace.com/blogs/survivinged/2011/09/looking-for-light-when-all-feels-dark-during-ed-recovery
Author: Angela E. Gambrel
Very powerful honesty, Angela. Thank you for sharing. Working in the beauty industry has put me in close contact with thousands of women over the years - many of whom share your battle. I hope your words reach some of them.
I think we all have moments of darkness, and my heart goes out to you, during yours.
Hold on. I know it feels dark, but there is light and life on the other side. There's even a time, further down the line, when anorexia is such a distant memory that even when the worst happens, you don't go there anymore. I know, because that's where I'm at. You'll get there. I did.
Keep holding on. Reading this post was like reading a page out of my journal. I know there's nothing I can say to you that will be the "magic pill" that sufferers are constantly searching for, but I can offer you empathy and encouragement.
"Success is not final, failure is not fatal: it is the courage to continue that counts" ~Sir Winston Churchill
Angela,
Wonderful post ... and painful to read. You've got lots of fans out here, and while you are ironing out your own recovery, you are helping so many, as well.
Be well, Angela, and please take care of yourself. Reading your writing, I can see we need you out there. In fact, we can't afford to be without you!
Wishing you much peace and health in your journey ... I imagine great stuff to come.
Best,
Michael
Leave a reply