Peer Support Can Help Break Mental Health Stigma
Don't be fooled: peer support can help break mental health stigma. People often think of treatment as going to sit in some office on one of those couches and spilling out their souls, or attending meetings like Alcoholics Anonymous and having to announce who they are and what their problem is. Treatment doesn't have to be either of these things. What I've discovered is that peer support groups can break mental health stigma and be just as healing.
The Power of Peer Support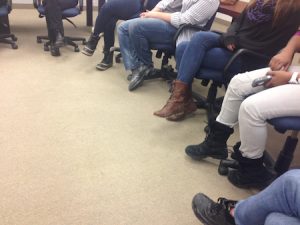 In September 2013 was the first time I ever attended a peer support meeting. In my case, it was for my excoriation (skin picking) disorder, and for the first time ever, I was surrounded by people who got what I was going through. No more ignorant questions, no more stigmatized assumptions. Just people who could say, "I've experienced that, too."
It was amazing. It was a weight off my shoulders and a sigh of relief. Finally, I wasn't alone anymore.
Peer support groups offer a safe space to be honest with other people who won't judge you and won't try to prescribe you anything. Sure, they might offer some suggestions or tips if you're open to it, but they won't be putting nearly incomprehensible scrawl on some steno pad to take to a pharmacist. People in peer support groups will listen, be a sounding board, and even just be there for you if you choose to sit silently.
This is incredibly healing to those of us who just wants someone who "gets it" and to be able to have a conversation about our mental health issues without it turning it into a psychiatric exam, a medical review sheet, or a pressuring into sobriety or getting better. While that is certainly important and we don't want anyone to suffer, struggle, or put themselves in danger, it's not a matter of checking in every week. It also doesn't have to be spiritual.
The Mental Health Commission of Canada describes peers support as humanizing, depathologizing, and socializing for "providing all the tools besides medication – the tools for the other 80% of your life."

Peer Support and Mental Health Stigma
And it's true. Peer support groups help to eradicate the mental health stigma we all feel, too. The peer support meetings I've been to are literally me and several other people sitting in a safe space where stigma doesn't exist. All of us have felt it, so we wouldn't dream of putting it on each other.
A peer support group is a place to finally have candid conversations about our struggles without feeling like we're going to be judged or have misinformed opinions thrown at us.
A peer support group is a place to reconnect with people, especially for those of us who have isolated ourselves because of whatever stigma we've faced.
Video on Peer Support and Mental Health Stigma
For more on peer support and mental health stigma, please watch my video:
You can find Laura on Twitter, Google+, Linkedin, Facebook and her blog; also see her book, Project Dermatillomania: The Stories Behind Our Scars.
APA Reference
Barton, L. (2015, October 29). Peer Support Can Help Break Mental Health Stigma, HealthyPlace. Retrieved on 2023, October 4 from https://www.healthyplace.com/blogs/survivingmentalhealthstigma/2015/10/peer-support-can-help-break-mental-health-stigma
Author: Laura A. Barton