7 Top Coping Skills for PTSD Caregivers
Coping skills for posttraumatic stress disorder (PTSD) caregivers are important. Recently, I received a simple, single-lined email from a man looking for an answer to an important question: "What is the best coping skill I can use to help someone with PTSD?" As any caregiver knows, supporting a friend or loved on through PTSD can be a thankless, challenging, and patience-sapping process. There are, however, ways to help the job be clear, focused and proactive. If you are a PTSD caregiver or know of one, share these coping skills for PTSD caregivers.
PTSD Caregivers Need Coping Skills Too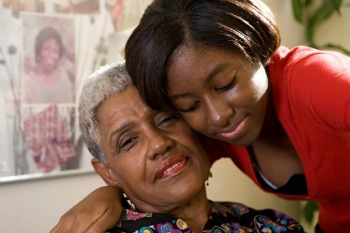 While survivors deal with the nitty-gritty details of coping with everyday stressors and PTSD symptoms, caregivers often find themselves scratching their heads. Or worse, feeling completely ineffective, inadequate, useless and hated, even when they make their best efforts. Certainly, being a PTSD caregiver isn't easy. You can feel just as in the dark and without the coping skills and resources as a survivor herself.
7 Top Coping Skills for PTSD Caregivers
Embracing these seven coping skills for PTSD caregivers offers the beginning of structuring a caregiving program that focuses more on what you can do versus the many moments when you're faced with what you can't.
Listen: Hands down this is the most important element. Survivors need to be heard -- both in what they do and in what they don't say. Make the effort to really hear what a survivor is trying to communicate in all the ways that is attempted.
Look: You have more clarity right now than a survivor in the PTSD fog. Use your eyes to physically see signs, symptoms and clues to problems. Also, use your mind to look for ideas, options, suggestions and resolutions.
Feel: Imagine yourself in the survivor's shoes. Think back to a time you were carrying or experiencing the weight of an enormously heavy burden. Center your self in this feeling as often as possible when interacting with the survivor so that you increase compassion.
Suspend: There's zero room for judgment in the PTSD world; this only creates more tension and disagreements. Suspend all judgment and, instead, practice honor and respect so that your loved one feels cared for and connected.
Accept: This is the way things are right now -- and possibly for a longer time than you'd like. Rather than fight the frustration, unfairness, etc., practice acceptance and meet your loved one where she is. That is, allow her to be herself and accept her as is with the knowledge that she has the potential for change.
Wait: Practice patience in all moments. Meltdowns, emotions and triggers take time to be processed and controlled. Plus, the healing journey itself must move slowly. The timeline of recovery varies by the individual and cannot be rushed.
Hope: Recovery (and the reclamation of the life you most want to be living with your survivor) begins with an intention and desire for future change. There will be dark days ahead. You, more than your loved one, will be responsible for shining the light of hope.
PTSD caregiver tips aside, let's acknowledge that as a caregiver you've been thrust into a role you didn't want just like the PTSD survivor has been thrust into a similarly unwanted role. This is a time to form, as much as possible, a partnership based on understanding, support, space, love and compassion. If you function in your support role from this perspective (rather than a "can't you get over it?" perspective) you will be more successful and experience much less stress.
Michele is the author of Your Life After Trauma: Powerful Practices to Reclaim Your Identity. Connect with her on Google+, LinkedIn, Facebook, Twitter and her website, HealMyPTSD.com.
APA Reference
Rosenthal, M. (2015, April 2). 7 Top Coping Skills for PTSD Caregivers, HealthyPlace. Retrieved on 2023, December 5 from https://www.healthyplace.com/blogs/traumaptsdblog/2015/04/best-coping-skills-for-ptsd-caregivers
Author: Michele Rosenthal
I am the caretaker and mom of PTSD survivor who has Down Syndrome. His symptoms stopped altogether for 4-5 years, but flash backs returned with a vengeance last May, and now the form an almost continuous loop. We go to counseling, massage therapy, tried prescription drugs (horrible side effects), and now natural herbs, etc. progress is being made, but I wish I knew better what to do.
I my self have PTSD and now responsible for my Mother who has recently been diagnosed with PTSD. I don't know how to help her.These coping skills are positive and I am going to apply the to my daily life with mom. Thank you.
Michelle your posts are always empowering. I am going to share this with my husband. When my trauma re-emergence occurred 9 years ago he went through it with me and went to a support group etc. but it has bee awhile. Always good to reinforce positive ways of helping. Unfortunately I had a meltdown this week and was pretty awful to him. I am grateful he loves me as much as he does. I am posting your link on my page. Thanks!
http://healingtakesalifetime.blogspot.com/
Leave a reply