Simple ADHD-Friendly Office Organization Tips

My 16 year old daughter told me that I had better use my office organization tips myself if I wanted to help people with ADHD be better organized. Teenagers can be so to the point! Her comment started me thinking about how the ADHD-friendly structure and systems I use in my coaching business might be helpful for any adult with ADHD. Whether we have ADHD or not, there seem to be specific areas that consistently need organizational attention lest they turn into unmanageable chaos.

Try These ADHD-Friendly Organization Tips at Your Office
Three strategies for ADHD I have found useful are: taking the time to plan, having a paper management system and thirdly, writing things down.
Plan Your Time
Making time to organize is important for people with ADHD. I set aside 30 minutes at the start of my day to review my schedule and look at what my priorities are for the day. I then answer emails or listen to voice mails and basically familiarize myself with the plan for the day.
One technique I have found extremely useful is to actually print off a copy of my week from Outlook onto a brightly colored piece of paper which becomes my "flexible" copy. Using this ADHD friendly strategy, I can make changes to the flexible copy, place temporary post-it notes on it, cross off completed tasks, add new ones or shift to-dos as they arise during the week. The bright color paper makes it easy to find among the other documents on my workspace.
When I was a floor nurse, we used a similar system to plan our shift and record important details; we called the flexible copy of our schedule our brain. I continue to find this tool extremely useful and often recommend it as an organizational strategy for ADHD adults.
Manage All That Paper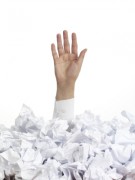 For managing paper work, I have a small file drawer near my desk. Most often this "drawer" is open so I can easily see its contents. Having quick access to frequently used documents and labeled files to hold information for ongoing projects is extremely helpful in keeping me organized.
These files are arranged in an ADHD friendly way and how it makes sense to me. Files I use most are towards the front, those I access the least in the back. Having this simple filing system helps to eliminate papers from piling up on my desk and allows me to maintain a sense of order until I can go back and sort through them at a later date.
Write Things Down
Finally, even though I consider myself a very organized person with most of my memory still intact, I've found I benefit from having a way to write down and keep track of client details between sessions. As an ADHD coach who is busy meeting and working with amazing people with ADHD, I feel bad when I can't remember the details of a particular clients progress. In order to jog my memory, I keep a folder for each client in which I have a simple form that can be easily filled out to record essential details. Before out next session, I can quickly review our previous session.
One of the most important insights I have had as an ADHD coach around organizing is that it must be an ongoing process . . . and that it must be ADHD-friendly. I have come to believe that the natural order of our world is chaos and even though I might be cosmically fighting a losing war, I am determined to win a few battles!!!
What are some of your most useful ADHD-friendly organizational systems?
APA Reference
Dupar, L. (2011, September 8). Simple ADHD-Friendly Office Organization Tips, HealthyPlace. Retrieved on 2023, December 1 from https://www.healthyplace.com/blogs/livingwithadultadhd/2011/09/simple-office-organization-tips-for-people-with-adhd
Author: Laurie Dupar, PMHNP, RN, PCC
Much appreciated for the information and share!
Nancy
Thanks, Nancy! My pleasure. I am glad you enjoy the posts...keep reading and I will keep writing. ~Laurie
I still have a job but I'll never get a promotion where I work. On the positive side I can retire in one year.
Sorry to hear about the challenges...I am glad that you can see the positive side...however small
I have maxed out my ADD at work. Thought I had put in leave request that had been approved. ... Still suffering consequences of that. I forget things that pertain to myself because the actual work is more interesting..
Dear Loreen,
Thanks for your post...sounds tough...what do you do now?
Leave a reply