What Do Dreams About Self-Harm Mean?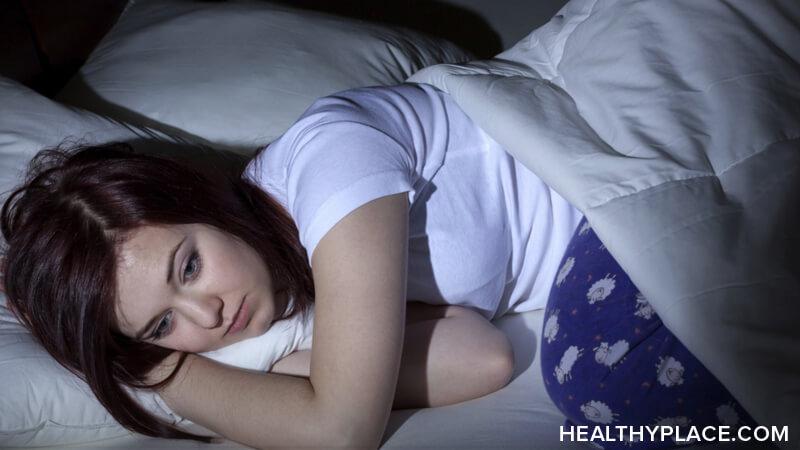 Dreams mean many things to many people. Some remind us of memories, whether recent or long-buried; others reflect our hopes and fears about the present or the future. But what do dreams about self-harm mean?
Do Dreams About Self-Harm Mean You Want to Hurt Yourself?
Dreaming about self-injury does not necessarily indicate a real desire to inflict pain on yourself. What they do mean depends very heavily on a variety of factors, including: your own personal experiences and views on self-harm, things you may have read or heard recently about self-harm, how you see yourself, and your current worldview. Whether the dream is pleasant or a nightmare also makes a difference in how it can be interpreted.
If you self-harm, or used to injure yourself in the past, your dreams about self-harm could be a reflection of any of the following:
Memories, repressed or otherwise, of real past experiences with self-harm, surfacing due to some trigger you encountered during the day
Fear of relapse. Even if it has been a long time since you last hurt yourself, it is not uncommon to worry now and then that you will fall back into old habits.
Stress, related to the pressure you or others may be putting on you to refrain from self-harm. In this case, you may be craving the relief that self-harm used to bring you, even if you have no inclination to actually hurt yourself.
If you have never self-harmed, there are many other possibilities to consider. Your dreams may instead reflect:
A negative self-view or low self-esteem. You may be angry, or disappointed, with yourself, or you may simply feel that you are "not enough." Such dreams may indicate a feeling that you deserve to be punished, but not necessarily with physical injury.
Feeling overwhelmed and like you need an escape from your current situation. In this case, your self-harm dreams may indicate a desire for relief from something that has been weighing heavily on your mind.
Feeling neglected or isolated, in which case, the self-harm in your dreams may indicate a wish for others to recognize that you are hurting and, perhaps, help you heal.
This is not an exhaustive list, and it is possible that your dreams may reflect more than one of these possibilities. Your dreams, after all, belong to you; the purpose of this list is merely to help you consider what might be true for you.
If you want a more in-depth analysis, you may want to speak with a counselor or therapist who has experience with dream analysis and can provide expert guidance to help you better understand your dreams. If your dreams are causing you distress or negatively impacting your health in any way, please speak with a medical professional who can help you find healthy ways to cope with your dreams. Sleep is an incredibly important component of mental and physical wellness.
When Are Dreams About Self-Harm Actually About Self-Harm?
Dreams about self-harm aren't always about actually wanting to hurt yourself, but sometimes, they can be. Context is key when determining whether or not this is true of your dreams. Ask yourself the following:
Have I deliberately hurt myself recently?
Have I been thinking about hurting myself while I'm awake?
Has anything happened lately that might trigger self-harm cravings?
A "yes" answer (or even a strong "maybe") to any of the above may indicate a true inclination to hurt yourself, especially if you have a past history of self-harm or are experiencing extreme stress or distress. If you are worried that you will hurt yourself, please reach out as soon as possible to get help, ideally from a medical professional.
If you feel you are in immediate danger of harming yourself, please call a hotline or, if it is an emergency, 9-1-1.
No matter how you interpret your dream, remember: dream analysis isn't a crystal ball into which you can look for definite answers about the past or the future. Rather, it is one of many possible windows through which you may peek to try and gain a deeper understanding of yourself, as you are right now.
Have you had any dreams about self-harm recently? Let us know in the comments if you have any tips for better sleep or if you have alternative suggestions for understanding these dreams.
APA Reference
Kim Berkley (2020, July 9). What Do Dreams About Self-Harm Mean?, HealthyPlace. Retrieved on 2023, December 8 from https://www.healthyplace.com/blogs/speakingoutaboutselfinjury/2020/7/what-do-dreams-about-self-harm-mean
Author: Kim Berkley
I do self-harm and have recurrent dreams about self-harming, usually in the context of my family nagging me or my brother being annoying. No one knows I self-harm but in the dreams I bang my head against the wall or i punch myself. It feels like i need to punch harder but I don't have the strength to do so, it's like a force is working against my arm or body and i just can't inflict enough pain (all of that inside the dream).
Btw, sorry for bad English, I'm not native
My dream was really weird. I can't remember most of it, except for the fact that I started to self harm; specifically my left wrist. It felt real but I've never actually self harmed in real life. I do have depression and it's crossed my mind before. I've never had a dream about that before though and I have been feeling really bad about myself lately, not so much then usual so I'm not sure what it could be.
I had a dream of cutting and the my old roommate said that I did that one to you. And Evenecese was there singing in the dream was helping me feel better. Don't know if it was female inside me comforting the old me. Maybe working on some repressed memories.
Last night I had a dream where I was at a friend's house and I got caught self-harming,and then I gotten sent to residential facility,then I really liked the facility,and we were all getting along,I can't remember any more,and I do self-harm,and did it in the past
I on and off have self-harmed for 11 years. I say off and on because in the last 3 years I have been in 2 different relationships that I wasn't really able to self-harm in. So I only did it sometimes. I'm currently in no relationship and back to self-harming almost every day. Now I came here today cuz in all these years I've never had a self-harm dream. But last night I did. I started out rather normal really. I was with a very attractive man and I suppose I was a roommate of his. We were hanging out happy and talking to each other. We then had a pretty girl come over. We then all played a video game for a while. After the man was telling me he would make dinner and I said ok, I'd have to go out for a bit. He gave me a look I don't understand and said ok to me, The girl looked at me in the same way and as I walked out with my keys, the girl goes, he really likes that burn huh. I left in my car stopped in the middle of nowhere and cut my wrist deep (probably should have been dead). I then made my way back home to the man and he opened his arms for a hug. I hugged him and he said welcome back home. He helped me clean my cuts and then we had the dinner he made. after dinner the girl left and he was talking to me about the cuts, but I can't remember what he said and I had woken up at that time. When I woke up I felt like going back to that dream.
(I am a minor writing this so I go to school) I had a disturbing dream last night were I was in my house sitting at our dining room table and my mom was speaking to me about something I cannot remember . But what I do remember is turning around to fast my mother again and she was cutting both wrist while guilt tripping me in mutter. I remember starting to cry and telling her to stop and cutting herself wouldn't make a difference but she refused and kept going. The worst part was it felt so real because it took place in my home. Aside from that, my family has been in a crisis with money because of the pandemic, and I have been having trouble in school missing assignments and stuff which has caused me to get yelled at my parents/teachers. And my mom has been struggling to blaming herself for all that has happened. I also used to self harm when overwhelmed or under a lot of pressure. Though I've been pretty good with keeping myself occupied with other things to stray away from self harm.
In my dream, me and a bunch of other young kids and teens were all trapped in some twisted school place where we were tortured. Some of the kids were aliens. This dream was very disturbing because I could feel the torture, maybe not as bad as it may be in real life but I was feeling pain. It was very distressing especially including the fact that my sister was one of the torturers and she was cutting my arms deeply, and I felt it. The torturers would just walk around and do stuff to the kids like cut their skin off. We had to go to different classes and go through more torture with each class, but no matter how hurt we got we had to keep going. It was terrible and I woke up crying. Even in my dream as my sister cut me I was crying and yelling for her to stop but she giggled and refused. In the end I woke up and I felt very exhausted, sad and semi-traumatised from what I witnessed. Surely I had seen some of these torture methods in movies but this time they just felt so real.
I've just woke from a terrible self harm dream. Which is strange as I've never cut or harmed myself in waking life. I dreamt I sliced off my clitoris and threw it away. I was lying in bed with my new boyfriend and he told me that there would be only one night of passion per week as he worked so hard at his job. So I sliced off my clitoris and vulva, there was no blood , no damage to myself just a piece of see through flesh thrown on the floor. It was a dreadful nightmare which when I awoke I was drenched with sweat. I haven't had a nightmare in over 30 yrs so this is very disturbing for me.
In this one dream that's still haunts me and makes me question was just me waking up to the burning of a thousand cuts on my both my arms. I went through the day with them constantly looking at them and hiding them with longs sleeves. I don't remember much, it was all a blur but those major events. Later on I woke up in the middle of the night and I can still feel the burning of the cuts on my arms but of course I don't have cuts on my actual self, it was only in the dream. It was really weird. I continued to feel the burn on my arms through out the day. I continued to look at my arms but like I said, I don't have any cuts nor do I have scars from the passed.
Ok so in my dream 5 people were hunting me and two others, but at times i was one of the hunters. They needed to get us to remain young? And a numerous amount of times they would corner me and the two others but we would escape then the hunters as some penance/ritual/medical procedure they would self harm, i am not talking some horizontal slashes on the wrist im talking plunging a stiletto knife into their hearts. Now this is is the only times i would become the hunter, to stab myself and die at the end. I cannot remember seeing the others do it although i know they did but the only 'self harm' i saw was when i did it to myself.
At the end, they had again cornered us but we escaped and finally got far away and they could not chase us anymore and then i was one of the hunters again but this time i did not stab myself, all 5 of us started to decay. I saw them fester and rot and decay and then it started to happen to me then i woke up. The others died so i only assume i did too.
I think i remember each time i stabbed myself it 'felt' as though it was pressure on my chest, i could feel the knife. After each stab my hunter body would heal and we would start hunting again then the role would switch to one of the escapees.
To add to the weirdness, the hunters were famous people. When i first woke up i knew all their faces but now i only recall two. The leader who made me stab myself was Octavia Spencer and the man who i was, who stabbed themselves was Chris Pratt. I have this weird notion that when i was not Chris Pratt, he was trying to help us escape, purposely failing to catch us but i do not remember this happening at all.
I might know why there might have been some of these things but not all, in fact i want to say i might only know why it was in the heart and that is is.
Plus another oddity, when i went to sleep i was drunk-ish, i dont dream when i am drunk or if i do i never remember it, this is the first time. Even if i go to bed drunk and wake up a few hours later when i am sober-ish i do not dream or if i do i never remember it, this is the first time.
After reading it again i am not sure if this equates to 'self harm'. Plus i would say it was a nightmare as it was terrifying being chased and almost caught and dreadful knowing i had to stab myself afterwards.
Leave a reply