Adonis Complex:A Body Image Problem Facing Men and Boys
The term "Adonis Complex" is not a medical term. It is being utilized to describe a variety of body image concerns which have been plaguing boys and men especially through the last decade. It does not describe any one body image problem of men, rather all the distortions collectively.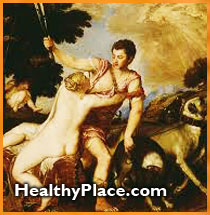 The term was extracted from Greek mythology which depicted Adonis as half man and half god who was considered the ultimate in masculine beauty. Adonis' body, according to sixteenth-century perspectives, was representative of the ultimate in male physique. According to mythology so beautiful was his body that he won the love of Aphrodite, queen of all gods.
One of the most famous renderings of Adonis was depicted by the Renaissance painter Titian. His painting shows Adonis with Aphrodite clut
ching his body with her arms. In Titan's painting Adonis looks heavy and out of shape in comparison to the men's physiques today which are seen splashed on the covers of magazines, in advertisements, and at gyms. (It could also be noted that Aphrodite, queen of the gods for the sixteenth century, appears quite full figured in comparison to what is considered the "ideal body" women today are striving for.)
This painting dramatically illustrates the fluidity of society over the ages with respect to its varying thoughts of the "ideal" or the "beautiful" human body. The development of the "Adonis Complex" shows that men are being targeted as vigorously as women have been for decades creating destructive obsessional disturbances concerning their own bodies. Men's body image concerns range from minor annoyances to serious and sometimes even life-threatening obsessions. They can present as manageable dissatisfaction at one end of the spectrum to extreme psychiatric body image disorders.
In the past decade the "Adonis Complex" has been seen in increasing numbers of boys and men who have become fixated on achieving a perfect, Adonis-like type body. The authors of The Adonis Complex, The Secret Crises of Male Body Obsession, term this fixation "Muscle Dysmorphia" as an excessive preoccupation with body size and muscularity. Men who find themselves caught up in these obsessions soon discover their lives can begin spiraling out of control. Their lives often are dramatically affected by these obsessions jeopardizing careers as well as relationships with friends and loved ones.
next: Eating Disorder in Males
~ eating disorders library
~ all articles on eating disorders
APA Reference
Tracy, N. (2008, December 2). Adonis Complex:A Body Image Problem Facing Men and Boys, HealthyPlace. Retrieved on 2023, September 29 from https://www.healthyplace.com/eating-disorders/articles/adonis-complexa-body-image-problem-facing-men-and-boys
Last Updated: January 14, 2014